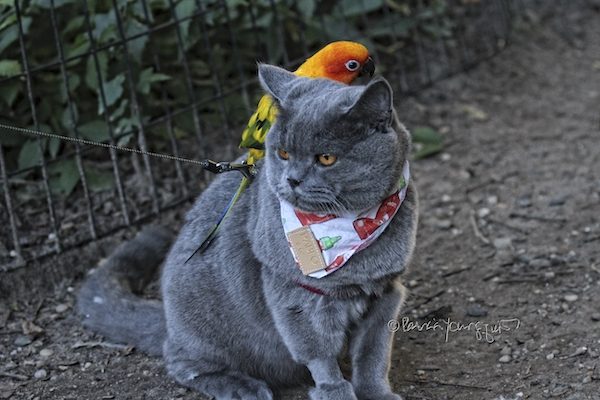 In October of 2018, while spending time slightly south of Central Park's Gapstow Bridge (the one which curves over part of the Pond at 59th Street), I had the pleasure of meeting two very unlikely animal friends: Ponzu the cat and his buddy Mango, a parrot.

Advertisement



Mango could easily be a "spokes-bird" for how to stay warm on a cool autumn day (snuggle up into the warm body of a cat). And Ponzu really understands tolerance, letting a bird get cozy in his body's heat.
Both are rescue animals under the loving care of a Brooklyn-based woman who identifies herself as Chef Bao Bao (I now call her Chef BB).
Her profession is how she came up with her cat's name. Evidently ponzu is a sauce used in much of the cuisine she prepares at her restaurant in Brooklyn called Baoburg. Her parrot, Mango, is named for his coloring.
On the day of our encounter, Chef BB and I were talking about our mutual admiration for different species of wildlife getting along.
She proclaimed, "I wake up to see Mango hop on Ponzu and I am so happy… at first I was worried that Ponzu — who I had for some time before rescuing Mango — might not get along with her. I introduced them slowly but it only took four or five hours for them to take a (profound) liking to each other."
When I see different bird types getting along on my rooftop garden I feel the same way.
I also told her both Riverside Park and Central Park offer Upper West Siders amazing opportunities to witness  — through wildlife — what it means to get along.
Advertisement
On countless occasions the Muscovy duck known as Jewel (to the keepers of the Boat Basin at Seventy-Ninth Street which is accessible via an underpass in Riverside Park) can be seen spending time with other birds either on a pier or atop the rocks.
While In Central Park, there are also countless occasions where one can witness birds who are not of the same feather flocking together.
Additionally, there are numerous occasions within all seasons — especially in Central Park — when one is likely to come upon completely different animal species spending time in each other's company.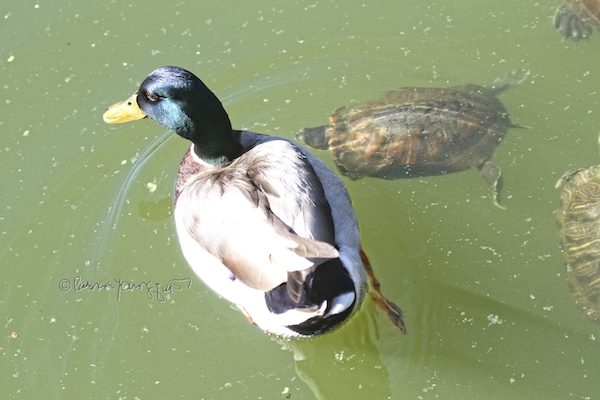 When Chef BB learned of my admiration for birds, she offered to pose with Mango!
Advertisement
To this day — when she is not globe-trotting to various spas — Chef BB and her pets still frequent Central Park (She uses a stroller along with public transportation bring her pets to Manhattan.)…
… and these unlikely animal friends serve as a reminder to all who pass by that it is possible to get along with one another, no matter how big our differences may be.