We first reported on the 'Mystery Tent' on Monday, June 14, when we exposed the tent's secret purpose of hiding a Harley Davidson.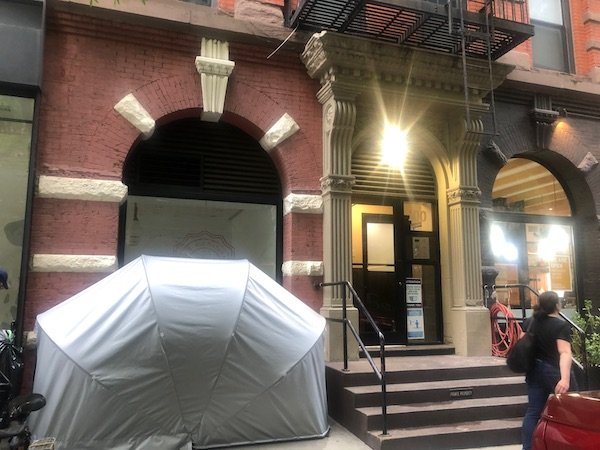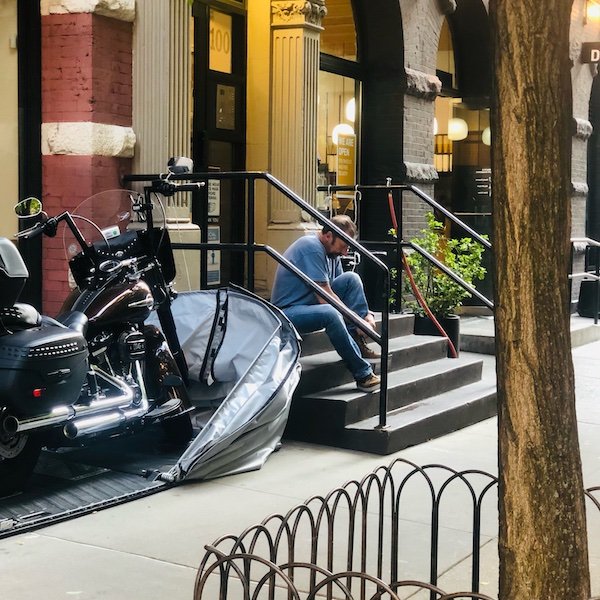 The large grey tent first appeared about two and a half months ago, bolted into the ground in front of a vacant storefront at 100 West 67th Street, between Columbus Avenue and Broadway.

Well, now it's gone.
As we mentioned in our first article about the mystery tent, it had a phone number written on it.
Before the tent and bike were removed:
We called the number and did get through to the person on the other end, but he told us he was busy and couldn't talk. He was eating dinner at the time.
Chris Giordano, President of the West 64th – West 67th Street Block Association, also called the number. The person who picked up Giordano's call identified himself as the building's property manager, and claimed (before his bike was put on display) that he had placed the tent in front of the building to prevent people from urinating on it.
After the tent and bike were removed:
We tried to call again to find out what happened. We haven't received a call back.
So what did happen?
Did he remove it himself after seeing our article? Was it the Department of Transportation or another City agency, perhaps? Could it have been stolen? We don't know.
ILTUWS spoke with local residents about the mystery tent when it was up, and several noted they'd dialed 311 to report the tent as a sidewalk obstruction. Others just thought it was ugly. And some had concerns that it was being lived in by homeless people. Nobody was really sure what was going on as there wasn't much activity at the tent throughout its UWS residency.
We spoke with Giordano after learning of the tent's displacement. He's definitely glad it's gone.
"New Yorkers appreciate creative solutions. And parking your Harley under a canopy on the sidewalk certainly qualifies. But it isn't fair to neighbors who use the sidewalk," Giordano said. "It also appears to violate zoning regulations. Sometimes speaking out and raising awareness is what is necessary in addressing neighborhood issues. In this case, neighborhood folks reached out to 311, social media and the block association."