Artist Stephen Galiczynski is a 30+ year UWS resident and father of two. He runs a local painting and wallpapering business called Steve G's, and this year, his artwork was accepted into competitions by the Metropolitan Museum of Art and Rockefeller Center, both of which received hundreds of international submissions.

In the early 80s, Galiczynski left his translating job in Washington and moved to New York to become an actor. Little did he realize that he would also become an artist whose work would be embraced by some of the New York City's most iconic institutions.
While our world has been grappling with the isolation of the pandemic, Galiczynski has responded to this crisis as any artist would. He has been creating. And the art he has created has caught more than the attention of New York's cognoscenti; they have embraced it. Last Spring, Galiczynski submitted work to various art competitions and had two separate pieces selected by two different iconic city institutions.

Advertisement
Galiczynski's first submission was to The Metropolitan Museum of Art, which is celebrating its
150th Anniversary
. What does an art museum with one of the world's most respected collections do to observe its sesquicentennial? Request more art, of course. The Met put out the call for designs in any media or form to help it celebrate this grand moment. Galiczynski's painting was selected as a top-ten finalist.
As with so many things waylaid by the pandemic, The Met's plans to announce its selections were pushed back. The competition's panel of judges included city luminaries, Chirlane McCray, Anna Wintour, Zac Posen and Max Hollein.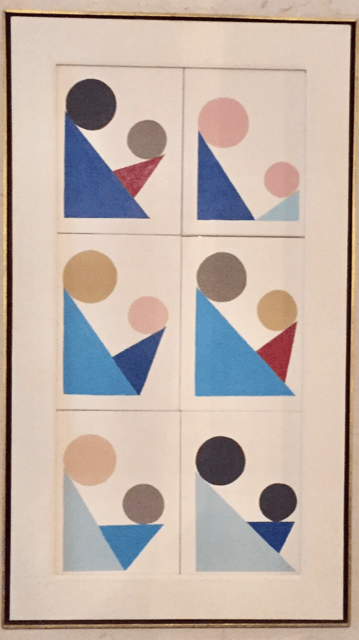 Titled Modern Madonnas: A Statement on Racial Tolerance & Female Empowerment, Galiczynski used abstract design to explore race equality, a subject that is such a large part of our nation's current political dialogue. At first glance, one sees six boxes, each filled with a series of triangles and circles but, as with any provocative art piece, those basic shapes take a new form, in this case, that of a mother cradling her child. The shapes in each box are rendered in the basic colors that make up the skin types of our diverse world, a world that is very much at home in New York City.
[adrotate group="3″]
It was kismet that Stephen met Daniel Weiss, the President, and Max Hollein, the Director of the Metropolitan Museum, when he was the first person in line for the Museum's grand reopening.
While awaiting the outcome of The Met's anniversary contest, Galiczynski responded to another call for artistic commentary by Rockefeller Center. The world-famous office complex in Midtown, known for its court of 193 international flags that fly around its skating rink & seasonal dining area, asked artists to design flags based on the themes of love, unity and diversity, while celebrating any aspect of New York City. Over 1,200 artists from around the world submitted designs by the June 30 cutoff.
For his submission, Galiczynski took his design of Modern Madonnas in a different direction. He created a similar composition to celebrate New York's glorious cultural diversity, but this time the Madonnas were in four panels and the design hewed closer to the vexillological ideas that shape all flag designs.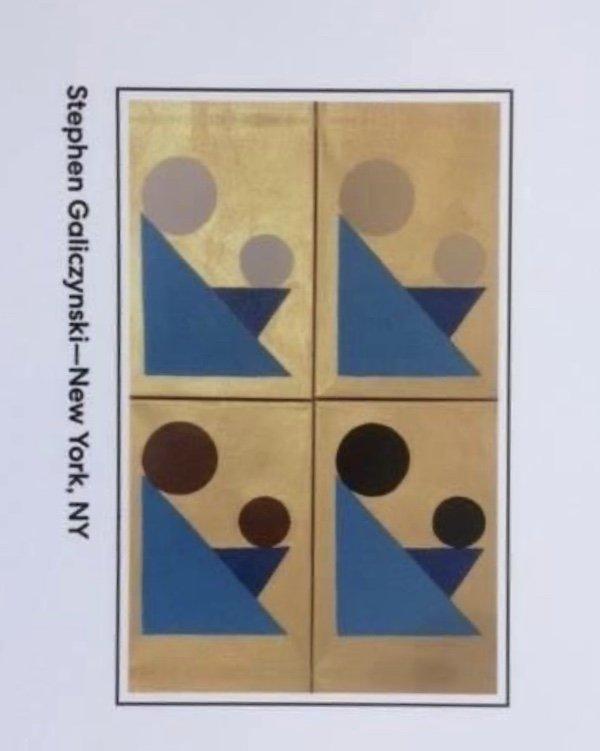 In July, Rockefeller Center chose 180 original works from among the many submissions and Galiczynski's More Modern Madonnas was one of them. Rockefeller Center had each winning design made into an 8' X 5' flag and flew all of them in its courtyard from August 1 to 16 in a public art installation, along with 13 flags designed by noted city artists like Jeff Koons, Christian Siriano and Laurie Anderson. The exhibit was just the tonic city residents needed as they came out of their quarantine, and because of its popularity, Rockefeller Center extended the run of the show an extra week.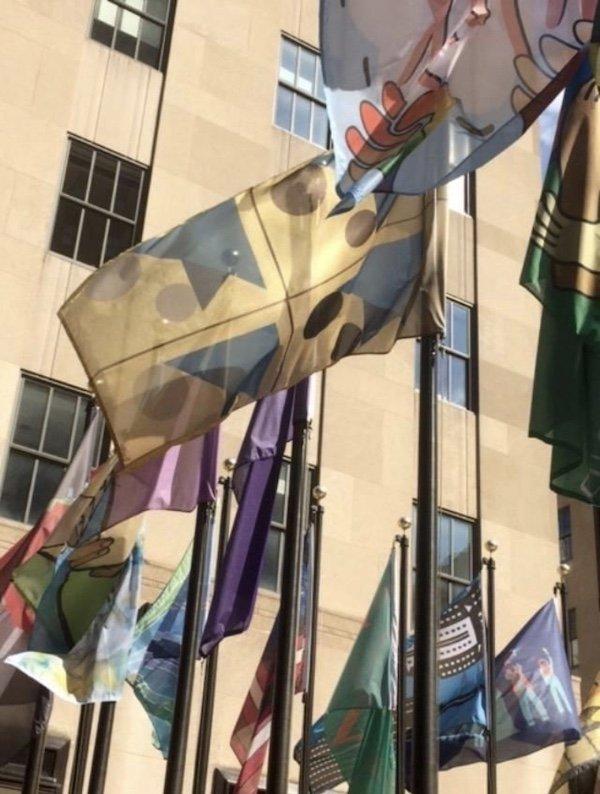 Before these competitions even started, Galiczynski had already been selected as Artist of the Month by The Saint Agnes Branch of the New York Public Library, at 444 Amsterdam Ave, for the month of April, but due to the coronavirus, decided to put Galiczynski's work online. For this exhibit, Galiczynski created ten paintings of ocean panoramas in varying shades of blue.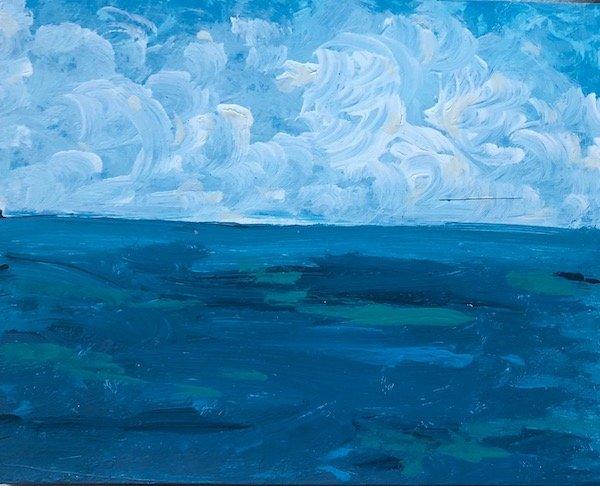 To accompany Galiczynski's work, the NYPL  selected eight novels that tell stories with beach settings, giving his paintings a fully rounded experience.
In 2019, Galiczynski also had a 3 month long solo exhibit at the Master Gallery at 310 Riverside Drive.
Remaining in constant motion, Galiczynski has also been in touch with the Central Park Conservancy with samples of sketches he has done of the park. The Conservancy liked what they saw and have asked him to stay in contact as they examine their needs at the beginning of the new year.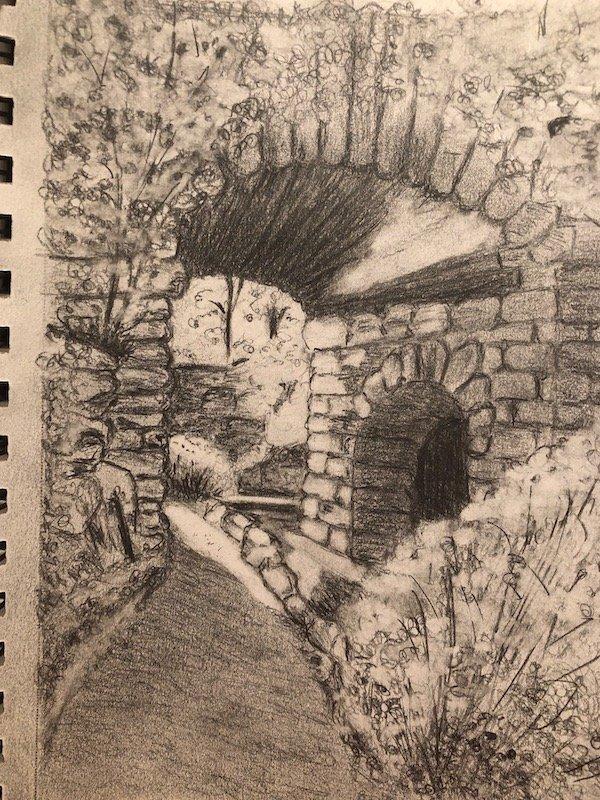 All this attention has been heartening to Galiczynski, who freelances and does commissioned artwork. "All of this positive feedback from these respected institutions has made me feel that I've developed a style that is accessible, while maintaining an artistic integrity."
Galiczynski,might demur at being called a renaissance man but with a résumé that covers various disciplines of the arts and culture, it is a befitting title. Growing up as the fifth of seven children in Philadelphia, he was guided by his mother, Connie, who was a portrait painter herself and always had art media at hand for him to use and explore his talent.
A graduate of LaSalle University with a degree in Russian studies, Galiczynski spent his junior year abroad at the University of Fribourg in Switzerland, and honed his language skills as a post-graduate in St. Petersburg, Russia. After returning to the United States, he worked as a translator in Washington, D.C. before moving to New York to be an actor. His acting career brought him a diverse array of parts including a five year stint on the soap opera One Life to Live and a role the Adam Sandler movie Big Daddy to name a few. Ironically, he was also a stand-in for actors of the tv series 30 Rock, giving him the unique designation of a being a person who has created art inside and outside the city institution. His artistic experience comes full circle with synchronicity.
His artwork is represented by the Peg Alston Fine Arts Gallery and his website is www.SteveGart.com.