Ladies (and gents!) who love spa services with expert skill — look no further than BodyBrite on the Upper West Side! Located at 42 West 72nd Street, here lies an oasis of luxurious & affordable treatments which always come with a full consultation by a licensed aesthetician. Read more about them and check out their limited time offer at the bottom of this article!
BodyBrite stands out from the competition with their attentive customer service, keen knowledge and fabulous prices.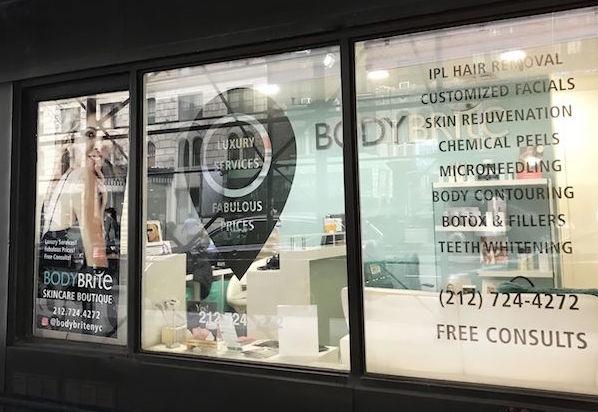 BodyBrite offers:
IPL Laser Hair Removal (their signature service)
Skin Rejuvenation
Body Contouring
Skin Tightening
Teeth Whitening
Skin Care
Facials (Microdermabrasion, IPL Skin Rejuvenation, SkinCeuticals®, Chemical peels, Organicspa®, Microneedling – Collagen Induction Therapy, Oxygen Treatments)
Reviews from happy customers:
I've been a client for almost 2 years when I first started my laser hair removal treatment. I couldn't be happier with my results. Paola is my esthetician and she is amazing! Super professional, friendly and patient. She always listens my concerns and always addresses my questions. Definitely recommend it!
I only review a business if it is terrible or in this case, is exceptional. As someone who has experienced many different laser and spa treatments , BODYBRITE is top notch. The girls are fantastic at what they do, and you will be leaving feeling refreshed, and looking your best with top notch technology and amazing service.
Until the end of March, BodyBrite is offering our readers the following Buy One, Get One Free offers!
LASER/IPL Hair removal: $79
Microneedling: $279
Photo Facial: $79
Claim This Offer!