An Upper West Side hoarder was using sidewalk space on Columbus Avenue between 76th and 77th Streets since October 2020 to store and sell things. Residents of the UWS, the public school next door, as well as business owners with stores in the surrounding the area have been trying to get the rat infested hoard cleaned up for months, and on March 1, the city's sanitation department and NYPD finally showed up.

"There was no way to socially distance walking down the street. The block was a hazard and it was terrible that children coming to school had to deal with this mess," says one local Upper West Sider who was at the March 1 cleanup. This sentiment was echoed multiple times, with pictures, in the Facebook group Upper West Side Together.
Advertisement



The man responsible for the hoard is a resident of the UWS living on West 82nd street. People in the community who know him say he has struggled with mental illness and his apartment reflects what people see on the street.
At the clean up, there were multiple members of community outreach teams there to assist the man and help him collect and save items he wished to bring back to his apartment.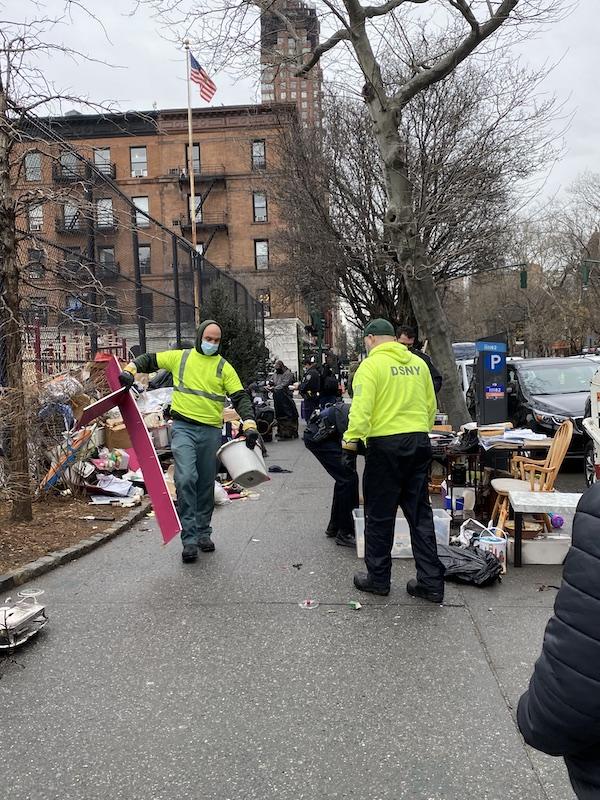 He eventually took what he could carry in his suitcases and left as the hoard was being cleaned up.
While members of the community are sensitive to his condition, it seemed unfair to many that the rest of the community had to live with the conditions he was imposing on the streets.
"311 got it cleaned up in November, but he came back. And so it's just sort of been accumulating. It is a delicate situation, so things took a little bit more time to treat everyone with respect, and making sure all the right channels were followed," said Nicole Paytner the Executive Director of the Columbus Avenue Bid. "We were communicating with the department of sanitation and with the NYPD, as well as with the school principals. Gale Brewer's office was very helpful pulling all the agencies together and really pushing them to make something happen. It's just been a long time of just talking back and forth, and it was canceled a couple times because of weather."
Advertisement



But many members of the community feel this has gone on for way too long, especially when laws were being broken.
Maria Danzilo, who is running for City Council District 6, said that "This should not have been allowed to grow for so many weeks. It is not fair to our community, to the school, and to the small businesses in the area who are trying to get back on their feet after the devastation of COVID. When our leaders do nothing it just hastens the exodus out of New York City. No one wants to live in a neighborhood where the streets are covered with garbage. As we rebuild we need to make sure our neighborhood has every opportunity to succeed and thrive and our streets are clean and safe for everyone."
Danzilo said that her campaign urged members of the community to reach out to 311 and put pressure on officials to get the mess cleaned up, and that this 5-month ordeal is unacceptable. "We need to reform how city agencies interact and modernize complaint processes to be able to handle complex issues such as these that require cross-agency intervention. Our elected officials have allowed government to become bloated and wasteful, and choose not to do anything about it," the candidate said.
Some Upper West Siders have been taking matters into their own hands when it comes to keeping the neighborhood tidy. The community driven One Block UWS can be seen out on the streets helping clean up where the city is falling short. Co-founders Ann Cutbill Lenane and Jake Russell have a team of more than 500 Upper West Siders who volunteer to bag up trash that is out and unaccounted for. While this particular hoard was out of their coverage area, the group serves as a reminder of how local residents are stepping up to help better the community. They are actively recruiting volunteers and donations to keep the initiative going.
With the hoard now removed, The Columbus Avenue Bid looks forward to planting flowers and beautifying the area … as soon as the rat infestation is taken care of.