An Upper West Side woman claims she was banned from a popular moms Facebook group due to her pro-Israel profile photo. The page's administrator had a different take.

Morgan Roslyn Cohn reported to ILTUWS last month that she was "blocked from the upper west side moms fb group because [her] fb profile picture says 'I stand with Israel …'" The neighborhood mom went on to write that the group's administrator informed her that she "was reported by multiple users for rude comments" but denied that she was rude, "especially on a public fb moms page."
Advertisement
She further informed ILTUWS that she was unaware of which comments the administrator was referring to and that other group members – including her husband – asked for proof of the reports. However, her husband was subsequently blocked too, and according to screenshots shared by the
New York Post
, was accused of "instigating discrimination" before he was also banished from the page.
"The administrator was very upset that I was calling her out for being antisemitic," Cohn, a teacher, told the Post. "I would never [bully]. Why would I put my career at risk?" Her three to four year participation in the group ended when she was allegedly blocked on October 11, the day after she changed her profile picture.
ILTUWS reached out to page administrator Irene Johnson seeking comment regarding Cohn's allegations. The same-day response was interesting:
Get a real job. If you were a real intelligent journalist you would know that the group has over 28.5 thousand members who live in New York City where there is a large Jewish population and at least a quarter of that number have the flag of Israel or some form of I stand with Israel on their profile picture. You get ONE person make that accusation and you are sending me several emails within an hour.


I don't owe you an explanation but the group members know what happened. So don't contact me again regarding this baseless accusation.

(Note: ILTUWS sent two emails, one to each address listed for the group's administrator.)
Advertisement



Though the administrator stated her belief that the "group members know what happened," confusion abounded in the admin's post on October 11 – the day Cohn was reportedly banned from the group – wherein guidelines were established for permissible future commentary.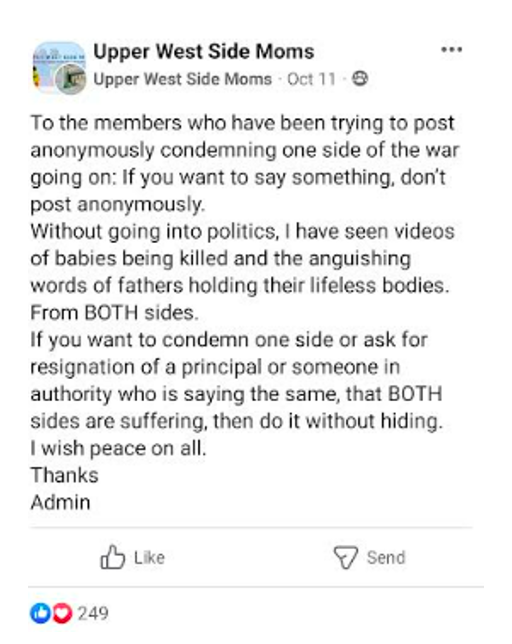 This post was edited four times and a few of the group's members sought clarity about what type of statements would be tolerated.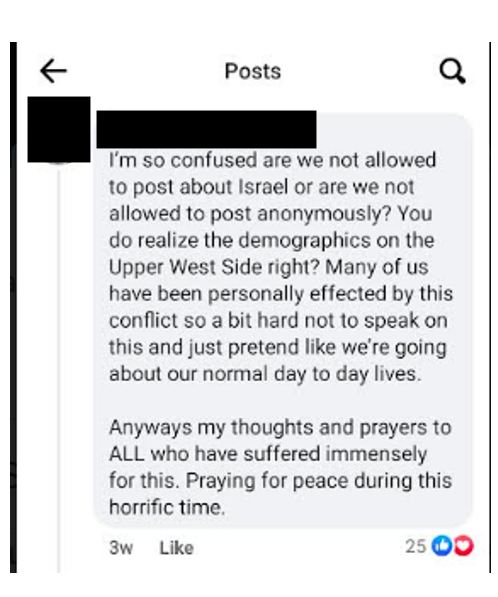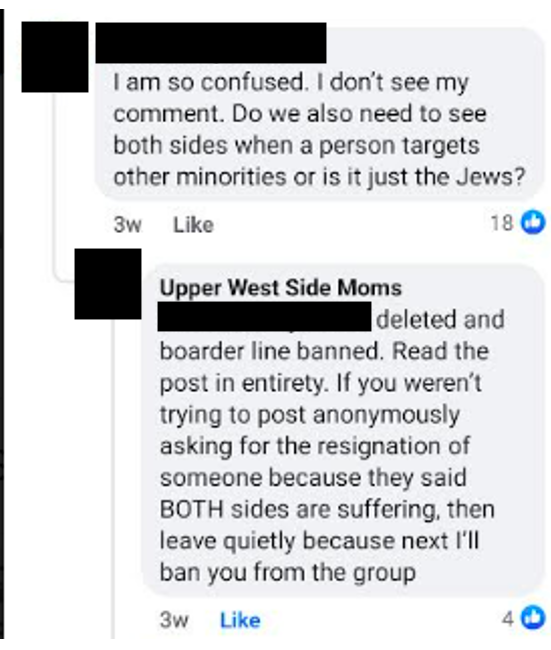 Advertisement
The administrator took to her page on November 10 to deny any discrimination and express her wish for contact "about the Palestinian families who are equally being called liars for sharing discrimination at work."