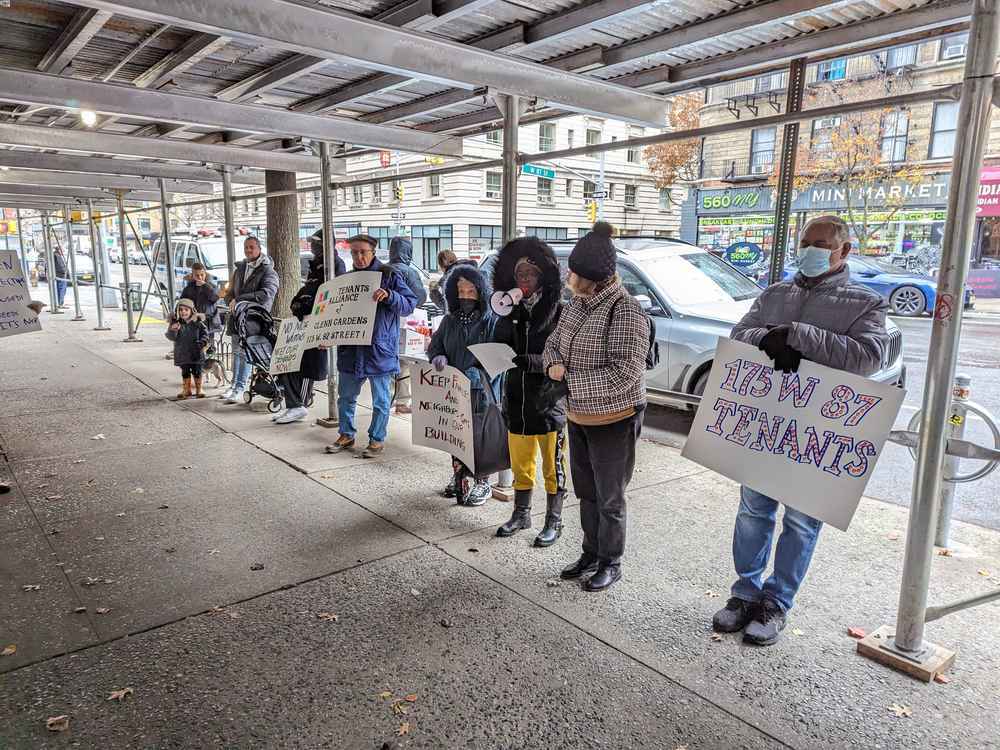 The Tenants Alliance of Glenn Gardens (TAGG) rallied again this Sunday and hopes that its collective voice will finally sway its landlord to offer compensation in what at least one resident is characterizing as the imposition of a "front door-back door" culture.

Advertisement



The community, or at least a very vocal part of it, has been at odds with its landlord, A&E Real Estate Holdings LLC, for the better part of the last year – though frustrations have mounted over time due to a building-wide renovation project that began in 2019.
Some tenants were reportedly miserable living in the building (at 175 West 87th Street on Amsterdam Avenue) and sent a list of demands to A&E. These demands included reimbursement for dust and noise mitigation expenses, cost-free and comparable living accommodations while windows and walls were being replaced, permission to terminate free-market leases without penalty, 30% rent abatements for "loss of warranted habitability," replacement of kitchen cabinets and appliances and bathroom equipment in all LAP (Landlord Assisted Program) and voucher apartments, and a permanent community room.
While a TAGG leader tells us 70% of their demands have been met, "We are still fighting for that 30%: the compensation, upgrades and community room."
Representatives of TAGG met with A&E last August to discuss the demands but ended up holding a rally after the two groups were unable to come to an agreement.
The current dispute centers around A&E's plans to relocate the lobby-level laundry room to a reportedly smaller and windowless room in the basement next to a garbage room. Its ceilings are reportedly comprised of exposed wires and various pipes, and are low enough to be reached by anyone who measures up at just over 5'5," according to the TAGG letter. Additionally, the space offers no seating, no tables, and no cash payment options.
Advertisement



Residents also raised safety and practicality concerns, particularly given that the new laundry room will be in a "very isolated area of the building." This area connects to the exterior garage and to what has become a "field office" for the construction workers who continue to use this congested space to work on the renovations.
READ MORE: 2021 Worst Landlord List Includes These on the Upper West Side
But A&E says the laundry room's move to the basement, one that comes after 45 years, will benefit all the tenants. The current laundry room will be transformed into a gym/fitness center and will be free of charge to all residents. The organization also reported to ILTUWS that the new laundry room will have tables and seating, will accommodate more than three people, and  that the exposed wiring will not be visible when the room opens later this month. A&E's formal statement follows.
"Glenn Gardens went decades without major improvements or real investment. We know all this work is an inconvenience and can be disruptive at times, and everything from the weather to city permits can affect how quickly things progress. That's why we've met frequently with residents at every stage to share updates and hear out concerns.
"We're grateful for any feedback and held a resident meeting [mid-November] to discuss the project. The laundry room is currently under construction, and the overwhelming majority of issues cited in [a letter provided to A&E from TAGG]  will be addressed when it's complete. Key features including lighting, chairs and tables have not yet been installed. The new facility will also have central air conditioning—something the residents requested that the old laundry room lacked. By siting the laundry at its new location, we've been able to expand the first-floor lobby and gym and increase the amount of shared space for residents in the building.
"This is about delivering more common space and more modern facilities open to every resident in the building. We expect the first new facilities, the laundry room and bike room, to be completed next month, with others following next year. The results will be something all residents will feel are worth it."
Advertisement



Tuck Milligan says this is … malarkey. He is the co-chair of the renovation committee and a long-time resident of the community. He told ILTUWS that the newly renovated, market rate apartments offer in-unit washers and dryers, while residents from over one-hundred older apartments "will have to squeeze into a room that will only accommodate about 3 people at the most doing their laundry at the same time."
"At our [November 15] tenants meeting, tenants voted overwhelmingly to hold another rally to protest our current spacious and very workable laundry room on the first floor that we've used for over 45 years being relocated to the basement in a room one third the size. We feel that this represents a "Front door-Back door" culture that A&E is imposing on our building.  This is affecting not only voucher holders in our building but longtime market rate tenants as well who do not have their own washer/dryers."
"A&E HAS met 70% of our demands," Milligan tells us. We are still fighting for that 30%: the compensation, upgrades and community room."
But not all tenants feel this way. We spoke with one person who's lived at Glenn Gardens for over 25 years. He told us he understood the dust and noise issues that came along with the building renovation and was not overly inconvenienced by either.
Regarding the laundry room relocation in favor of creating a fitness center, this tenant is all in. "It's a good bonus. Useful and practical. It's a big plus to gain. It's not like we are losing a space or that the former laundry room is going to be off limits for tenants."
This resident also says the new laundry room would be accessible by using the same elevators tenants use to access their apartments. "It's not a big deal. I'm glad to have laundry remain in the building."
Advertisement



When asked if he thought there was a front-door, back-door culture at Glenn Gardens, he simply said "no." He explained apartments are refurbished when tenants move out if the unit was not refurbished previously. "The people moving into those apartments are paying for those upgrades. I don't think [A&E] owes upgrades without the expectation that it would come at a cost."
Milligan made it clear that he and the other tenants do not begrudge those with their own personal washer/dryers in. "We merely ask for the same treatment."