Valentine's Day has always been my favorite day of the year. I know there are many haters out there who think it's just a Hallmark holiday (I don't disagree with you), but just open your heart a little bit and try to have some fun this year! Whether you are happily single, looking for love, or otherwise engaged, this list will have you covered.

A Valentine's Evening with Beethoven at Lincoln Center
Alice Tully Hall, 1941 Broadway at West 65th Street
Friday, February 14 from 6:30-9:30pm
See the Club of Metro New York for a magical evening of Beethoven. There will be time to socialize before the event during a reception at the exclusive Hauser Patron Salon at Alice Tully Hall.  This is a great event for friends, couples, or those looking to find other classical music lovers.
Advertisement
Truffle Lab Chef's Table Special Valentine's Day at Urbani Truffles
10 West End Avenue (60th Street)
Friday, February 14 from 6:30-8:30pm
The menu looks amazing, and the ambience will be super romantic. Enjoy a delicious prepared by Chef Fabrizio Facchini in a romantic candlelit environment. Enjoy the special day trying out his original dishes using the truffles from the number one truffle company in the world!
Date Night: Aphrodisiacs at The Cooking Place at Fairway Market
2131 Broadway (between 74th and 75th Streets)
Friday, February 14 from 6-9pm
On the menu: Broiled Lobster Tail, Steak with Red Wine and Mushroom Sauce and Grilled Asparagus Spears, Chilie & Maca Chocolate Truffles! Have an unforgettable meal that you create together during this unique date night experience.
The 70's Soul Jam Valentine's Concert
The Beacon Theatre, 2124 Broadway (between 74th and 75th Streets)
Saturday, February 15 at 3pm and 8pm
Get ready to have a far out time! The 70's Soul Jam Valentine's Concert will be at Beacon Theatre with The Stylistics, Enchantment, Bloodstone, The Intruders, and The Emotions.
Heartbreak Hotel Singles Party at The Empire Rooftop
Empire Hotel (44 West 63rd Street)
Sunday, February 16th at 7pm
If you are looking for love, check out this post Valentine's Day event at a classic NYC hotspot.
Advertisement
Flowers, Gifts, and Dining
Flowers: Posies
For flowers, my husband's go to is Posies, because he knows I love their bouquets! Susan Holt, the owner of Posies, has been on the UWS for 14 years. Susan explained that while it's always a good idea to call ahead, you can always stop in the day before, or even day of to pick up a bouquet. She also told me that getting flowers other than roses makes for a nice treat. She suggested tulips as a great alternative to roses. Posies is located at 366 Amsterdam Ave, and can be reached at (212) 721-2260.
Sweets: It's Sugar and Paris Baguette
Sugar is the sweetest way to express you love on Valentine's Day! If you have never been to It's Sugar located at 1870 Broadway, it's time you stop in for their holiday selection. Everyone's favorite candies are there packaged for Valentine's perfection.
Looking for a nice cake or something to bring with you to a party? Check out Paris Baguette at 2039 Broadway. They have a cute selection, which they will wrap and prepare to go for you.
Gifts: Beacon Wine and Spirits, Paper Source, and Fred Astaire Dance Studio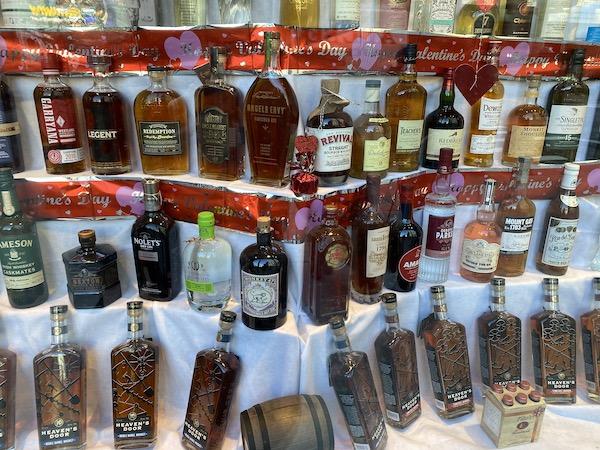 You can find something for everyone at Beacon Wine and Spirits. They have a large selection, and friendly staff who are eager to help you pick the perfect bottle.
My go to place for all gifts on the UWS is Paper Source located at 309 Columbus Ave. While they always have a thoughtful and entertaining selection of cards, their Valentine's selection this year is better than any I've seen in the past. They also have decorations, and unique gifts for any type of person. It's a one-stop shop for all things Valentine's!
One other gift I've thought of this year is to give a gift certificate to take a dance class. Check out Fred Astaire Dance Studio located at 172 West 72nd Street (I know they offer gift certificates).
Advertisement
Dining: The Milling Room and The Mermaid Inn
There is always the classic tradition of going out to dinner with your Valentine. With so many great options to choose from on the UWS it was hard to do, but I've narrowed it down to my two favorites.
First is The Milling Room, located at 446 Columbus Ave. The space feels grand and quaint at the same time. The lighting is always perfect and romantic. The food is delicious. They are having a Valentine's Day Prix Fixe, which includes oysters, a choice of many different main courses including a Surf and Turf, and desserts including Mango Crème Brulee. Make sure to make a reservation in advance.
My second recommendation is The Mermaid Inn, located at 570 Columbus Ave.  If you are looking for a spot to go with your Valentine (taking your best gal pal out) this is a wonderful selection. I love coming here with my girlfriends to enjoy the atmosphere and unique drink selection. If you can't make it out for this holiday, they offer gift cards! This would make as a perfect gift to anyone who wants a wonderful dining experience on the UWS.
Finally, my daughter wanted to send our UWS community a Valentine. So this one is to you, from Halle.