Van Leeuwen Columbus has opened! Located at 253 Columbus Avenue (between 71st and 72nd Streets), they opened their doors on Monday, August 5th at 1pm! The artisanal ice cream chain had posted an event on their Facebook page offering patrons $1 scoops between 1-3pm.

People definitely noticed! Lines have extended around the corner for the $1 promotion.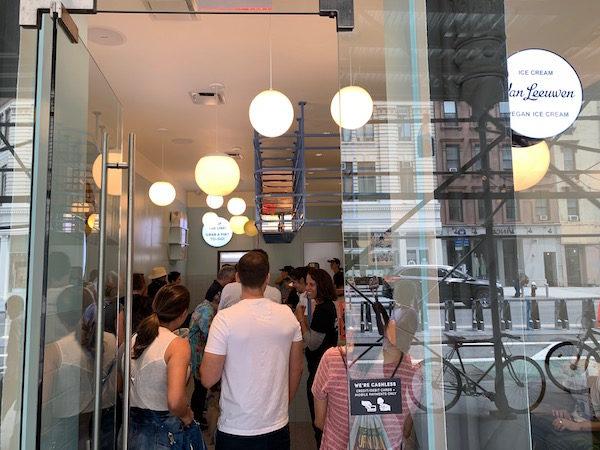 For a limited time, Van Leeuwen Columbus will be offering "Oat Milk Strawberry Fields Ice Cream". It's their first vegan strawberry ice cream, made with "northwestern totem strawberries blended throughout a creamy oat milk base".

Advertisement
The anticipation has been in the air for a while. We first heard about Van Leeuwen's Columbus Avenue location back in December of 2018, and the "scooping soon" sign first appeared in their window in early June.
Van Leeuwen has been in rapid expansion mode for quite some time. In mid-July, they opened their 18th NYC location in Murray Hill, and they'll soon be opening a location in Rockefeller Center.
The Upper West Side's original Van Leeuwen opened at 448 Amsterdam (82nd Street) in late May of 2018. This location is oftentimes very crowded, both because it's a popular place and because it's a small space. So Van Leeuwen fans who live closer to 72nd Street have much to celebrate!
MORE DESSERT NEWS:
Join the UWS newsletter for more food + drink news!