You may have recently noticed some exciting Verdi Square upgrades. While there was recently just a Le Pain Quotidien in the square, chairs and tables have popped up seemingly overnight. The seating options in the square provide pedestrians a nice place to sit and have a coffee or read a book, and Upper West Siders are already breaking them in.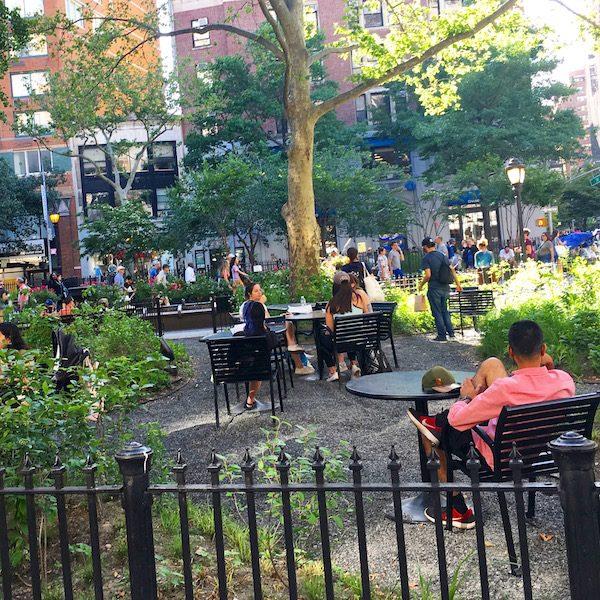 The seating has come from Friends of Verdi Square, an organization in partnership with  NYC Parks, City Parks Foundation, and Partnerships for Parks.

Advertisement
The Organization and their Project
The mission of Friends of Verdi Square is to restore, enhance and maintain the park.  This will help engage the community in active stewardship of the park. Additionally, this will promote a connection to nature through educational programming, especially for children.
The Woodland is the name they've given the newly designed garden surrounding the statue of Giuseppe Verdi at Verdi Square. It is designed to include indigenous New York City plant species that thrive in urban environments.
Additionally, the Meadow is the raised garden on the Broadway side of Verdi Square. This is the Friends of Verdi Square's next project, according to their site. The park also has a Rose Garden in the center of the plaza.
Their website points out a ribbon cutting ceremony happening on September 21st to celebrate the upgrade of the park. Exciting things are happening!
Verdi Square is the small triangle of land between 72nd Street and 73rd Street on the south and north. Broadway and Amsterdam Avenue form its border on the west and east. You may have walked through Verdi Square on your way out of the subway at 72nd street (the 1, 2, and 3 trains stop there). The Verdi Square entrance to the station in the square is above ground, and is one of a few remaining head houses in the city.
Learn more about Friends of Verdi Square on their website.
Join the Upper West Side newsletter for more local updates!