The Upper West Side got a little show outside ABC Studios on Tuesday, October 26, with supporters of Republican Mayoral Candidate Curtis Sliwa assembling to advocate for him. Eric Adams had a handful of advocates amongst the crowd as well, mostly on the outskirts though. Thanks to Benjamin Eliopoulos for the tip.

Advertisement



At 5:15pm, roughly 100 people were gathered outside ABC holding signs that read, "Improve, Don't move, Curtis Sliwa," and "Curtis Sliwa for Mayor." Eric Adams supporters were sprinkled amongst the Sliwa crowd as well, also touting signs.
The general tone of the crowd was tame, all things considered; nothing disorderly. It was a lot of action for a typical evening though, and posting up outside ABC was probably Sliwa supporters' best chance for recognition with about 100 people assembled.
As the sun was setting around 6:30pm, who appeared to be an organizer of the Sliwa demonstration, pictured below, proclaimed to the gallery that they should head south to West 54th Street where the rally would continue. ILTUWS followed the procession as far as Columbus Circle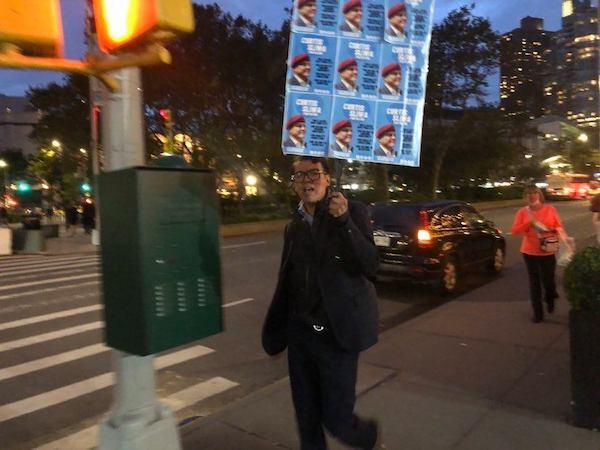 Sliwa, a resident of the Upper West Side, is the founder of the Guardian Angels, a nonprofit organization for unarmed crime prevention that was created in 1979. The group was originally named Magnificent 13 when it got its start in 1977.
Advertisement



On Sunday, October 24, Democratic Mayoral Candidate Eric Adams was at Verdi Square for a rally alongside Congressman Jerry Nadler and Manhattan Borough President Gale Brewer.
Election day is November 2nd. More details for early voting can be found here.