The 7 to 14-year-olds from Rocket Club – a fully virtual entrepreneurship, coding and robotics after school program – have been making headlines in magazines likes Entrepreneur and Forbes since the club opened in 2019. Rocket Club has members from around the world who have launched their own businesses, learned to code, and built robotics. The majority of Rocket Club's members are from Manhattan, with many from the UWS.

The most impressive aspect of the club is the unbelievable networking opportunity it offers.
Members have gotten to meet the founders of companies including Netflix, Beyond Meat and Casper Mattress, executives from companies like Apple, Uber and Twitter, political figures like Andrew Yang, and even directors of movies and television shows including Minions and Kids Baking Championship.
The curriculum is taught virtually in small groups.
Rocket Club leverages interactive games like Kahoot!, Sporcle, Connect 4 and Jeopardy to review topics such as artificial intelligence, augmented reality, revenues, expenses, profit and business valuation to name a few. Each week, members have opportunities to win "Rocket Fuel" which can be cashed in for prizes as big as a Nintendo Switch (already won 2x) or a PS5.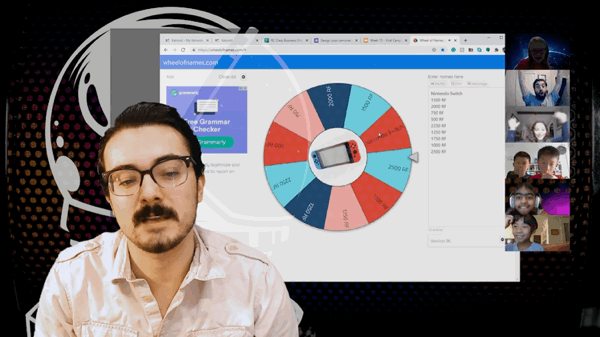 I recently looked through Rocket Club's feedback from parents and was blown away; every single write-up is positive, but what really strikes me about the forty-eight 5-star reviews is that they're written with so much passion.
Here's one review that really stands out:
"My 10 year old daughter and 12 year old son joined Rocket Club online classes this past summer. Initially I was hesitant about their interest level of doing an online class after spending so much time doing remote school. However, I have been struck with how engaged they are in the Rocket Club classes and the fun they are having. The teachers and the staff treat the children respectfully in an exploration process that discusses ideas, the creativity behind making something, as well as the execution process of a product. Alex and his team have figured out how to bring elements of the progressive education model where students' ideas are encouraged to be shared, discussed, carried out and learned from. Both of my children look forward to the classes and Rocket Club Live. We have also noticed in our kids a new level of confidence and interest in discussing business, science, and technology related topics with us. This program keeps impressing us with its thoughtful regard of the students and how to be relevant in what it is teaching."
Because the club is fully virtual, members attend Rocket Club from around the world. Rocket Club provides scholarships for families who qualify, leading to a very diverse membership base. Some members attend Rocket Club up to 6 times a week. There is a mandatory 1 hour class with a dedicated instructor, and then other activities that are optional, such as advanced coding, advanced robotics, 3D printing, RC Supergirls, chess, educational trivia, networking with successful executives, and more.
Some success stories from just the last few months:
Rocket Club members created what Forbes called "the world's first robotic lemonade stand." The lemonade stand premiered at NJ Tech's Venture Conference and was the talk of the convention. All proceeds were donated to Kode with Klossy and St. Judes Hospital.
Annabelle (8 years old) founded Stop and Love Animation. She has since done work for cosmetics legend Bobbi Brown , Scandinavian luxury blanket company Gooselings, and Startup Squad to name a few.
Astronade, a lemonade company Co-Founded by 5 members aged 7-9, partnered with international BBQ chain Mighty Quinn's to sell their lemonade at each of their locations. Astronade is one of several groups which created lemonade companies and will be competing next month in a competition for extra startup capital judged by Netflix Co-Founder Marc Randolph.
Kayden (10-years-old) founded Growinlow Hydroponics, which won the 2019 Inventing the Future Award at Propelify.
Leo (12-years-old), Founder of Smackers Cookies, created a signature "Woz Cookie" that caught the attention of Apple Co-Founder Steve Wozniak . Wozniak made a video for Leo to help him boost sales …
Rocket Club's enrollment for the incoming class (which starts March 1, 2021) is limited. There is an upcoming segment on a popular morning television show coming up in December which will likely fill their enrollment for February and possibly the rest of 2021, so book a session soon.
To sign up for an information session please visit their sign-up page: Rocket Club Admissions
… Also, if you want to get a deeper understanding of the program and the inspiration for Rocket Club, their founder did an "Ask me Anything" on Quora this week. I highly recommend this 10 minute read!