On Tuesday evening, a large-scale light installation went on display at Columbia University. It's called Waterlicht, and the person behind it is Dutch Artist Daan Roosegaarde. You'll have another chance to see it both tonight and tomorrow. The event is free.

"Waterlicht" translates to "water light" in English. The installation is a creative display of the power of water, and it also raises awareness about rising sea levels.
"WATERLICHT is about showing the power and poetry of living with water, which is more relevant than ever in New York City. It is an honour to work with Columbia University to exhibit WATERLICHT, and connect with a new generation which plays a central role in changing the climate."

—Daan Roosegaarde
[adrotate banner="58″]
Propelled by LED lights and lenses, WATERLICHT first came to life last night in the public plaza of the Lenfest Center for the Arts (at 615 West 129th Street).
Tuesday evening's rain seemed to actually enhance the viewing experience of many attendees.
Here are some photos by @garkysharky, who attended on the first night: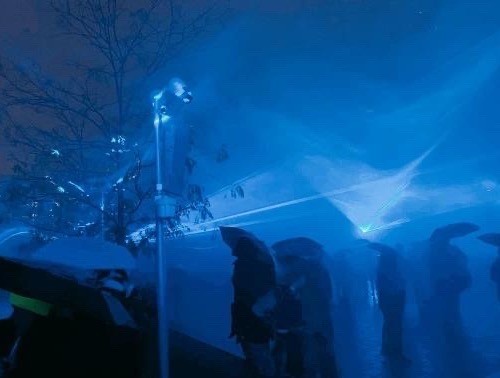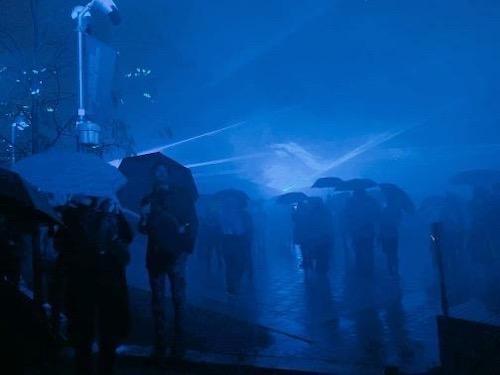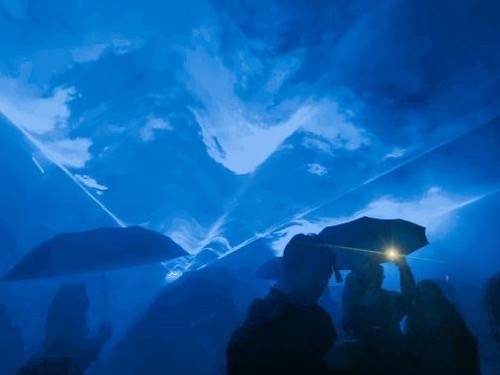 This impressive display comes as part of Columbia University's Year of Water; a series of exhibits, concerts and lectures dedicated to the world's most precious resource (which as stated on Columbia's website, will continue through the next two semesters).
Waterlicht will be on display again on October 23rd and 24th, from 7:30 to 11pm each night.
In addition, Daan Roosegaarde will discuss his work at 5pm on October 23rd, at The Forum at Columbia University (601 West 125th Street). He'll be speaking with Carol Becker, Dean of Columbia University School of the Arts. Becker is quoted calling Roosegaarde "one of the most exciting artists of the 21st century". To register to attend this live talk, click here.
And to register to attend Waterlicht, click here.
Join our newsletter for more great events!