Tonight, the 7PM cheer interrupted a clean-up of our bathroom, which had an overflowed toilet and was threatening a massive stinky flood on our white pebbled tile floor, requiring all hands on deck as it was already a minor stinky flood. Really, domestic crises just don't seem called for during a pandemic quarantine. Thankfully, I had cleaned up enough and was on the bleach-solution-going-on-the- floor stage when my cell phone reminder chirped, prompting me to run over to the front window for a few moments, where a spoon and small saucepan have lived since mid-March.

From our 13th floor Morningside Heights north facing window, where we have been fortunate enough to not to suffer but simply weather this storm, I am getting used to the nightly figures populating the windows within my view, like zoom squares come to life. There is the window almost directly opposite ours, across the wide street and down a few floors, with the letters "RN" affixed in blue tape, which I like to believe is for registered nurse. Some evenings there are one or two young people in the window; tonight there were three. They sit on the window sill and clap, clap, clap, clap, clap, clap. On the nights no one is there, I imagine them on a shift, patients looking at their eyes and photo name tags, smiles obscured by masks, heartbreak around the corner.

Advertisement
There is the older woman one building across and five stories down with her maracas. Our elderly upstairs neighbors call to us from their window above, blasting their air horn; we ask if there is anything they need. There is a private roof deck directly across the street, where the building re-tiled the entire roof white last fall. The penthouse occupants, still lower than our floor, re-did their small portion with plants and a hammock, wicker chairs and a dining table. I have marveled for years that I am likely the only person who can look down on their exclusive aerie. Most of the time there hasn't been anyone up there to cheer (data from the Times confirmed that our zip code was one of the ones that emptied out in early March), but a week ago two young men stood and waved to me, holding out their phones to record the cacophony. There are air horns, Jamaican drums, clapping, shouting, car horns, bicycle bells, two tin pie pans banging together, mini-cymbals, tambourines, and our own spoon on a pot.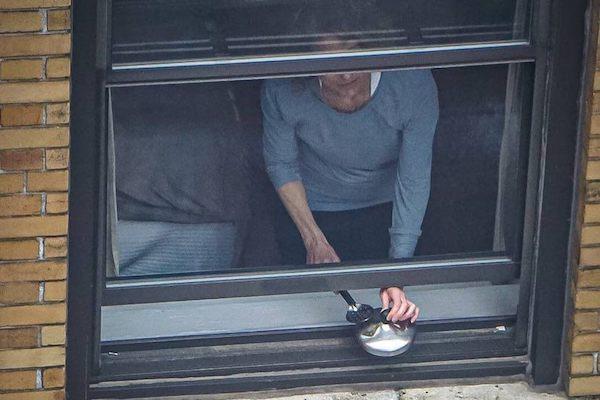 One night someone did blast Sinatra's New York, New York at the conclusion of the cheer, which met with desultory applause at the end. (One has to draw the line somewhere. This isn't Hoboken after all.) Occasionally there are sirens, whether adding to the din deliberately, or coincidentally, their ever-present shrieks rising above the rest as the ambulances rush to the ER on 114th and Amsterdam.
Sometimes I think we resemble an insane asylum, dangling out windows, pleading to be let out.
Then there are the people on the street, walking or biking, most of whom applaud as well. Just casually. It still surprises me that they do. So unlike New Yorkers to make the private public, so ungiven to personal mawkish displays. In some small way this cheer serves as our communal convivial evening drink, snacks before dinner. "I'm Still Here, you?" In the Before Time, most New Yorkers would never have deigned to participate in such a thing, vulnerability exposed, sentimentality on display, and then to keep it up. (And to those I spy walking and not applauding, you go right on being the hard-boiled cranky New Yorkers that you are.)
And yet. I'm continually surprised every night that most of us still keep it up.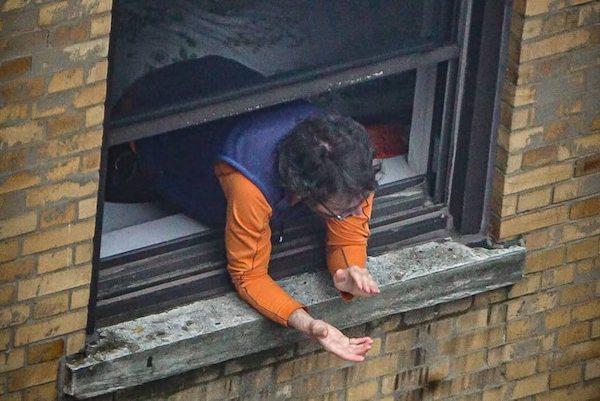 The 7pm cheer began as a means to thank the hospital workers, who switch AM and PM shifts at 7pm. It expanded to include hailing all heroes, delivery people, essential workers, pharmacists, doormen, UPS drivers, USPS workers, grocery store staff, bodega owners, MTA employees. But it has also become something else. My husband is usually a little late to the party, but inevitably he arrives, opening up our second front window and letting out something that sounds like a cross between a stadium roar and a primal scream.
Lucky enough to still be here, privileged enough simply to have pent up pandemic problems, maybe the noise distracts us just for a moment from thinking of the more than 100,000 American deaths. 345,000 deaths globally. Over 20,000 in New York City alone. The brain cannot hold these numbers, realizing that each number was a real, actual person with a real, actual, life. So many, so quickly. So ineffably sad.
The quotidian goes on. Bathroom messes still need mopping up. We still need human connection. And those of us fortunate to still be alive, to still care for our city, we express our solidarity every evening at 7pm. The cheer reminds us that all along the avenue, the neighborhood, the city, country, globe, there is energy, there is life.
The rest of us are still here, hanging out our windows, waiting to populate our city again.
Anna Lank has lived in New York City since 1981, as actor, singer, coach, owner of a boutique recruiting agency, standardized patient, wife, mother, friend, and most recently Managing Director of C3NY, the Clinical Competence Center of New York, producing patient simulation events in area medical schools. She began her NYC life living in Hell's Kitchen, kept moving uptown, and five apartments later finally landed in Morningside Heights. When not hanging out her window, you can find her playing bridge online with family and friends in Vancouver, Milwaukee, Albany and Kiel, Germany.