West Side Campaign Against Hunger, (WSCAH ) whose main office is located in the heart of the Upper West Side, in the basement of St. Paul and St. Andrews Church at 263 West 86th Street, is one of New York City's largest Emergency Food Providers and has been at the forefront of innovation for over 40+years.  25 years ago it developed the first customer-choice supermarket style pantry in the United States, setting the stage for decades of innovation.

Today, WSCAH programming, through its headquarters at West 86th Street and Mobile Market services 21 sites across Manhattan, The Bronx, Queens, and Brooklyn, offering customers fresh produce, whole grains, protein and dairy, along with a robust social service department which connects customers to essential benefits such as SNAP (Food Stamps), healthy insurance, employment benefits, and much more.
2020 has proven to be one of the most challenging years in WSCAH's 40+ year history. The COVID-19 crisis continues to put an unprecedented strain on the entire New York City community, and the demand for WSCAH's critical food and social services has never been higher. In 2020 alone, WSCAH has distributed 2.1 million pounds of healthy food to over 35,500 people, a 56 % increase than previous years. They've accomplished this with the help of over 1,600 volunteers, food and financial donations from generous donors, and through partnerships with other nonprofits, school and corporate volunteer groups.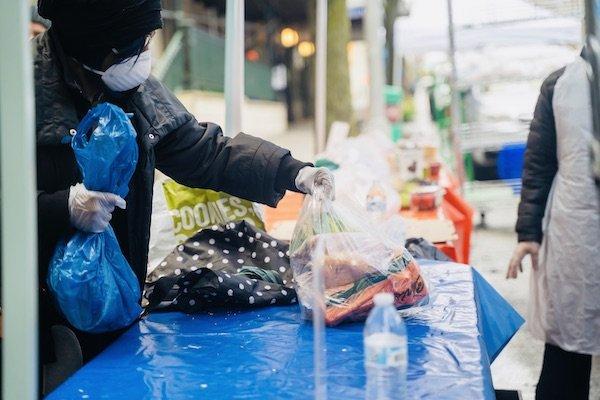 As a leading Emergency Food Provider in New York City, WSCAH has worked tirelessly to meet the needs of the COVID-19 impact, with innovation and pivoting its operations in real-time to meet this increased demand while keeping our staff, volunteers, and customers safe. And as the City of New York reports that one-third of emergency food programs closed in NYC due to the COVID-19 crisis, many more are in danger of shutting down, thus making organizations like WSCAH more important than ever.
Every autumn, WSCAH celebrates its accomplishments with an annual Harvest Dinner– but due to the circumstances, this year's event will be a Virtual Benefit, taking place on Tuesday, October 20th.
The Virtual Harvest Dinner will begin with a VIP cocktail hour at 7pm, where an exclusive talk and Q & A session will be led by guest speaker Karen Washington.
Since 1985, Karen Washington has worked to make New York City a better place to live and grow. As a fierce organizer and advocate, Karen has fought for justice and fostered resilience through the lens of food and community spaces throughout the city. She is the co-founder of Black Urban Growers, which supports Black farmers in urban and rural settings, and a board member of Why Hunger, the New York Botanical Gardens, Farm School NYC, and Soul Fire Farm. She is the recipient of the James Beard Leadership Award and was voted in 2012 as one of the most influential African-Americans in the country by Ebony Magazine. Since 2014, Karen has been co-owner and organic grower at Rise & Root Farm in Chester, New York.
The main event will begin at 8pm and will mirror WSCAH's annual benefit. Key leaders of the organization will discuss the importance of their work and key programming will be highlighted.
The special guest speaker for the main event will be Rabbi Robert Levine of the Upper West Side's Congregation Rodeph Sholom. Levine is a published author, an inspiring speaker, teacher, and counselor to congregants and community members alike. A clear thinker with a terrific sense of humor, he is a sought-after speaker and media guest on national radio and television programs.
Please join the community at this important event. Register for West Side Campaign Against Hunger's Harvest Dinner, please visit wscah.org/harvestdinner2020