As the neighborhood struggles with homeless shelters and motorist rage at zero sum parking spaces, a summer's day fantasy comes into view. The kidney shaped turquoise pool appears with kids on floats, moms sunning, dads in drip-dry shirts. When is this? Where is this landscape? Burt Lancaster in "The Swimmer?"  Actually, it's in the windows of the Apthorp Dry Cleaners on Amsterdam Avenue between 78th and 79th Street.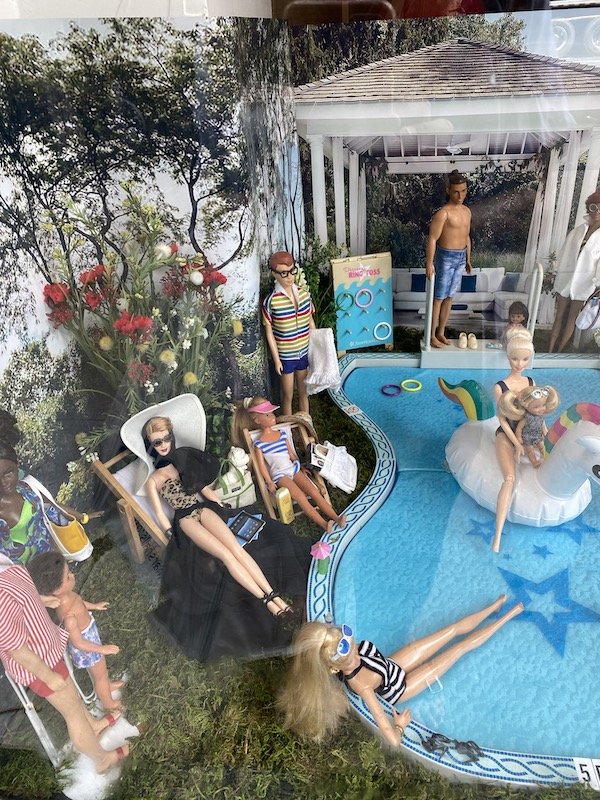 Debra Kravet is the owner and creator of these shop window fantasies. "We've been in this location since March 30, 2009. Before that, we were in the Apthorp buiding for almost 26 years, until it was sold, and the new owners didn't renew our lease."

Advertisement
A familiar story. "My husband says they threw out Fed Ex too, and now the shops are all empty."
Over the years, I've been amazed by these miniature spectacles. Then I started photographing them.
Coiffed women in red ball gowns appear on stairways. Couples in evening dress and tuxedos, surrounded by Academy Award wallpaper, with Marilyn Monroe in her famous wind-blown white dress. A Christmas morning piled high with wrapped presents and thrilled children around a fireplace. A Passover seder with the seasonal food.
How did she come to create this shop window art. "When we moved into this space, I decided I didn't want it to look like an ordinary dry cleaners. I wanted it to be more like a boutique, or spa. I figured I'd do raincoats, or evening wear, or bridal gowns. They all have to be dry cleaned."
Clearly this is an artist, albeit a modest one, who has created a unique art form.
"Normally I change the windows four times a year," she continues. "I had International Women's Day up for a long time. But when Covid came in, I didn't change as frequently. Then I did the Korean K-Pop Boy Band, after Jimmy Fallon invited them to New York City. I made little masks for them." She paused. "My most popular one though was 'The Marvelous Mrs. Maisel."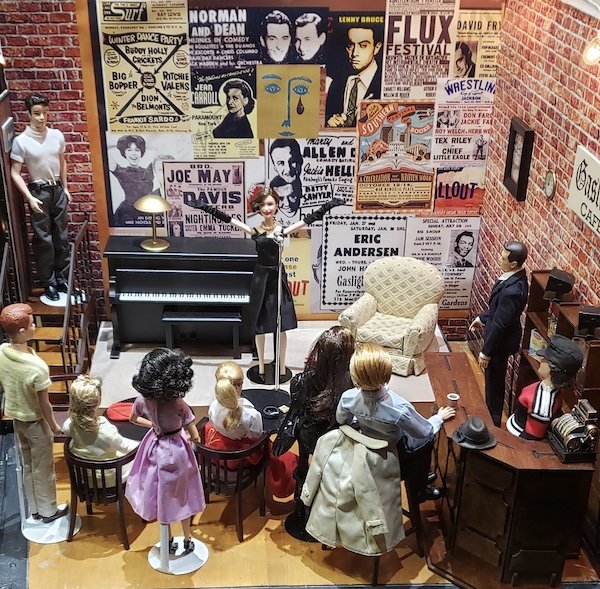 What a gift to the neighborhood. This reminds us of the creativity, the generosity of the Upper West Side. As we go through this crisis, masked and often feeling anonymous, Debra Kravet's scenarios offer much needed inspiration.
Sonia Pilcer is the author of six novels including The Holocaust Kid. She has lived on the West Side since it was a dangerous neighborhood. She wrote the screenplay of her novel Teen Angel with Garry Marshall and sold it to Universal Studios. Her theatrical adaptation of I-LAND: Manhattan Monologues ran for 6 years at the Thirteenth Street Rep Theater. Learn more about the author at soniapilcer.com.