Vegans and vegetarians rejoice! The "Impossible Burger" has made its way to the Upper West Side of Manhattan. Not familiar with the Impossible Burger? It's a trending option for those who enjoy the flavor, aroma, juiciness, and texture of a traditional burger, but have opted not to eat meat. It even sizzles when cooked.

The Impossible Burger may look exactly like a real burger, but is made of no animal products, and instead, cites wheat protein, coconut oil, heme, and potato protein as some of its key ingredients.

Advertisement
Twitter users, in particular, have taken an extreme liking to the Impossible Burger, posting photos and tweets praising the burger.
While some argue that the burger may not be the most nutritious, it's definitely a solid option, especially for someone who may miss the experience of eating a traditional burger. While it is nutritionally not all that different from a regular burger, it is worth a shot.
Curious to try it for yourself? Luckily the Upper West Side has got you covered with places that supply the Impossible Burger. Check out the list of places below that are slinging these burgers on the Upper West Side.
5 Napkin Burger
2315 Broadway (corner of 84th)
5 Napkin Burger is a "modern bistro chain" that offers gourmet meat and veggie burgers, along with a wide selection of beers and drinks. Happy hour specials are plentiful too!
5 Napkin's Impossible Burger is a 6 ounce patty served with lettuce, tomato, pickles and a special sauce.
Price: $16.50
Candle Cafe West
2427 Broadway (between 89th and 90th Streets)
Candle Cafe West is a casual, light offshoot of Candle 79. They offer vegan fare, along with organic ingredients, and plant-based food.
Candle Cafe West's Impossible Burger comes with caramelized onions, cheddar cheese, lettuce, tomato, pickles, sriracha aioli and truffle fries with cashew parmesan.
Price: $18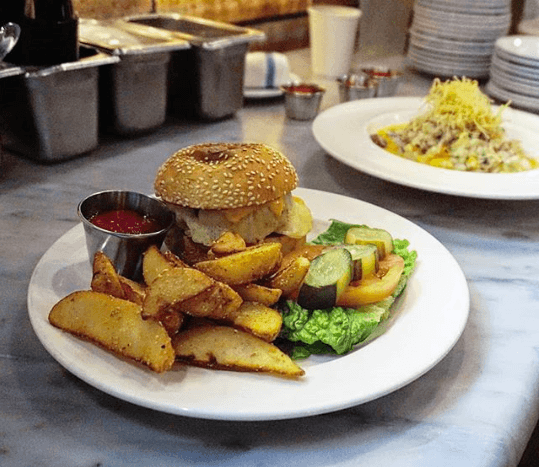 Check out Candle Cafe West on Instagram.
Vino Levantino
210 West 94th Street (between Broadway and Amsterdam)
Vino Levantino is a stylish and sophisticated wine bar. It features Mediterranean fare, with a range of selections from tapas to full meals, and wines that are imported from across the world.
Try Vino's rendition, made from quinoa and carrots.
Price: $15
Advertisement
Bareburger
795 Columbus Ave (between 98th and 99th Streets)
Bareburger is a casual regional chain. Offering options from beef, to bison, to ostrich, they now are serving up the Impossible Burger too. They serve comfort food, and appetizers in a cozy setting.
Bareburger's Impossible Burger is made with American cheese, caramelized onions, dill pickles, green leaf and their special sauce on a brioche bun.
Price: $14.49
West End Hall
2756 Broadway (between 105th and 106th Streets)
West End Hall is an upscale beer hall that serves creative pub fare. Global beers, bar games, and a large backyard garden make this a fun location to grab a burger. And it's one of our favorite Upper West Side bars!
You can find the Veggie Delight on their dinner menu: a house-made veggie patty with sriracha mayo, avocado and crispy shallots.
Price: $13
The New Good Enough To Eat
522 Columbus Ave (at 85th Street)
GETE's second restaurant recently opened at 522 Columbus Avenue, and has a $14 "Impossible Laine Burger" with lettuce, tomatoes, caramelized onions, pickles and their own sauce (thanks to Brittany for letting us know!).
The Viand Diner & Bar
517 Columbus Avenue (at 85th Street)
Right across the street, another UWS classic opened a second location (the original Viand is on 75th and Broadway). The Viand Diner & Bar offers a $15 impossible burger which comes with American cheese and grilled onions.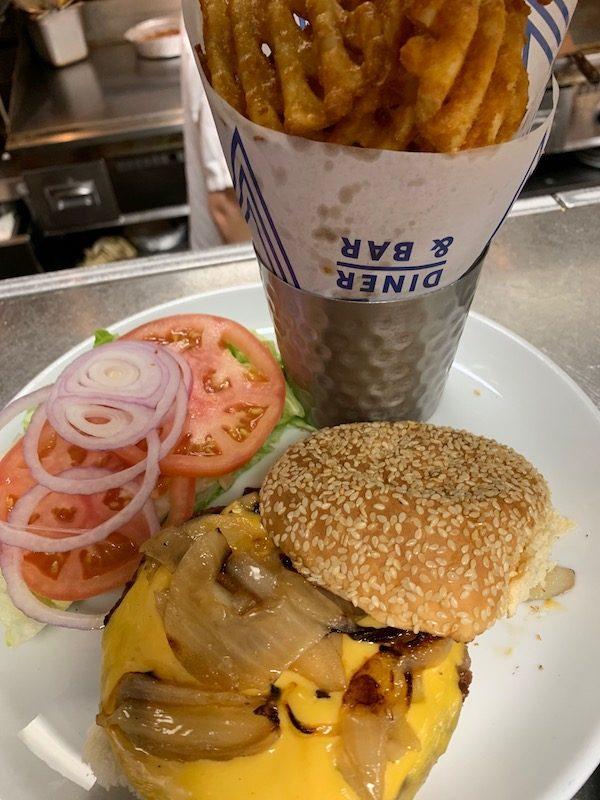 Know of anywhere else that serves the Impossible Burger on the UWS? Let us know by sending us an email!
Learn more about Impossible Foods on their website.
Join our newsletter for more delicious tips + restaurant news!
The following two tabs change content below.
Hannah Rosenfield is an avid writer and new resident of the Upper West Side. She graduated from Binghamton University in May of 2018, after studying Creative Writing and works in advertising. In her free time, Hannah loves reading the New York Times food section, petting all the dogs on the Upper West Side, and strolling through Central Park.
Connect with Hannah on Linkedin.
Contact Hannah by email.
Latest posts by Hannah Rosenfield (see all)
Advertisement