The Community Board 7 meeting on Tuesday evening was packed. Local news trucks were parked out front and a section of the room was taken over by news cameras. What was the big issue at hand? A proposed curbside study that has many Upper West Siders fearful that if conducted, would result in the loss of free parking spots around the neighborhood.

In the weeks leading up to the board meeting, flyers had been posted around the community urging people to come and speak out against the loss of free parking spots. These flyers were addressed by Chairman Mark Diller at the meeting.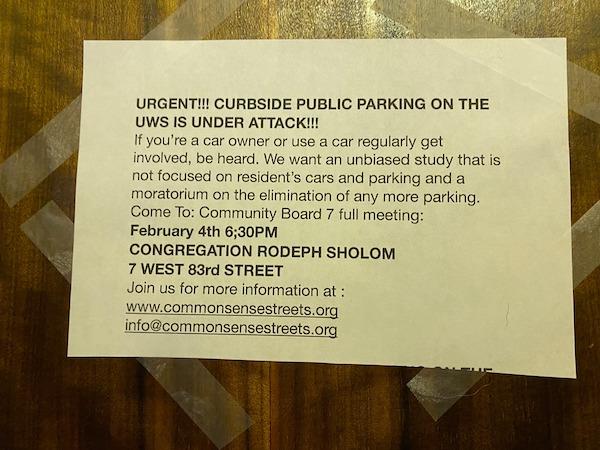 "There has been a flyer that's been circulated in the community that has characterized our resolution. I would invite you to read the text of the resolution."
Advertisement
Chairman Diller continued by reminding everyone that the resolution calls for a study, but that there would be additional consideration and a process for any proposals that came out of the study. So even if the study concluded that there should be fewer parking spaces, nothing would be implemented without further board discussion.
"You can expect further meetings and further opportunities to speak. And I hasten to add that one of the many things that the study could speak to, and something you may want to speak to in your testimony, is the possibility of residential permit parking that will give priority to local residents," Chairman Diller said.
While it was clear that most people who wanted to speak had already made up their mind about what they were there to say, Chairman Diller reminded everyone that the board only wants to hear comments about the issues, not about people – meaning the board members who put forth the resolution.
"I would also remind folks that we're here to have a discussion about the issues, not about people. And that we are all neighbors, every single one of us," Chairman Diller concluded.
Before the microphone was turned over to members of the community to comment, one of the Transportation Committee chairs noted that 62 people submitted requests to speak. Of those requests, 31 registered in favor of the study, and 29 registered against it.  There was an attempt to alternate commentary between those for and against calling for a study.
The first speaker for the study, an engineer, said that no one is worse off for having more information. "You know there's a lot of stuff going around… about how people are out to take away something. A study is just getting more information and asking someone to evaluate all the options, and see what you can get out of that," he said.
The first speaker against the study cited the inability to pay for garage parking if free parking was eliminated. "I live at 95th Street and Broadway. I have a car, which is used to work in Jersey to visit my extended family from New Jersey, and I park on the street because I can't afford $600 a month parking garage." he said.
While there were still 60 more speakers on deck, these two sentiments were the prevailing arguments of many of the speakers.
One large organization calling for the study to take place cited that they had 120,000 supporters who fully support the resolution to call for a study. The representative said that a small number of local residents own cars, and the space could have other valuable use to create safer, greener streets.

Advertisement
Those opposing the study said that calling for it now would be premature. With congestion pricing about to be implemented, they argued it would make more sense to wait to see how those changes impact
UWS congestion and parking
. They argued that the current study seemed bias, and has an agenda.
During the session, some of the supporters for the study held up signs in their seats. Those who opposed the study began to argue with them to lower their signs as it impeded their views of the proceedings. Chairman Diller had to step in to resolve the erupting dispute.
"I now understand why the United States House of Representatives prohibits placards in demonstrations on the floor. So those who are holding up signs, I would implore you to please move to the back of the room so you're not blocking the view of others who want to see and hear. I think that's a reasonable request and I would ask you please to do that if you want to continue to hold your sign," he stated.
Commentary continued with statements from a father with disabled children who needs to have free street parking to get them around, and a doctor advocating for elimination of parking to make way for greenery to improve air quality.
When public comments concluded, board members were allotted time to speak on their concerns and then voted. The resolution calling for a curbside study was passed in a vote of 22 for, 12 against, and 3 abstaining.
Here's a video of part of the meeting posted by CB7: