Nexa Pilates, located at 461 Columbus Ave, has amazing reviews – yet prices that anyone can afford. And now, they're offering our readers the chance to win $300 worth of free pilates! Here's a link to their Instagram challenge for full details.

The Team
Master trainer Anna Clark has been teaching pilates for over 15 years … and all of Nexa's instructors have been classically trained by the best schools in the country. The quality and professionalism you'll find at Nexa Pilates is unlike anywhere else – on the Upper West Side, or in Manhattan.
The Studio
The light, open, and airy space will transport you to a tranquil state of mind. The studio is filled with the aroma of rose candles and creates an upscale and spa-like vibe. Expert trainers make this a destination studio for any level of pilates student. From expert to beginner, Nexa offers variations for all levels. Trainers provide outstanding encouragement and support.
Five Star Reviews Across The Board
I came to Pilates about three months ago for the first time, and with their help I am steadily gaining proficiency. I feel much better, my posture is improving, and—I'm sleeping better. So the 2x per week Pilates is having a significant effect. I highly recommend NeXa.
The Contest
The winner will receive 3 privates sessions and 1 class, for a total value of $300. Link here for details!
And Here's One More Way To Get A Discount:
Nexa Pilates will be hosting a Summer Solstice event on Friday, June 21st from 5-8pm. Participants will be able to purchase private sessions and classes for 20% off. They'll also be doing pilates demos and celebrity nutritionist Dr. Oz Garcia will be speaking.
Refreshments will be served!
Learn more about the event on Facebook or Eventbrite.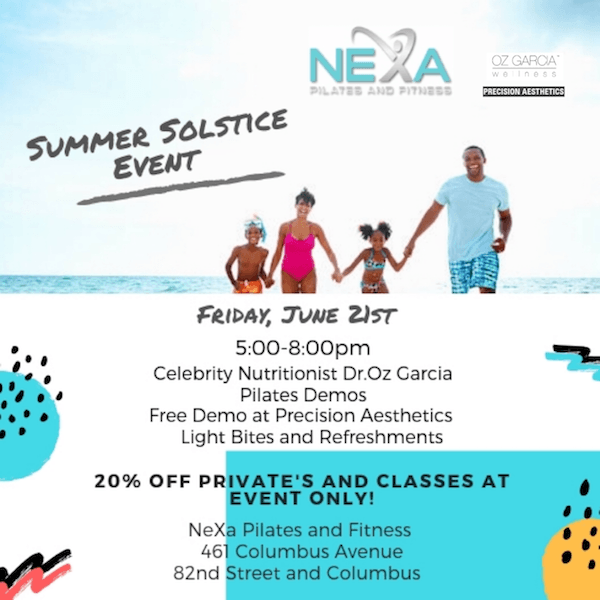 Nexa is Always a Good Idea.
The prices at Nexa Pilates are as reasonable as you can find: For $250, introductory students can purchase 3 private sessions, or for $90, can attend 3 tower or reformer classes. And you can get 3 mat classes for only $5o! Be sure to check the Nexa website for additional pricing.
Nexa Pilates helps create change in people's bodies though informed instruction, consistency, and example. They believe that instructors should inspire people to make lasting change by going on the journey themselves.
The benefits of pilates are limitless. Doing pilates will increase flexibility and strength, tone the body, and enhance control and balance. It will also improve posture, fix a bad back, and much more!
And students love the level of care, personal attention and challenge they receive from the trainers at Nexa Pilates.