As a self-described Funny Female Foodtreprenuer, I'm always appreciative of my fellow badass broads who take on the daily challenges involved with running a business. Especially in an industry that's been so dominated (and frequently sullied) by men for the last several centuries–I guess that's most industries.

And, as a native UWSer, I'm always curious about the back stories of the businesses I love to support. Put those things together and add a dash of Women's History Month for inspiration, and I present to you a list of wonderful UWS restaurants with some hard-working women at the helm. To keep the list digestible, I've only included restaurants between 59th and 110th Streets. Otherwise, they're randomly ordered.
Advertisement
Beyond Restaurants Hospitality Group
Cafe Frida Mexican Restaurant: 368 Columbus Ave (between 77th and 78th Streets)
El Mitote: 208 Columbus Ave (between 69th and 70th Streets)
Ella Kitchen & Bar: 249 Columbus Ave (between 71st and 72nd Streets)
For over 20 years now, Cristina Castaneda, the owner and founder of the Beyond Restaurants Hospitality Group, has been treating the Upper West Side to a variety of Latin and fusion cuisines. She puts an emphasis on quality, authenticity, and true hospitality. Her restaurants are designed to create a sense of community and bring guests beyond the borders of their location.
Cristina's Restaurants
If you're at Frida, I strongly suggest you treat yourself to the Tlacoyos, and start with some of that Queso Fundido if you're dining with another. At El Mitote, I would start with the Street-Style Esquites, because I like delicious things and then go for the tortas–it is a torteria, after all! Finally, Ella Kitchen and Bar is the latest iteration of this tapas adventure. While I haven't been since they've added the Mediterranean flair to the menu, I am certain that they're still pumping out tasty Empanadas Salteñas, Shrimp "Ajillo", and the classic Bravas. Don't forget the drinks at any of these establishments to round out your meal! Cristina may not have intended to get into the restaurant business, but now we hope she never leaves.
View this post on Instagram
Blossom on Columbus
507 Columbus Ave (between 84th and 85th Streets)
This is the 2nd location of the Blossom group, which is an organic vegan concept by Pamela Elizabeth and Ronen Seri. The duo began their wholesome journey to bring delicious vegan cuisine to the masses when they realized that even their neighborhood of Chelsea was lacking options as recently as 2005. And while there are more options for vegan fine dining today, Blossom is still serving some of the best in the area in their spacious and inviting restaurant that's also certified kosher. Personally, I'm always a fan of small plates and chef's tastings–but if you're not then I suggest the Crispy Artichokes and Curried Stuffed Sweet Potato. They've got a pretty good wine list as well – and some killer cheesecake.
Pictured below is their gluten-free pizza.
Silver Moon Bakery
2740 Broadway (between 105th and 106th Streets)
Silver Moon Bakery will always have a special place in my heart as it was one of my regular post-workout spots when my friend and former Bootcamp instructor still lived in NYC. After sweating and gabbing the early morning hours away, a small group of three or four of us would often find ourselves inside the small bakery for coffee and confections. We may have only had the intentions of caffeinating, but as soon as you walk up to the corner where it's been sitting for nearly 20 years, your senses are overwhelmed by the warm scents of all the freshly baked goods that very temporarily live on the shelves here.
While this was always a female-only tradition, as were our workouts–I only recently discovered that it was owned by two women, which warms my heart even more! When Judith Norell and Georgia Stamoulis opened their doors in 2000, they did the whole neighborhood a favor–so do yourself one and get some freshly baked goodness immediately.
Advertisement
Milk Bar
561 Columbus Ave (87th Street)
If we're gonna talk about hard-working women in the NYC food industry, we can't skip over Christina Tosi. She's built an empire of sweets that started with a very small storefront in the East Village in 2008. Today, Milk Bar has locations in 5 cities beyond New York, including in Canada–she's international, baby! When I discovered there would be an Upper West Side branch of this "Dairy Queen with pork buns" I think I literally jumped for joy–to my neighbors' displeasure.
Christina, who's now a super-famous TV chef, has a bunch of great signature items in her Milk Bar shops, but my favorites are seasonal Thanksgiving Croissant, Crack Pie, Cornflake Chocolate Chip Marshmallow Cookie, and on a hot day it has to be the Cereal Milk Soft Serve WITH Crunchies.
And Milk Bar's Funfetti Cake is guaranteed to make any birthday happy.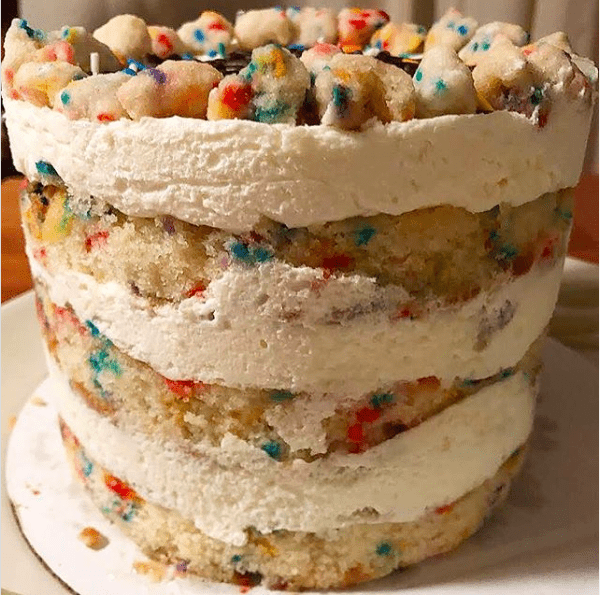 Ashford & Simpson's Sugar Bar
254 West 72nd Street (between Broadway and West End)
Back in the late 90's I was in high school for the performing arts. At that time, seeing the many actors and actresses I admired wandering my neighborhood streets felt as if it could one day be me. On 72nd Street alone I remember a late night passing by of one Angelina Jolie, and on another occasion, I watched with wonder as Halle Berry walked into the (at the time) new Sugar Bar.
The place to me immediately became a status of cool–because I didn't quite grasp at the time that the owners did that already by being Ashford & Simpson. Over time it became a favorite of my father's for his love of jazz and of mine for my love of good food. Valerie Simpson and her husband, Nickolas Ashford have built and maintained this destination for great music and Southern-Caribbean eats. I suggest you go for the show and pair your Sugartini with the Pork Chop and a side of Sweet Plantains.
The Ellington
936 Amsterdam Ave (106th Street)
My first understanding of Duke Ellington was actually through an interview I did with his sister when I was in grade school. She was still living in the neighborhood that's now dotted with his name, like the street where this restaurant sits. The Duke was clearly a major inspiration for restauranteur Glenda Sansone who'd moved uptown from the very Bohemian West Village. Prior to establishing this great Upper West Side bar, Glenda had built a name for herself in the industry running Alibi Lounge and Slane. Both were more late night hangouts than the more adult Ellington, which has even extended into Riverside Park for the Summer. This is elevated pub food with great ambiance, and I suggest you try the Grilled Cheese Bites and any of the Burgers or the Fish & Chips.
The Ellington will soon relocate to Broadway.
Advertisement
Levain Bakery
167 West 74th Street (between Amsterdam and Columbus)
351 Amsterdam Ave (between 76th and 77th Streets)
What you may not know about Levain Bakery is that it was actually started by two gal pals who happen to also be competitive swimmers! Connie McDonald and Pam Weeks worked together to create the ultimate cookie that could sate the hunger of any top athlete.
Since opening the 74th Street store in 1994, they've grown to two locations on the Upper West Side, two on the Upper East Side, one in Harlem, one in the Hamptons, and their newest location in NoHo – where they debuted a brand new cookie. They're also plotting a national takeover.
Levain Bakery's owners have always made sure to donate anything not sold during the day to help feed the hungry. And although the cookies may be what they're famous for, my favorite creation of theirs is the Chocolate Chip Brioche.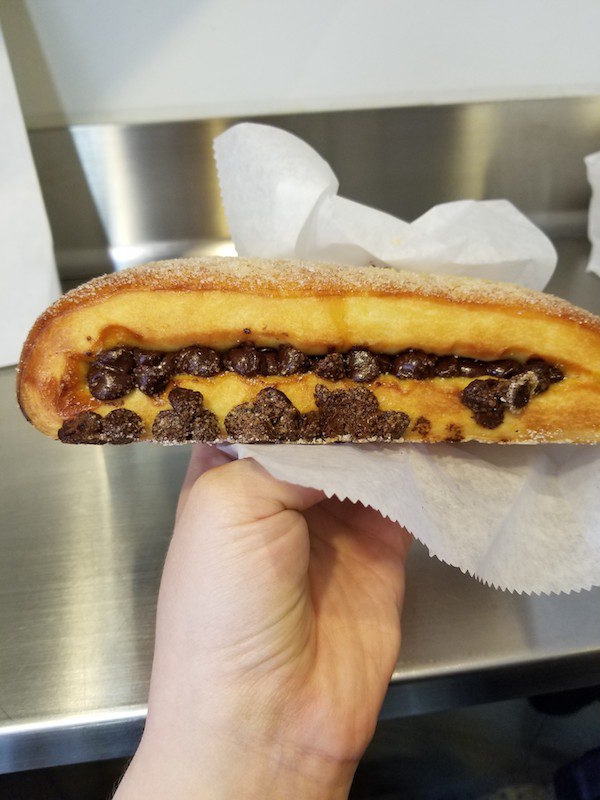 Pizzeria Sirenetta
568 Amsterdam Ave (between 87th and 88th Streets)
It takes two very smart people to put a talented woman in charge. This is what Danny Abrams and Cindy Smith did when they transformed the old Mermaid Inn from a seafood mecca into a pizza palace. In an even more masculine subgroup of the restaurant world, Executive Chef Camille Rodriguez is a standout in the pizzaiolo field. And not just because she's one of only a few women who can carry that title.
While she's busy creating and delivering a menu to keep the very finicky tastes of Upper West Siders happy, she's also very outspoken in her beliefs about how important it is to keep an inclusive work environment that pays everyone fairly. So, next time you're craving some delicious pizza, which for me is at least once a week, support smart women by checking out Pizzeria Sirenetta. Try the Roasted Brussels Sprouts before digging into the burrata, buffalo mozzarella, provolone, ricotta, chili flake pizza or the cacio e pepe if you're looking for some pasta.
View this post on Instagram
Please don't limit yourself to visiting these places in March–they're great all year-round.
And, as a professional foodie, I would never send you to a place that doesn't actually serve good food. Some of my resources can be yours to! Try Grubhub's RestaurantHer, which will map women-led kitchens for you. It's a pretty nice tool, but it's not perfect as it can be a little outdated with its info. Here's how they determine who's listed:
We define a woman-led restaurant as a restaurant that meets at least one of these requirements:

Restaurant is owned by a woman.
Restaurant is co-owned by a woman.
Kitchen is managed by a woman executive chef or woman head chef.
I also suggest checking out WE NYC, which provides a lot of great tools for Women Entrepreneurs and has its own map of women-owned businesses that go well outside of food.
Get the UWS newsletter!