Wu and Nussbaum is now open at 2897 Broadway, at 113th Street – the former home of Nussbaum and Wu, which closed last June due to apparent neglect and health violations.

The new owners are Alan Philips, Jiansong Chen and Pongshing Chiu. They chose the name Wussbaum + Nu to pay homage to the original bakery, which was beloved by many.
Alan Philips is also the owner of Community Food and Juice, Friedman's, and La Salle Dumpling Room, all popular nearby restaurants.
[adrotate banner="58″]
Wu + Nussbaum is offering both baked goods and hot food – as their sign reading "noodles, dumplings & bagels" first indicated.
Some of the original Nussbaum and Wu classics on the new menu:
The Nussbaum Classic: a bagel with cream cheese and lox, tomato, onion + capers.
The West End: crushed avocado, salt, crushed pepper flakes, lemon, chopped onion and diced tomato – served open faced.
The Graduate: spicy tuna, wasabi tobiko cream cheese and potato chips
The menu also includes breafkast sandwiches, French toast and avocado toast, various spreads, salads, and fish and meats which you can buy by the pound or have on a sandwich.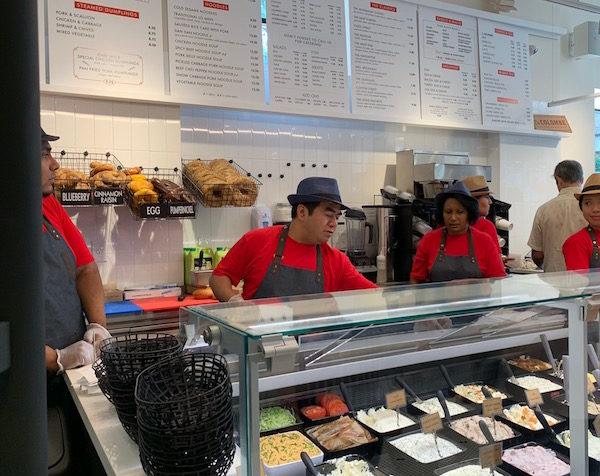 Some new foods for lunch and dinner:
Small plates including scallion pancakes and steamed pork, chicken, shrimp and vegetable dumplings.
Chinese favorites like traditional lo mein, chicken or beef with broccoli, General Tso's chicken.
Various noodle soups, dan dan noodle, and a rice bowl with beef, onions, scallions, cheddar cheese and egg.
It was a little early for me to enjoy their dumplings and noodles when I went, so I just had a bagel with cream cheese and lox.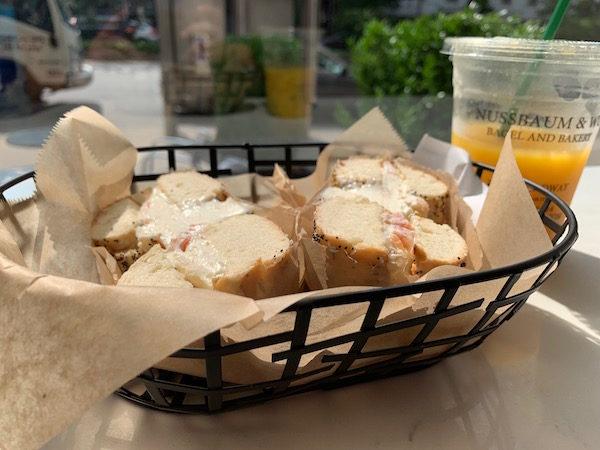 Here's Wu and Nussbaum's full menu: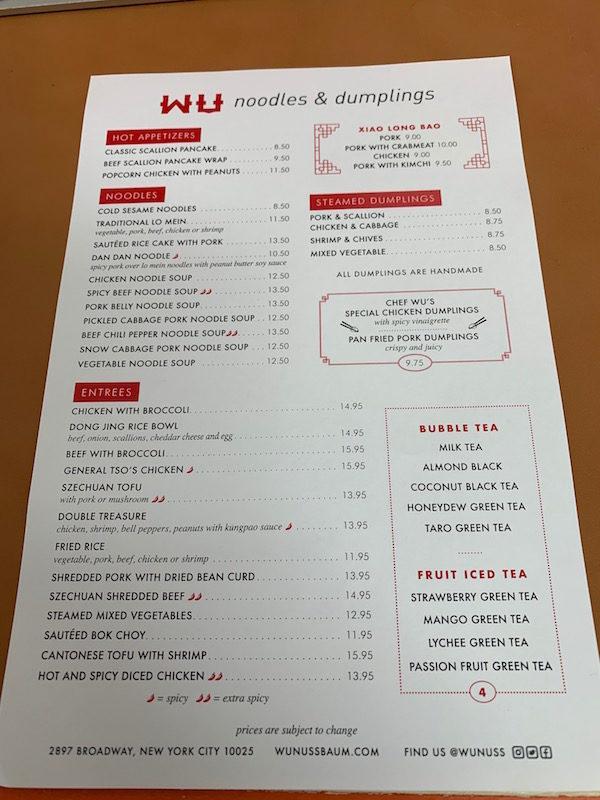 MORE FOOD NEWS:
Reservations for NYC Restaurant Week Summer 2019 are open!
Join our newsletter for more restaurant updates!