After years of struggles following allegations of sexual harassment against its owner, an Upper West Side haunt looks like it may be closing for good. We've also just learned that in recent months, the owner has been getting himself into quite a bit of legal trouble.
Advertisement



1020 Bar appears to be headed for eviction after a marshal's legal possession notice was spotted outside – typically a last resort following exhaustive attempts by the landlord to collect rent.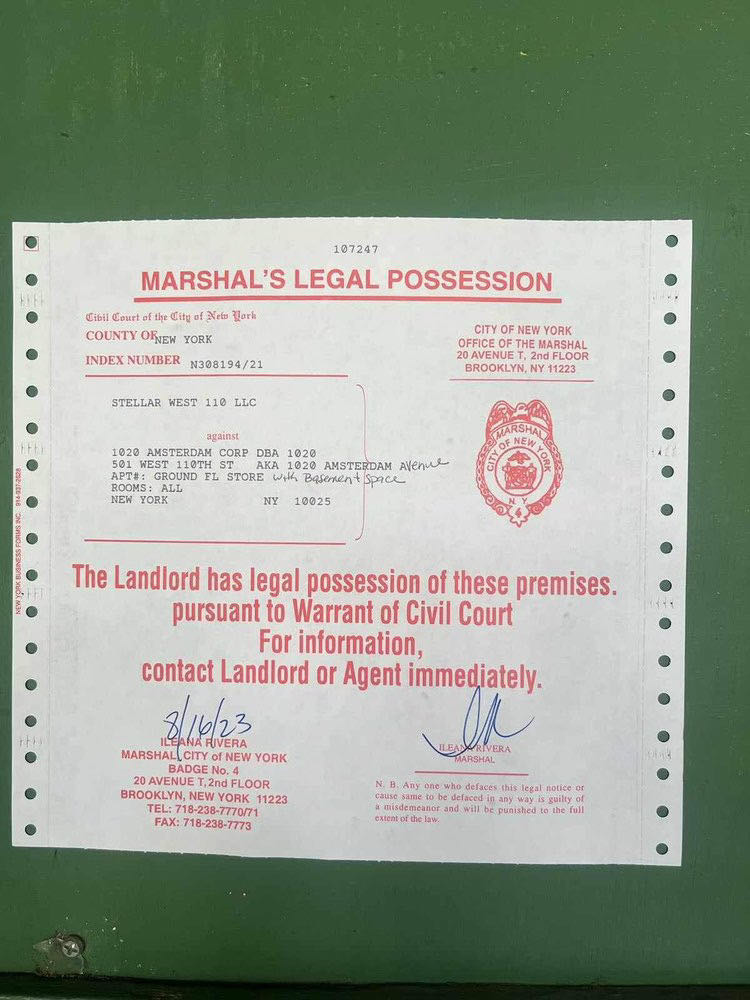 In what may have been a bizarre counter punch, 1020 Bar claimed to be on "Summer Vacation" in an Instagram post shared this week:
View this post on Instagram
The bar was once a popular hangout for locals and Columbia University students, and it was also a place where many students worked. But a downward spiral began following a 2021 Columbia Spectator report which surfaced a slew of allegations including sexual harassment and racism against 1020 Bar owner Michael McKiernan.
Advertisement
On November 6, 2021 – two days after the Columbia Spectator report – we found McKiernan posting signs which also claimed the bar would be closed for summer vacation; perhaps his default move when forced to face the music?
ILTUWS spoke to a bar regular and a former employee who both told us the bar was behind on rent, possibly by as much as two years. The former employee added that bar ownership was also having trouble paying distributors, and that bar employees often needed to purchase alcohol from nearby liquor stores before their shifts because the bar was so low on inventory.
Past allegations against McKiernan center around his treatment of female employees. On more than one occasion, McKiernan reportedly attempted to woo female employees to his apartment above the bar. The original story cites one incident in which McKiernan allegedly met a student and bar employee at the door in his underwear.
Following the 2021 report, the bar has struggled to maintain customers – particularly Columbia students – according to the former employee and regular patron.
Other issues have surfaced since the allegations became public, according to the former employee ILTUWS spoke with. One incident involved McKiernan claiming a student punched him in the lobby of his building. The student then hired a private investigator in an attempt to prove his innocence.
Advertisement
When the financial challenges began, multiple employees and bar patrons expressed interest in buying the bar from McKiernan, including parents of Columbia students. But McKiernan refused, reportedly setting an exorbitant asking price and refusing to part ways with the business.
A resident of McKiernan's building, 501 West 110th Street – the same building the bar is located at (this is the residential address) – told us he heard McKiernan may have been arrested recently as well. We spoke with an NYPD official who was able to confirm this suspicion.
McKiernan was arrested on charges of Strangulation on July 30. The incident took place on June 11 and police say the victim was his ex-girlfriend. The detective we spoke with told us that all in, he's been arrested twice for strangulation and once for forcible touching, and it was the same victim each time.
McKiernan was also arrested on July 5 on charges of Grand Larceny and Criminal Possession of Stolen Property stemming from a June 19 incident. This incident took place in the lobby of 501 West 110th Street and the victim, a 45-year-old male, said McKiernan stole his UPS package which contained an iPhone 12 and a t-shirt, according to the NYPD.
McKiernan is being represented by separate public defendants for these cases, according to court records.
We've made multiple attempts to contact the bar and will provide an update if and when we learn more.