On April 9 at 7pm, for the first time in 14 months, the 20th precinct held an in-person Community Council Meeting at the New York Historical Society. Captain Neil Zuber reported a "significant increase" of crime in the area, which became the focal point of the one hour meeting.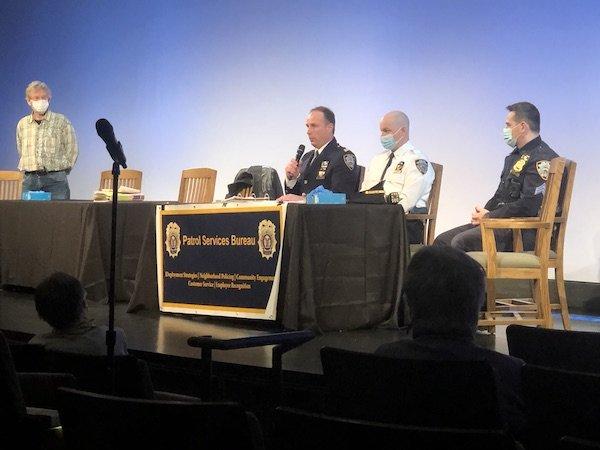 Captain Zuber wanted to be clear that small business robberies, especially when the shops are closed, contributed greatly to the influx in crime rates. He called them"Covid crimes," since the pandemic had kept many businesses shuttered – some for close to a year – making them easier targets for criminals.
Advertisement



Captain Zuber noted the recent robbery at boutique shop Laina Jane, calling it "terrifying." A question was raised from a local community member about putting more police officers on the street to reduce crime. Captain Zuber explained that the 20th Precinct officers work on foot, bike and automobile, and each is tactical in its own way to most efficiently respond to calls. Further, officers are assigned to the specific sectors (A-C and Housing) and they patrol those sectors every day, so they know the neighborhood, but the police captain called to the audience to report all observed crimes so officers can best analyze the data to position themselves to best get to the scene in the fastest way possible.
Increased crime rates in Riverside Park was addressed. A group of juveniles under 20 years old have been attacking adolescents younger than them. Captain Zuber confirmed this is not the same group of youths who were committing similar acts back in November, and investigations are ongoing.
Another issue addressed was the increasing number of bikes and e-bikes not obeying traffic lights or going the wrong way. The restauranteur who put a speed bump in the bike lane outside his shop came up, and while the bump was taken out quickly, Captain Zuber felt legislation might be the best way to address the problem since bike infractions are not as high on the priority list with everything else going on. A 'Scooter Task Force' is out to help in this matter. "We can try," explained Zuber, "but it's a massive effort."
Homelessness was another topic of discussion. The Department of Homeless Services (DHS) takes the lead when it comes to "encampments;" sanitation is involved if DHS determines an area should be cleaned up, and cops are there too in the event DHS needs assistance. People experiencing homelessness frequently do not want to leave areas they've grown accustomed to; it's an ongoing issue with some progress. While the person of interest was not homeless, the large pile of garbage that was accumulating south of Shake Shack between 77th and 76th Streets was removed recently, and they're keeping an eye on the situation as garbage began accumulating shortly thereafter.
Why was the Community Council Meeting not broadcast over zoom? Security concerns, and the fear of getting 'Zoom Bombed' where someone comes in and takes over the Zoom screen, sometimes posting obscene videos. Larger precincts are a target for that kind of activity, detailed Zuber. The 20th Precinct is working on fail safes so they can stop 'Zoom Bombs' from happening when they decide to go live.
Advertisement



The potential need for more 'wanted posters' on the streets was another subject. We might start posting more on the streets, but posting 'wanted posters' for some criminals is detrimental as it gives out too much information as they are investigating, noted the Captain.
Captain Zuber was joined by Sgt. Pallone and Lieutenant Lavino on stage with Community Council President, Sean Grissom, moderating. Roughly 14 officers were in attendance with about 30 people in the crowd. Covid protocols were put in place to socially distance with everyone wearing masks.