Once a figure of the Golden Age of Hollywood in the 1930s, actress Marion Davies seems to be making headlines again, thanks to Mank, directed by David Fincher. The black-and-white biographical drama delves into the life of screenwriter Herman J. Mankiewicz (known as "Mank," portrayed by Gary Oldman) as he develops his screenplay for Citizen Kane and his friendship with Marion Davies played by Amanda Seyfried.

The real Davies, who acted in over 50 films while also writing and producing, is mainly remembered as the mistress of media tycoon William Randolph Hearst, who was 21 years her senior. Davies is also regarded as the inspiration for Susan Alexander in Citizen Kane, directed by Orson Welles. While Davies and Hearst lived in California, did you know that she once lived here on the Upper West Side?
Advertisement



In 1918, Hearst bought an expansive 25-room townhouse at 331 Riverside Drive, between 105th and 106th Streets, according to author Daniel J. Wakin, who chronicles the exciting history of this particular block in The Man With The Sawed-Off Leg and Other Tales of a New York City Block. Hearst never lived in this mansion. However, it was the home (or hideaway) of his lover, Marion Davies, who he met while she was still a Ziegfeld Follies dancer.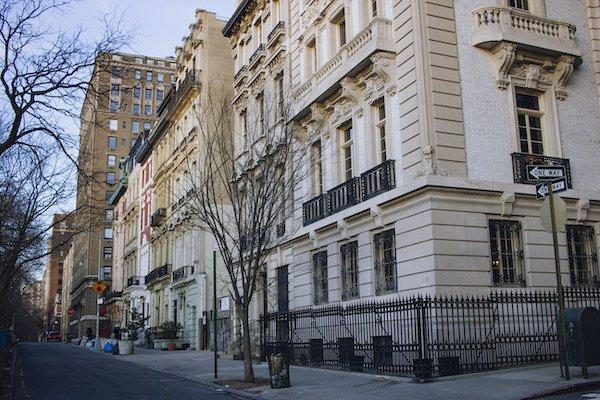 MOST MAJESTIC MANSIONS OF THE UPPER WEST SIDE
Wakin also wrote that Hearst spent a million dollars in renovations for Marion's Manhattan mansion, which included a library filled with rare books (which she didn't read) and a fountain in the sitting room. Hearst also had Davies' family move in with her. Despite the Prohibition law, liquor delivery boys had been seen at the residence.
The location was convenient for the affair since Hearst lived at 137 Riverside Drive with his family. He also owned a palatial penthouse at 91 Central Park West, where renovation architects discovered Davies' initials carved into the fireplace.
Get The Upper West Side Newsletter
Unfortunately, Hearst and Davies' little Upper West Side "love nest" came to an end in 1925 when a Hearst rival exposed the affair, which caused a massive scandal in the New York press.
Aside from Marion Davies, this particular block on Riverside Drive was also home to the rich and the famous throughout the century, including the presidents of the Davis Baking Powder Company, Eberhard Faber Pencil Company, and the Goodyear Tire and Rubber Company.
A LIST OF FAMOUS UPPER WEST SIDERS
Duke Ellington also bought 333 Riverside Drive, where he wrote and arranged songs and used it as his publishing headquarters. West 106th Street is now known as Duke Ellington Boulevard.
Nearly a century after Davies moved out of the Upper West Side, Amanda Seyfried stopped by her former home for an interview with CBS Sunday Morning. "It's amazing. It really connects me to the story," Seyfried said, standing outside the apartment. Her portrayal of Davies in Mank has received critical acclaim and most recently an Academy Award nomination. "I think the perception was that [Davies] was not that bright, a comedienne, a really flighty young woman. [But] she was actually so much smarter than people give her credit for."