West Side Campaign Against Hunger – located at the Church of St. Paul & St. Andrew, at 263 West 86th Street – is one of New York City's largest Emergency Food Providers. In the last few weeks, they've seen a drastic increase in the demand for food assistance. As families cope with the impact of COVID-19, their work is needed now more than ever to keep New Yorkers well-fed.

Every spring, West Side Campaign Against Hunger holds an annual "Spring Lunch" to raise money to help feed its 22,000 customers. In response to the global pandemic, the organization has transformed its operations with new and innovative food delivery methods and partnerships.
WSCAH has now launched a virtual food drive, through which donors can directly purchase healthy food. The goal is to add an extra 50,000 pounds of food to WSCAH's pantries.
The food drive will help those who have always dealt with food insecurity, in addition to people who are facing new concerns of keeping themselves nourished as a result of the COVID-19 crisis.
I spoke with Greg Silverman, the executive director of WSCAH, who shed some light on what's changed since the crisis began.
First, they had to move their pantry to an outdoor market in front of the church.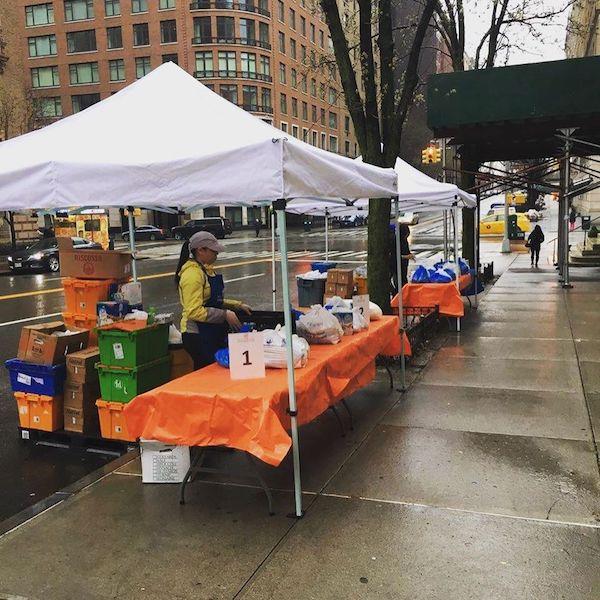 On average, about 50 new families are coming to the 86th Street location every day – but these are not the usual customers WSCAH is accustomed to seeing. These are working age people who are struggling to make ends meet: taxi drivers, cleaners, grocery store workers, city employees like bus drivers, and many who are undocumented, and will not receive a stimulus check.
At the same time, a much smaller number of seniors are showing up in person, for health and safety reasons. Approximately 1,300 seniors visited the WSCAH in February, with about half that number in March.
The West Side Campaign Against Hunger is currently spending an extra $10,000 on food every week, just to meet the growing need of new customers and new partnerships (including Doordash and other delivery companies to deliver food to people's homes). They are also delivering to Bellevue hospital where they are dropping off ten palettes of food per trip.
They need your help now. The food drive will be open for one week.
In addition to food donations – the West Side Campaign Against Hunger invites New Yorkers to help them promote the program during each day of the drive. Here's a PDF with instructions.
You can also make a direct financial contribution here.