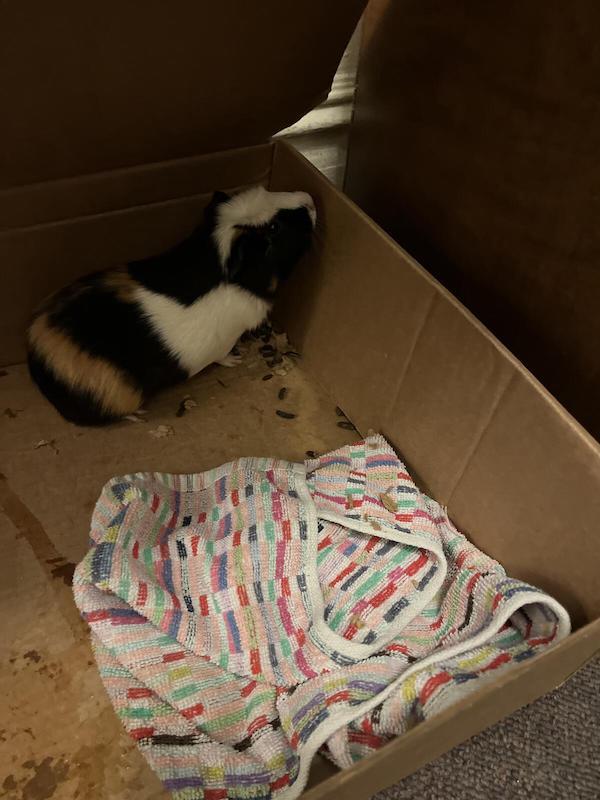 A NextDoor user, Judith, reported that on Monday morning, workers spotted an abandoned guinea pig in front of 60 West 76th Street. It had been left outside overnight in a cardboard box with no food or water, so Judith took it to her lobby and gave her a clean towel, water and some spinach.

Advertisement



Judith couldn't bring the guinea pig up to her apartment, because she has a cat and a dog and it wouldn't be safe. So she was hoping to find someone who would rescue it. "I don't know how old he or she is. They must have been terrified and freezing," Judith said.
It was around 9am on Monday when we first spoke with Judith and shared the notice about the guinea pig in need.
At about 2:45pm, Judith reached back out to us with some happy news: the guinea pig is now in the hands of Beth Stern, founder and owner of Beth's Furry Friends, wife of Howard Stern, and Upper West Sider.
While Beth's rescue mission is focused on kittens, she wrote on Instagram that " I used to have Guinea pigs when i was little so I have a soft spot for them."
And in a second Instagram post, she revealed that hubbie Howard named her Leslie.