If you've been making your rounds by Lincoln Center's David Geffen Hall lately, you've probably noticed that with each new day comes a fresh new visual through the glass. The grand windows that encase the iconic concert hall, home to the New York Philharmonic, have been covered up since 2020 amidst a $550 million renovation. But now it sheds its skins, showing new light and amenities as the venue prepares for its grand return on October 8.

COVID shut down live performances at Lincoln Center in March 2020. This gave the institution a window of opportunity to fast-track its reimagination of the space, originally slated for a 2024 completion. The result: a project that finished up two years ahead of schedule, all while staying on budget.
Advertisement



Our tour began on the ground floor in the LeFrak Family Lobby, a lounge area that has nearly doubled in size from its predecessor. The lobby is open to the public and features a 50-foot-wide digital screen that will display simulcast performances of the Philharmonic along with other Lincoln Center programs, free of charge for all. "It is going to be very welcoming and programmed so that people actually spend time here," said Azadeh Rashidi, project lead at Tod Williams Billie Tsien Architects and Partners (TWBTA), which worked on the "public spaces" around David Geffen.
Rashidi continued: "It's designed as a flexible space that can take on all sorts of activities." With a bar and concession area accompanied by plenty of seating, renderings indicate we should expect everything from live performances to lectures here. The escalators have also been pushed to the far ends of the room, opening up additional room for gathering. There's even a garage door for easy entry from Josie Robertson Plaza.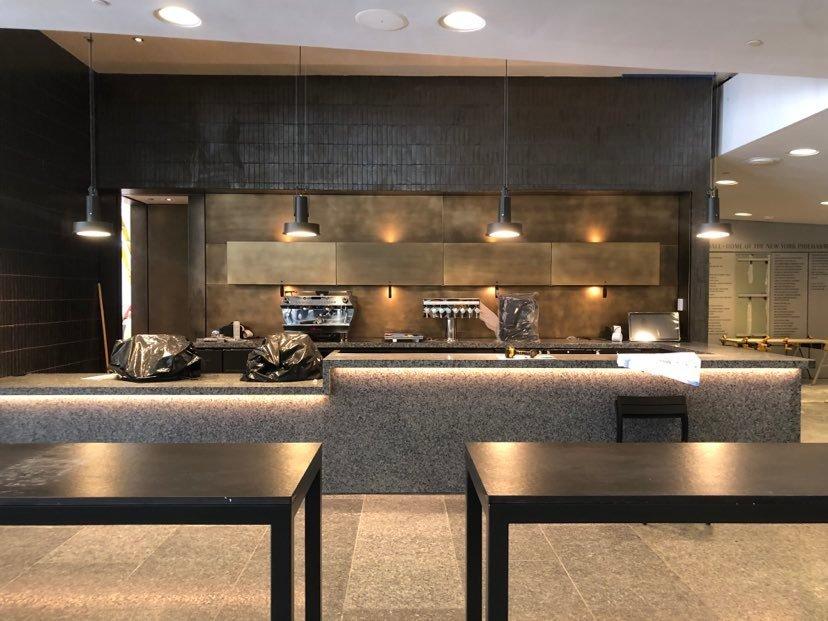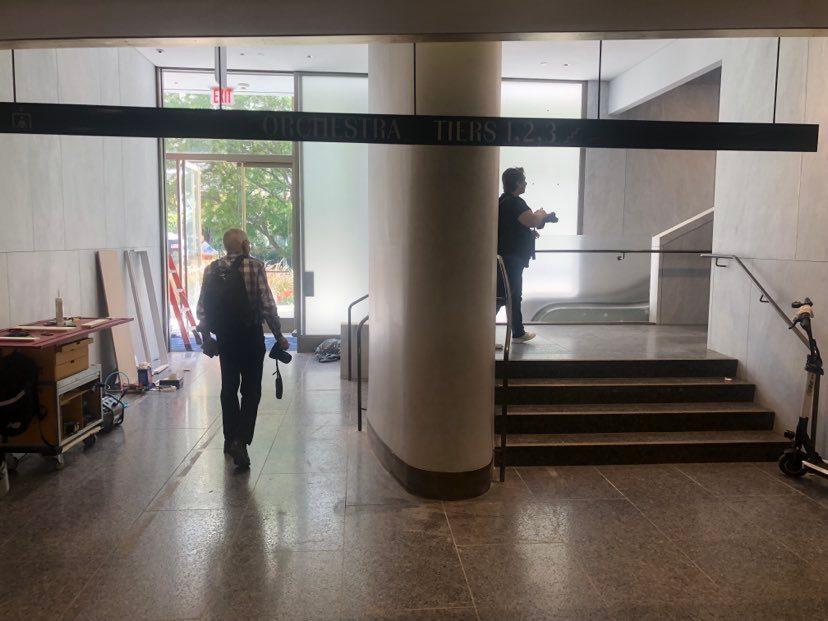 This extra room in the lobby was created by relocating the box office to the new Welcome Center in the southeast corner by Broadway. Here you can buy tickets and get information for all shows at Lincoln Center. This room also has its own café open throughout the day.
Advertisement



Administrative offices were relocated to the top floor to open up prime real estate positioned on the corner of Broadway and West 65th Street for David Geffen's Sidewalk Studio. Visible to passersby on street, these changes make the ground floor "all public program space when it comes to the outside perimeter," noted Rashidi, who went on to elaborate that the Sidewalk Studio can act as a "multipurpose room that can act as additional rehearsal space, even a dressing room … or be programmed for lectures, performances [and] concerts. It's really a multipurpose, almost black-box room." LED lights line the walls in what should be a captivating sight when live.
"Everywhere you look and what you see has a story," said Greg O'Malley, marketing director at TWBTA, during our exploration of the Grand Promenade on the second floor. Here, we discovered everything from hand-cut Venetian wall tiles to a custom-made motif of falling flower petals, evocative of nature with vibrant colors across the spectrum.
The ceiling is midnight blue, the new stairways are clad and a new terrazzo floor is embellished with 15,000 hand-laid bronze bars. Even the eight structural beams have articulated petaled brass chandeliers, each petal one of a kind. Artwork by David Smith can also be found by the east side escalator.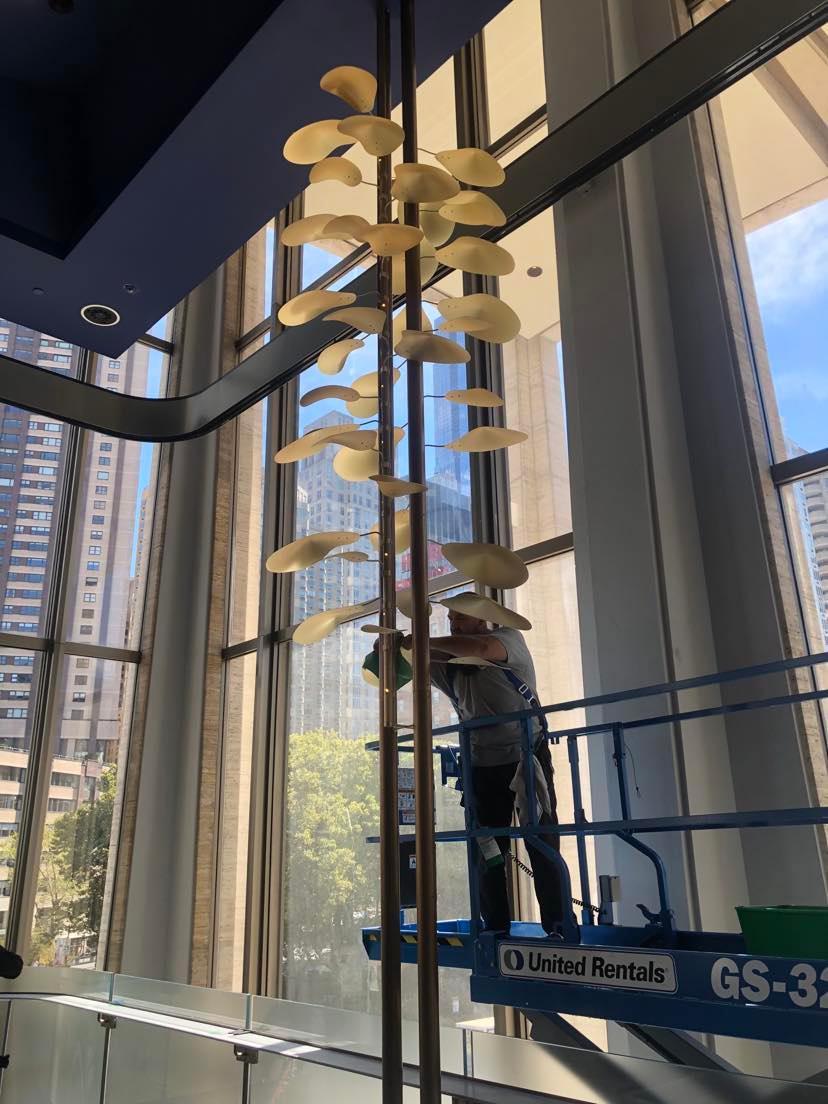 The Grand Promenade will house one 48-foot central bar along with two movable interior bars, each 18 feet. The outdoor terrace has also been wired with audio-visual capabilities, meaning the event stays with you as it's happening inside. The bathrooms have also been wired for audio.
Advertisement



"Everything in this space you're seeing now is new," said Gary McClusky, who serves as the project architect for the renovation of the Jerry Speyer & Katherine Farley Stage and Wu Tsai Theater at David Geffen. "Every wall, the floor, ceiling, seats, stage, all of it is new construction." McClusky followed this comment by pointing out the "one element" that did remain from the old hall, which was the Ziggurat Ceiling hidden underneath the new mesh ceiling that appears today. Acoustics, configuration and audience size were three of the biggest challenges McClusky and his team faced while working on the redesign.
The new concert hall stage has been brought forward 25 feet and the proscenium, which separated the audience from the performers, was removed. Total capacity has also been reduced from 2,738 to 2,300. This is expected to create "the kind of relationship we look to have at a live event," said McClusky, which will feel like "being in the same space with the musicians."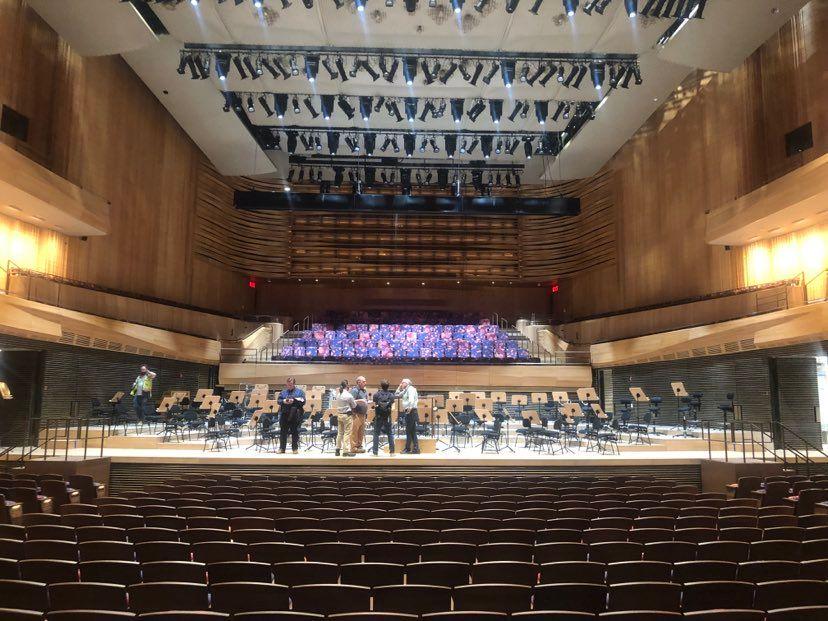 The flexible parterre with seating behind the stage creates a 360-degree view, reminiscent of Shakespeare's "in the round" Globe Theatre.
Geffen's walls are composed of solid beechwood paneling for improved reverberation and bass response with variable grooves in the theater's millwork to help the sound waves travel. Angled seats on the upper tiers offer a unique viewing experience as well.
Perhaps the most important decision in this room was the installation of 22 motorized stage lifts which can customize the size and location of the stage. What that does is address one of the most glaring problems that plagued the New York Philharmonic orchestra in the past: being able to hear one another. In the past, orchestra members have been known to wear ear pieces to hear one another when other theater adjustments failed to work. Being able to raise certain sections of the orchestra should be allow them to feed off one another and the crowd more fluidly.
Advertisement



Along with all new state-of-the-art lighting and rigging, there's also a retractable film booth and built-in film screen hanging above the stage, which can come down when the Harmonic does shows with visual components. This also primes David Geffen for potential film premieres and movie screenings.
David Geffen Hall's grand opening will feature the world premiere of Etienne Charles' new work titled San Juan Hill: A New York Story on Saturday, October 8, at 2 p.m. It's also showing again at 8 p.m.
The New York Philharmonic returns home on Wednesday, October 12 at 7:30 p.m. This evening will feature the world premiere of Marcos Balter's Oyá, which they describe as a "fantasia of sound and light conceived to celebrate the revitalized David Geffen Hall."