Anna Sosenko's life was never made into a biopic, nor was her full biography ever published as a book. But, this is a good one that got away.

Among many possible approaches, the storyline could begin toward the end of Anna's long life. She would be seated in Seven Arts Collectors Gallery, her two-room basement gallery and store at 8 West 62nd Street. This was where, for about 20 years, she dealt in the sale of framed autographs of notables and celebrities, many of whom she knew well, in the New York world of theater, opera, ballet and writing. She was profiled in a 1989 West Side TV Shopper cover story by Max Millard.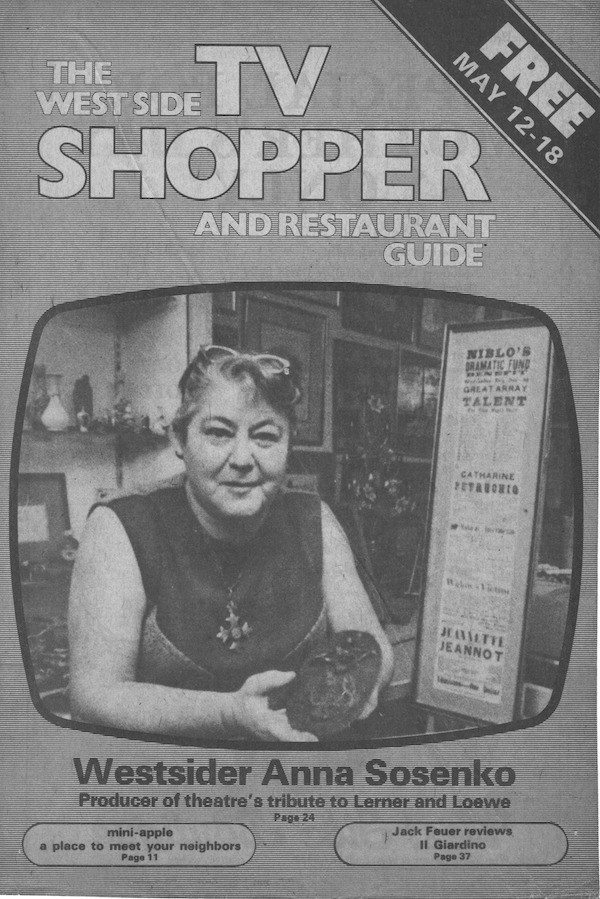 As she neared the age of 90, Anna closed the store and continued to do business from her apartment around the corner, at The Century at 25 Central Park West. Friends and acquaintances from various stages of her life remember her as a deep voiced, robust, feisty and tireless entrepreneur.
Though she may have had a heart of gold, she did not take "no" easily. Olga Logan, a longtime CPW neighbor, remembers her friend Anna "shaking her little Louis Vuitton pocketbook" adamantly at Olga's husband Bruce on one occasion when he did not agree with her. "She was a ball of fire … and not a little fire," Olga recalls. Anna would frequently get her way.

Advertisement
Anna was originally from Camden, NJ. Her mother had a restaurant and occasionally rented rooms to boarders.  Anna aspired to be a songwriter and started writing lyrics as a teenager. When she was about 19, one of her mother's borders was a young singer and piano player, Hildegarde Loretta Sell, who was traveling on a vaudeville circuit. The two became friends and soon went to pursue a future in entertainment in NYC.
Grasping that their need to learn more about the sophisticated cafe society world might best be achieved in Paris, they went off to Europe, accepting the struggle of many ambitious performers before and after them. They stayed for three years in France and while on a bike ride in the countryside, Anna later recalled that the words of a love song to her friend "popped" into her head. That song, "Darling, Je Vous Aime Beaucoup", written by Sosenko and sung by Hildegarde (who would soon become known by her first name alone), made her famous. She was turning away crowds at the Savoy-Plaza Lounge as early as 1938. The tune has been reprised by famous singers like Nat King Cole and Eartha Kitt. Other songs written by Sosenko included "I'll Be Yours," "Ask Your Heart" and "Why Don't They Leave Us Alone?"
For over two decades, Hildegarde's career, meticulously managed by Anna, progressed quickly. Billed as the "Incomparable Hildegarde," she sang, engaged in flirty banter, and played piano at posh supper clubs in New York and in Europe. Anna picked out Hildegarde's many stylish gowns. She insisted on the classy touch of the long white gloves she always wore in the spotlight. Under Anna's influence, Hildegarde made the best dressed list for eleven years. A 1943 Life magazine cover featured Hildegarde and media stories about the pair appeared widely. First Lady Eleanor Roosevelt referred to Hildegarde as "First Lady of the Supper Clubs.
Along the way, Anna also produced a radio show in the mid 1940s, showcasing Hildegarde and other celebrities.
For many years the two women lived in a 10-room apartment at the Plaza Hotel, decorated with Renoirs, Manets, and other famous artists selected by Anna and collected on their trips. When Anna and Hildgarde split up in 1956, Anna pared down the art collection and moved to the Upper West Side. The two would later reconcile.
Anna followed her commitment to the performing arts and engaged her talents in producing star studded annual galas to benefit the theater collection of the Museum of New York. Her devotion to supporting aspiring performers is reflected even many years after her death in 2000 with the awards presented in her name by the Anna Sosenko Assist Trust.