Gone? Yes … long gone. You may remember video rental stores of the 1980s and '90s; perhaps watching movies that a parent brought home to get you through several sick days from school. Or hanging out with friends and cracking up over screwball comedies you'd all watched ten times before. Or delving into a discussion with your partner about the meaning of an old Italian Fellini film you never really understood.

A rental was something you'd pick up on the way home from school or work. It was fun and easy and held the promise of an escapist evening with Rambo, a weekend with John Travolta in Grease, getting up close and personal with the guys from Godfather, feeling weepy over Al Pacino in A Scent of a Woman, falling in love with Jack Nicolson in As Good as it Gets, or enjoying a good scare watching Rear Window.
Advertisement



Rental videos drew us away from movie theaters. You'd find yourself searching shelves for a recent movie you just missed or wanted to watch again. You might also be hoping for the great discovery.
Documentary filmmaker Susan Farkas and historian Richard Lieberman are avid film-watchers who live just two blocks from the storefront Champagne Video once occupied at 217 West 79th Street. Susan remembers how "Going there and roaming the aisles was a pleasant ritual. Sometimes we knew exactly which VHS tape we wanted, sometimes we browsed until something caught our eye. I don't really remember how the tapes were categorized. Comedies? Adult (ie. porn)? Foreign? There were always other people there roaming around the small store so it had a nice community feel to it, and I remember feeling sad when it closed." Richard recalls braving long lines on weekends.
READ MORE: Remembering Amsterdam Video, the Upper West Side's "Last Hardcore Pornography Shop"
Eventually, the craze for movies on video caused some people to buy rather than wait for high demand videos to become available. A lot of people purchased them at places like Tower Records on 66th and Broadway. "The store has been a madhouse since Christmas," Tower Records manager told the NY Times in a 1985 article.
Video rental shops had an understated social aspect; most people just exchanged friendly nods. But, some even ended up marrying fellow browsers while scanning the shelves for a title. Schmoozing with the usually very knowledgeable clerks was not just pure fun; it also helped avoid getting stuck with a loser. Reading brief descriptions tacked onto display shelves or checking out promotional posters displayed around the store also helped in the decision making process.
But a quick recommendation from a clerk who'd probably seen everything a million times, since movies were always playing in the store, was way better than an electronic trailer.
Some video rental stores, the smaller ones, would take your name and put it on a waiting list, calling you when the video you asked for came in. They'd leave a message on your answering machine if you weren't home. This was all pre-cell. Odd to think you've out-lived the beginning and the end of a specific technology. VCR's and VHS tapes are now something of the past.
READ MORE: Exploring Lincoln Square During the 1990s
Pluses of rental videos? They were cheap, and VCR's were relatively inexpensive and very easy to use. In the beginning, it seemed near miraculous to be able to go to a neighborhood video store and bring home a couple or three videos of old movies, or select from a number of fairly new releases. You had lots of choices and unlike going to see a flick at a movie theater, watching a rental at home meant you could pause it. The pause was a huge advantage, accommodating bathroom breaks, snack refills and allowing space for receiving and making phone calls, or even walking the dog. Also, you could rewind to catch a missed sentence or savor a particular scene.
Advertisement



Video stores varied a lot in personality, ranging from grungy to mom and pop casual, even fairly disorganized, to spic and span, brightly lit and to the point. Some shops had a modest number of selections, while others, like Movie Place on 105th and Broadway, boasted a truly staggering 24,000 titles.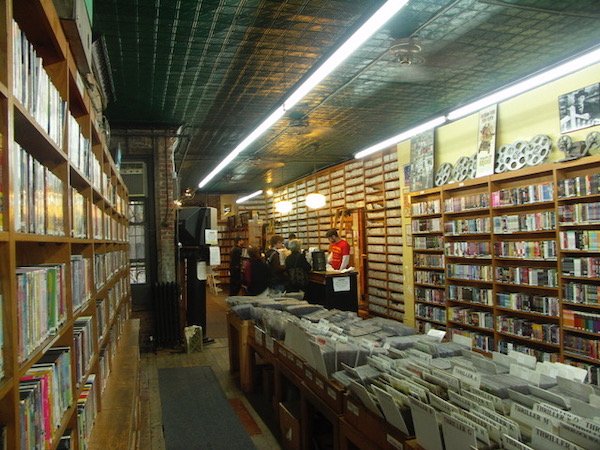 Movie Place closed in 2006. Today, former owner Gary Dennis is an NYC tour guide! Check out his website at newyorktoursbygary.com.
Some video stores, like 72nd Street Photo Inc, offered perks like free delivery to those who purchased a membership.
READ MORE: An UWS Bookstore that Only Sold Murder Mysteries
Video renters had their own personal favorite shops. Looking back to the 1980s, one former customer of Video to Go on 88th and Broadway wrote into the NY Times about enjoying watching rented videos with his young children, like Old Yeller and Mary Poppins. Years later, walking down Columbus Avenue in 2018, the same customer ran into the clerk who had once managed the rentals. He asked, "Didn't you once work at Videos to Go?" The man responded with the customer's phone number "Seven-nine-nine, four-oh nine-oh." This was the way video shops had kept track of renters and rentals. The former customer recalled  appreciating this clerk's leniency in regard to charging late return fees. On the subject of video returns, many will remember the stickers which encouraged renters to "Be Kind, Rewind."  
Advertisement



From the small shop video rentals evolved the Blockbuster stores on 69th and Amsterdam Ave and 94th and Broadway; inflated, super clean suburban-like emporiums of video rentals. A huge plus was that copies on newly released videos were available in large numbers. You usually didn't have to wait for a copy, because most likely your movie would be available.
What happened? The end of VCRs and VHS tapes came with the intro of DVDs and the early Netflix rentals of these feather light discs that could be ordered, delivered and popped into the mail  for return in little square red envelopes. And soon, after streaming took over the world – you could watch a movie any time of the day on your phone, tablet, computer or TV.
What was your favorite UWS video store? Tell us in the comments!