Whether or not you're taking in a ballet, opera, musical or concert, take the 1 train to the 66th Street-Lincoln Center station and you'll be greeted by flying acrobats, singing soloists, and twirling dancers before you ever venture above ground.

Advertisement



"Artemis, Acrobats, Divas and Dancers" by Nancy Spero is the mosaic work of art found at the 66th Street-Lincoln Center subway station. Spero, who was a longtime resident of New York City during her lifetime, is best known for her feminist art and activism beginning in the late 1960s; this mosaic was one of the artists' final pieces, installed in 2004.
The mosaic pays homage to Lincoln Center, the world class center of the arts that the subway station serves. According to the MTA, "this series of 22 brilliantly colored glass mosaic panels lines the walls of the station and bows to Lincoln Center's opera, ballet, and classical music halls, as well as the vibrant, artistic character of the Upper West Side."
The work depicts an array of female performers, inspired by both real life and mythology. The figures can be spotted in various poses, most captured in movement. Running, leaping, and backflipping through the air, the subjects are imbued with energy, inspired by the movement of the real women performing above them at Lincoln Center.
Central to the 66th Street station's artwork is the Diva herself. The diva, also known as the primadonna, is a central figure of the opera; she is the show's leading lady. In Spero's mosaic, the Diva takes center stage as well. It is believed that Spero's Diva is modeled after Fritzi Massary, a famous Austrian American opera singer of the early 20th century.
Advertisement
With the Diva is where the movement motif within "Artemis, Acrobats, Divas and Dancers" comes to life. Nearly sparkling in her gown made up of golden glass, the Diva is pictured in a series of poses next to each other. When viewed from a moving subway car, these images come together to give the illusion that she's dancing.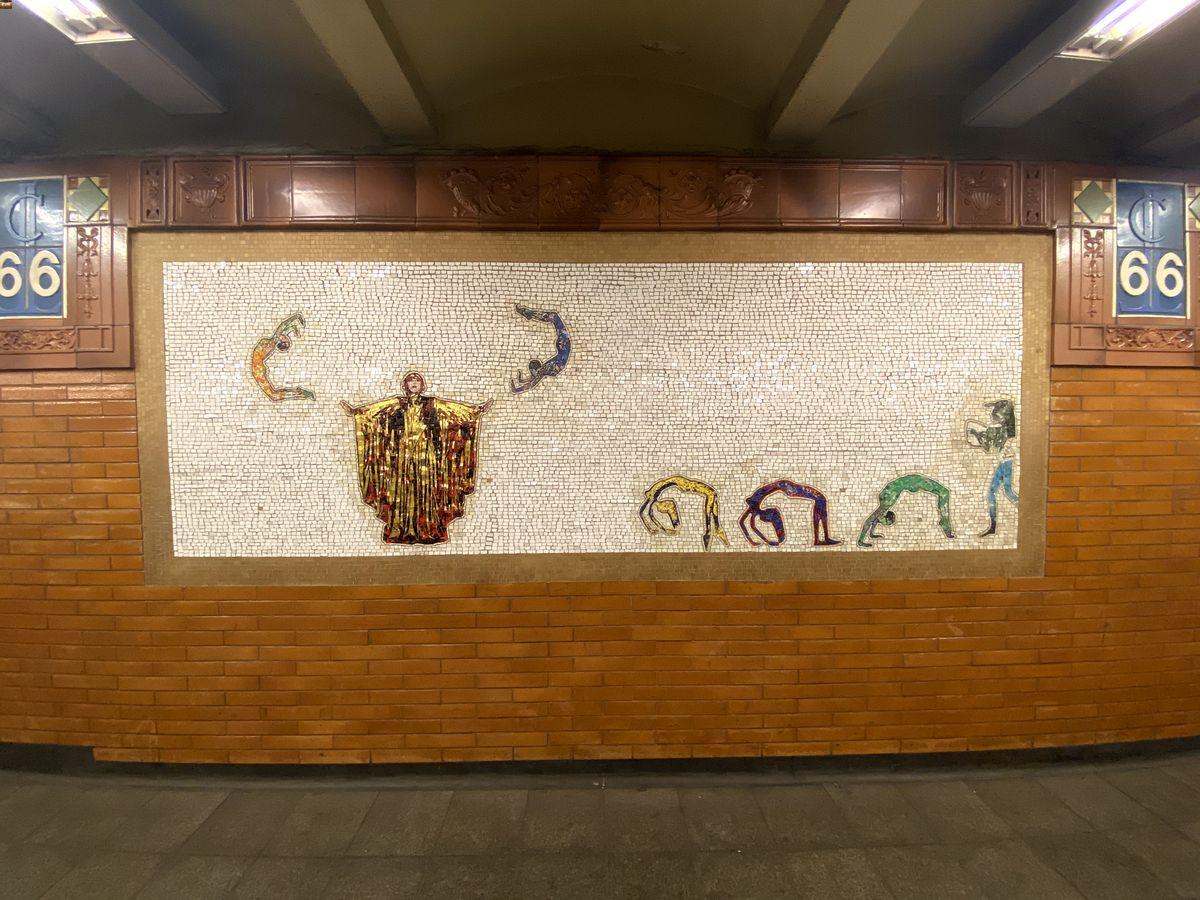 Visit the station yourself, and you'll meet the Diva alongside other creative figures. Regardless of whether you're visiting the 66th Street-Lincoln Center subway station to see a show or not, you're guaranteed to be met with the art and culture available to all who step on the platform.