It's a sad way to start the day when you find out Big Gay Ice Cream is going away. "The Landlord has Legal Possession of these premises, pursuant to Warrant of Civil Court." That's what it says in the window at 516 Columbus Avenue, on the corner of West 85th Street.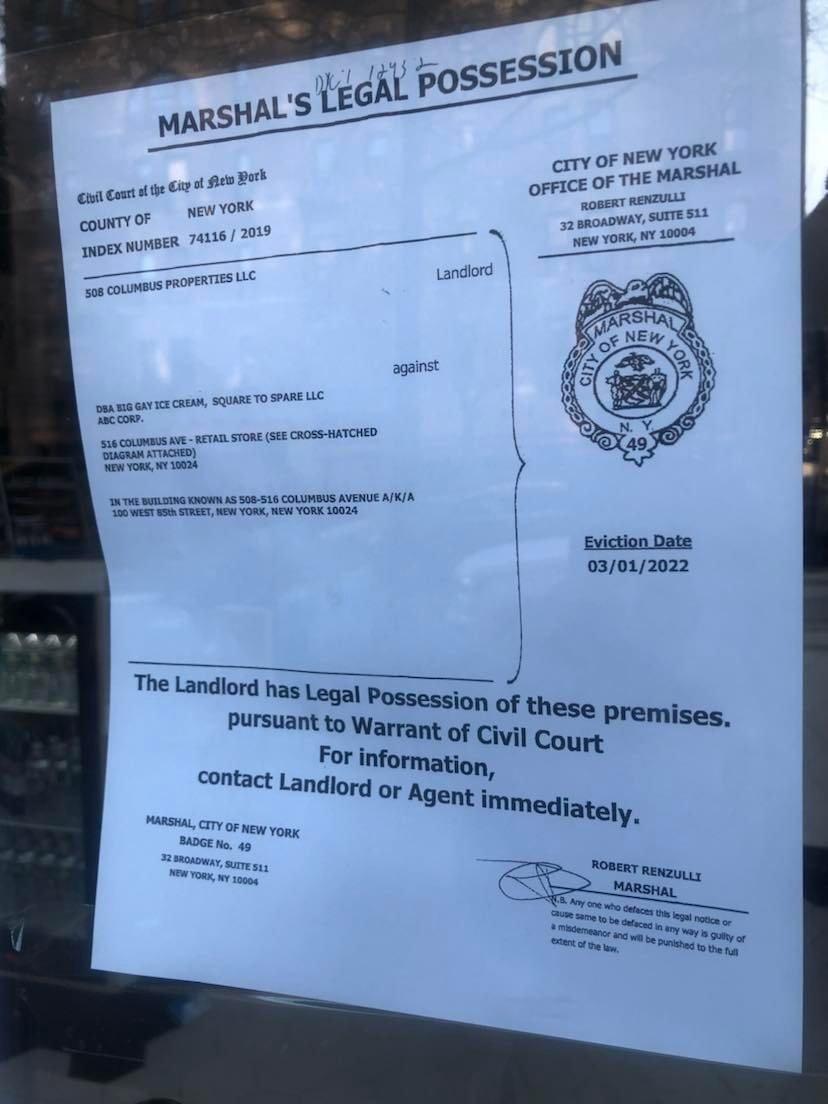 Big Gay Ice Cream, the brainchild of owners Doug Quint and Bryan Petroff, came to the Upper West Side in February 2020 with lots of fanfare. What began as a lone ice cream truck in 2009 was emerging into a bustling business with a legion of fans matched with critics and influencers alike, who adored their fun flavors like The Salty Pimp and Birfdae Cëk.
Advertisement



This apparent closure comes after Quint and Petroff closed their original East Village location in January 2021 — after operating here for over a decade. The very next week, on Philadelphia's South Street, Big Gay closed down its first and only location outside of NYC.
---
For news across the park visit EastSideFeed.com
---
"Empty storefronts, the result of both rising rents and the COVID-19 pandemic, have settled in. Many great businesses have closed. It ain't what it was. As a seasonal business with no indoor seating we recognize that the location will never truly recover. Therefore, we have decided to call it," was the note posted on Big Gay's Facebook page on January 25, 2021. Looks like the Columbus Avenue location is facing the same demise. But if it's any consolation, another ice cream shop is opening nearby soon.
To make matters worse, ever since Fairway was acquired by Shoprite, you can no longer find Big Gay Ice Cream in the long-time grocer's freezer section. We also miss Secret Aardvark Hot Sauce if anyone over there is reading! Please bring them back …
Big Gay Ice Cream is down to two shops in the city: Madison Square Garden and the South Street Seaport at 207 Front Street. I wonder if they still have their original truck?
We've reached out to Big Gay Ice Cream for comment. We'll provide an update if we learn more.