It's with a heavy heart that I must report the closing of Big Nick's Burger & Pizza Joint Too. A treasured gem of the Upper West Side, especially for Juilliard Students, people getting a late-night meal after a long night, or simply those who enjoyed the décor of a classic NYC establishment that served good food from a cozy kitchen you could see from your table; spicy waffle fries no more, the retail space at 70 West 71st Street is on the market for $14,000 per month. (Thanks to 'Upper West Sider' for the link).

"The sumo turkey burger was the greatest indulgence that almost felt healthy. Another institution falls to COVID and high rent. A true loss," Rodger Wells, a long time Big Nick's patron told I Love The Upper West Side.
When I moved to the Upper West Side over a decade ago, Big Nick's Too was the first restaurant I considered my 'home' eatery. Historically known for being open 24 hours a day, I always knew I could count on it for a late night craving.
Advertisement



Big Nick's had a long and complicated road involving multiple owners and a $2 million lawsuit for labor violations. This ultimately led to its bankruptcy before Demetris Raptis and Yannis Botsis bought the space and kept the Big Nick's Too tradition alive.
The Pandemic was the perfect storm to obliterate Big Nick's realistic chances of survival. No longer could patrons come inside to enjoy the charm of their space. And with COVID restrictions forcing restaurants to close at 10pm, late night owls like me no longer had a place to go.
ILoveTheUWS has been monitoring the space to see if we could find anyone inside that could help tell us more. Alas, just empty soda fridges, pots on the floor and a mess of the space in general, it tells us that Big Nick is probably up in restaurant heaven somewhere looking down on us now, I pray still smiling.
On Thursday night, this sign was spotted in the window of Big Nick's Too.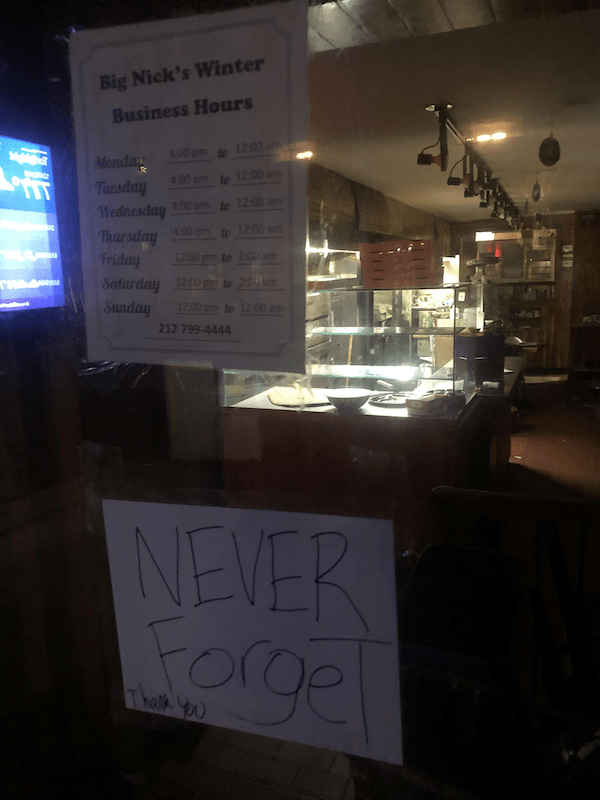 On Friday night, we returned to the site of Big Nick's Too to find someone had kissed the sign.
Big Nick's Too will always remain in our hearts. Thank you.