In July, Nickelodeon announced it would be creating a Blue's Clues movie to celebrate the 25th anniversary of the original show. Filming began in NYC this summer, and one of our readers spotted the cast and crew in action this Thursday.

@louisaaa_zhang took this photo on 77th and Columbus Avenue, right in front of the American Museum of Natural History.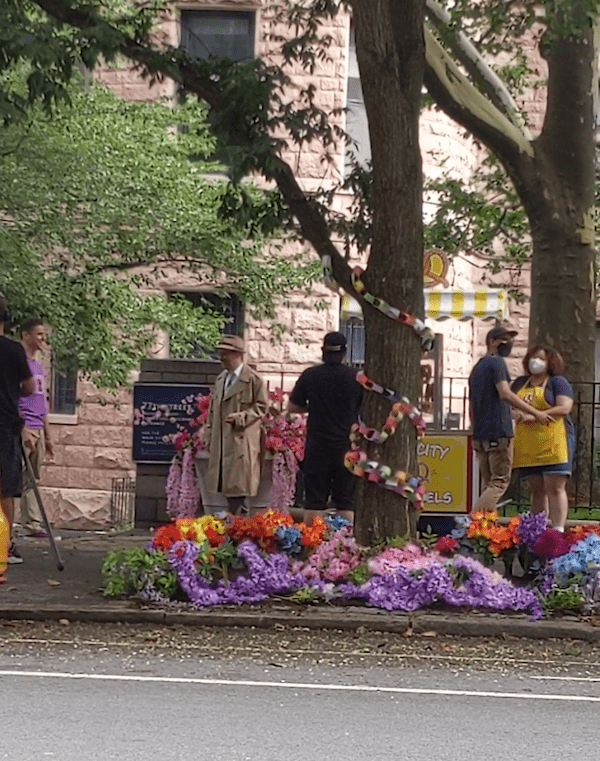 According to a fan page, cast members will include:
Matthew Lillard (in the trench coat above)
Freddie Prinze, Jr. (in the purple shirt above)
Neve Campbell
Sarah Michelle Gellar
Kevin Michael Richardson
Linda Cardellini
Jennifer Love Hewitt
Julie Andrews
The live action movie by Paramount Pictures and Nickelodeon Movies is set for release in 2022.
A few days ago, artist, filmmaker and Upper West Sider Matt Starr [ @mattstarrmattstarr ] also spotted the current host of the  TV show "Blue's Clues & You," Joshua Dela Cruz, in Central Park. "At first I thought they were just shooting a kids puppet show then I saw Blue bouncing up and down and realized they were shooting Blue's Clues and couldn't believe it," Starr told us. "I sat and watched for 30 minutes. It was so nostalgic. Blue's Clues in Central Park! It was beautiful."