I called it the sponge. When you first stepped onto The Green at Lincoln Center it felt a little like being on a moon bounce. It was new terrain and The Green had give. It was springy, softer than real grass and on the countless walks I'd taken on it, always especially clean. My thanks and compliments to the team at Lincoln Center. You took something iconic and gave anyone willing to truly engage, a fun new way to connect with a classic. The Green's last day will be Monday, September 6.

I visited The Green the morning it opened and what made me smile widest was seeing kids running back and forth, building momentum to get higher and higher. I imagine it wasn't too long before someone took a spill, because that area got roped off quickly.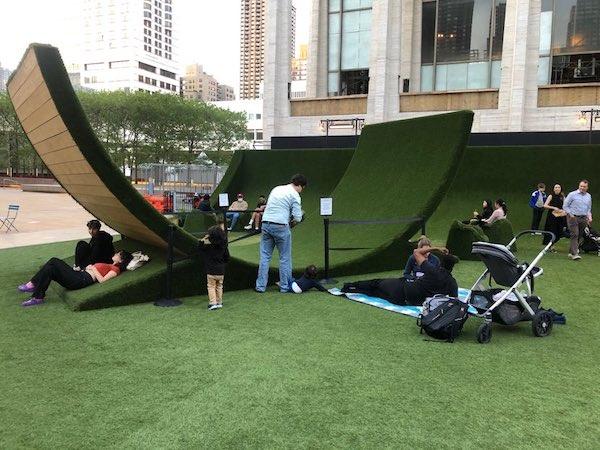 I had a flashback when I first saw that sign (elementary school, early 90s) to one of those big metal bubbles on the jungle gym that just about every kid back then would climb as a rite of passage, taking risks and testing limits. We made it out okay, right?
Advertisement



The half pipe redeemed itself quickly. On a stroll a few days later, I stumbled upon a cellist mid-performance on the pipe. Booyah. I took a seat at the fountain to enjoy the pleasant artistic surprise; my legs swinging back and forth, hanging off the edge. No pics taken; I historically refer to seeing live music as my 'office hours' when I get my best thinking done, and with so much live music being gone during the pandemic, this was the session I'd been needing for a while. Doctors orders.
Another time I saw a dance team performing for a great crowd. It put a kick in my step and I bought an ice cream from an ice cream truck on my way out, which I virtually never do because I'm on a budget, but it just felt like things were kind of getting a little more 'normal' again. Summer in the city.
I read the anonymous guest post about The Green back in June. They reported having stability issues with The Green's curved sides which lined the West and East outskirts. I found that sitting on my butt and putting my right front leg across and over my left was the best practice for grounding myself on 'the great curves'. Obviously, the further up the curve you go, the more pressure and weight you'd need for this. Props to my New Balance 990s.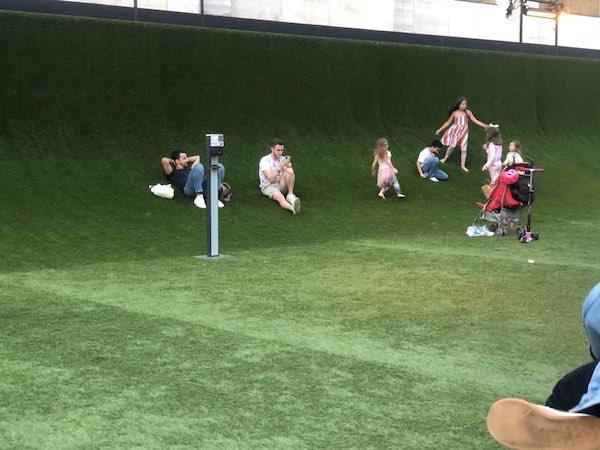 The reader also reported being scolded by a security guard with a "No sliding or climbing" warning. Timing is everything sometimes; I bet if you kept coming back you would have been able to pull off some moves.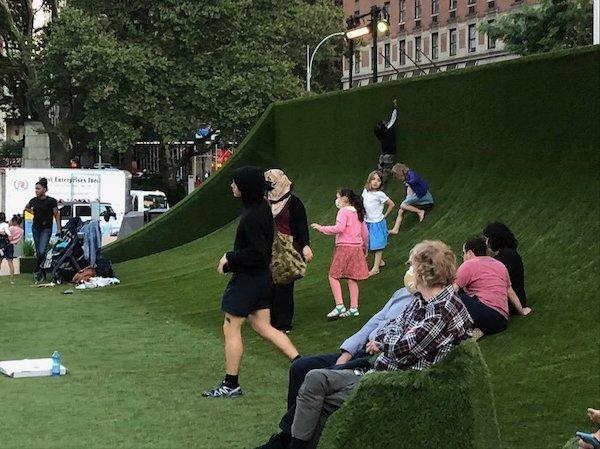 The Green's outdoor concerts – which were part of Restart Stages – especially resonated with me. People would come to post up and have fun with friends and family. There were many big nights for sliding, even hanging.
Since Lincoln Center first announced the idea back in April, the reception – at least among our readers – has honestly been pretty negative. We didn't expect a lot of controversy, but unimpressed Upper West Siders were quick to scoff at The Green's appearance and composition, and the sacrilege of temporarily changing a piece of New York City history.
One reader was upset because she likes to wear her heels to the opera, and thought this material wouldn't properly support them.
How about a walk on the wild side? I've seen heels do amazing things.