It was business as usual for building superintendent Johnny Leone on Monday, June 14, until he found a wounded pigeon* sitting in a vacant office at the property he works at in the West 80s.

Johnny sprang into action to aid the ailing pigeon despite fears it could be carrying rabies or legionnaires disease*. "What am I going to freaking do right now?" he recalled.
The maintenance team had trapped the pigeon in a mop bucket and a piece of cardboard; as one of the maintenance workers lifted the bucket, Johnny gripped the pigeon around its wings. It didn't panic, he recalled, saying the pigeon was "docile" when he picked it up and brought it to his chest.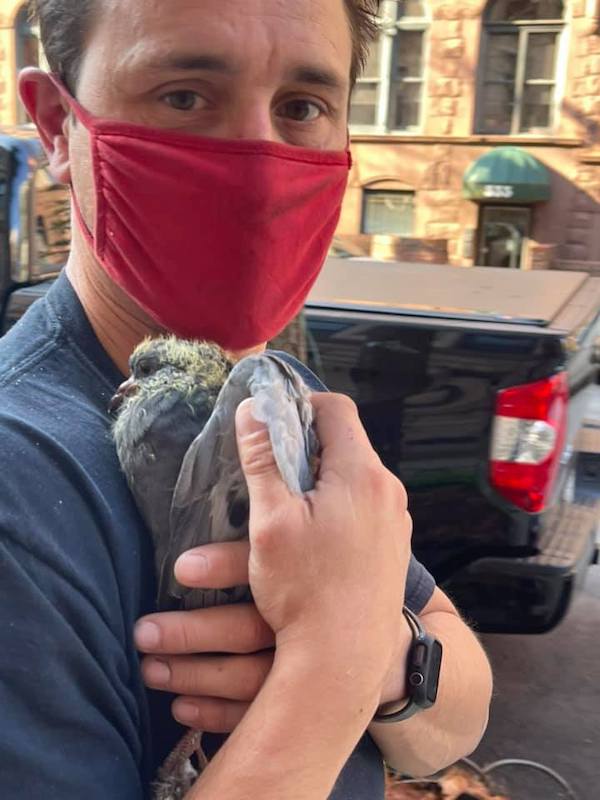 Johnny carried the pigeon up to his apartment and told his fiancé, Starry Tiberio, "we've got a problem." Having a wild bird in their home sent Starry into a bit of a panic. The two teamed up to find the best solution for the pigeon, who Johnny called "Birdy" in the heat of the moment.

Johnny didn't even consider leaving the bird in the street considering it was wounded. "If something needs your help you just try to help it."
While Johnny held the bird tenderly it stayed calm, never pecking at him or fighting to get away. "What do you want to do with this?" Johnny asked Starry, who began looking up nearby vets.
ESCAPED PARROT RESCUED BY FDNY
Starry located Wild Bird Fund at 565 Columbus Avenue, between 87th and 88th Streets. The time was 5:45pm and the sanctuary closed at 6pm. "We gotta get down there now!" she said as they rushed out.
"Good bird, sweet bird, aww, I got a good bird," Johnny reassured the pigeon as they dashed out.
They got there just in time. A representative told them they were just about to close as Johnny asked if they could help, explaining to them what had happened. The Wild Bird Fund accepted the bird.
COPS RESCUE HAWK FROM WEST SIDE HIGHWAY
After a couple of days, we spoke with Rita McMahon, director of the Wild Bird Fund, who said the bird is "bouncing and looking good." They named him Tiger, similar to Starry's last name, Tiberio. (She's the one who filled out the documents when she and Johnny dropped him off).
Tiger weighed in at 345 grams, which is a good weight according to McMahon. Tiger is just a baby, a couple of weeks old.
I'm sure if the bird could talk he'd say "thank you, Johnny Leone, 'Super' Hero."
This isn't the first time this building super has saved an animal in distress. In August 2014, he found an abandoned dog tied to a trash can in Harlem. After trying to locate the dog's owner to no avail, he ended up keeping the Chihuahua Terrier. He named him Scrappy.
Johnny's acts of kindness extend to humans, too. During our chat, we discovered that during a trip to Jamaica, he revived someone who had almost suffered a heart attack by giving them CPR. "I just do what I think is humane."
* Corrections:
A representative from Wild Bird Fund tells us that the pigeon was not actually wounded, but simply too young to have left the nest. Also, pigeons do not carry rabies or Legionnaire's disease.