The Cathedral of St. John the Divine has lit its columns in bright, beautiful rainbow colors in support of LGBTQ communities during Pride Month.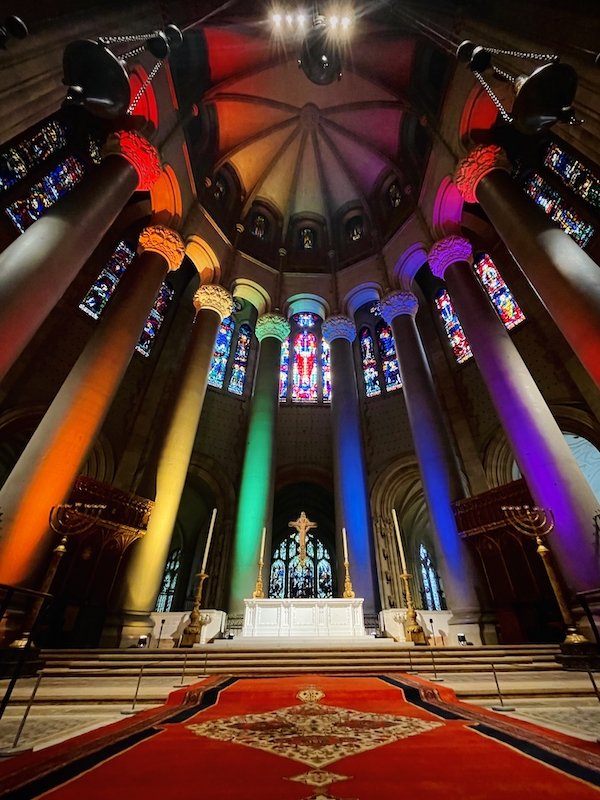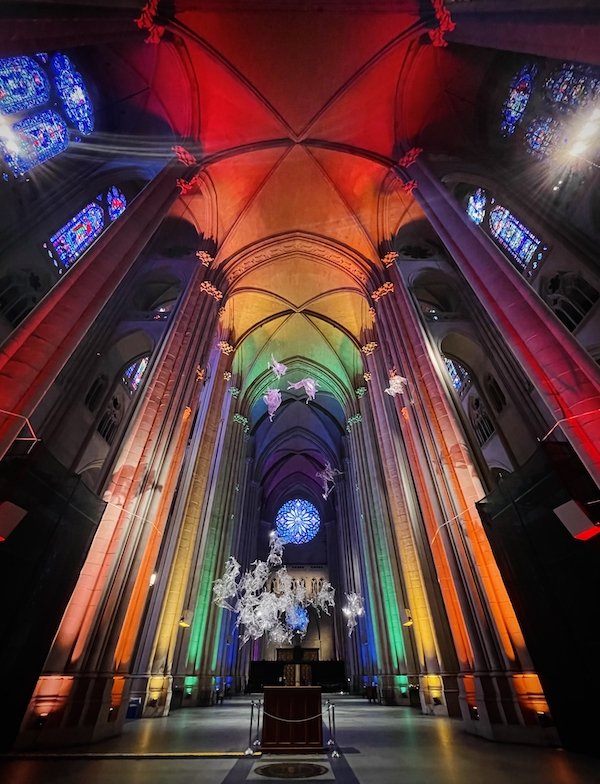 The Cathedral, located in historic Morningside Heights, has long been a home for progressive social causes, beginning with its charter as a "house of prayer for all people." As one of the first religious institutions in New York City to champion the causes of LGBTQ people, including the fight for marriage equality, the Cathedral has built upon a legacy of inclusivity and a powerful religious presence in the fight for social justice.
Advertisement



In the 1960s, the church hosted civil rights and anti-war meetings. It pushed boundaries by consecrating female priests and bishops. It honors social innovators like Abraham Lincoln, Susan B. Anthony and Martin Luther King, Jr. in statuary and stained glass.
The church's connection to the LGBTQ community has always been strong. One of artist Keith Haring's final works, a triptych altarpiece titled The Life of Christ, made just before he passed away from AIDS, is on public view in the Cathedral's Chapel of St. Saviour.
The Cathedral was one of the first churches in the country to recognize the impact of the HIV/AIDS crisis in the 1980s, and it continues to honor survivors today. The nave of the Cathedral contains an AIDS Memorial dedicated to the memories of those who have died from the disease.
Ongoing programs and events, including the annual Spirit of Pride and relationships with the NYC Kiki Ball community, continue the Cathedral's strong commitment to providing a welcoming spiritual home for LGBTQ people of all backgrounds and walks of life.
For more information, visit stjohndivine.org.