This article was first published on eastsidefeed.com.
The Centers for Disease Control & Prevention has updated its guidance for fully vaccinated Americans this week, easing restrictions specifically on masking.

The CDC states that people are considered "fully vaccinated" two weeks after they've received a second dose in a 2-dose series or 2 weeks after a single-dose vaccine.

If you've been fully vaccinated:
You can gather indoors with other fully vaccinated people without wearing a mask or staying 6 feet apart.
You can gather indoors with unvaccinated people of any age from one other household (for example, visiting with relatives who all live together) without masks or staying 6 feet apart, unless any of those people or anyone they live with has an increased risk for severe illness from COVID-19.
You can gather or conduct activities outdoors without wearing a mask except in certain crowded settings and venues.
If you travel in the United States, you do not need to get tested before or after travel or self-quarantine after travel.
You need to pay close attention to the situation at your international destination before traveling outside the United States.

You do NOT need to get tested before leaving the United States unless your destination requires it.
You still need to show a negative test result or documentation of recovery from COVID-19 before boarding an international flight to the United States.
You should still get tested 3-5 days after international travel.
You do NOT need to self-quarantine after arriving in the United States.

If you've been around someone who has COVID-19, you do not need to stay away from others or get tested unless you have symptoms.
However, if you live in a group setting (like a correctional or detention facility or group home) and are around someone who has COVID-19, you should still stay away from others for 14 days and get tested, even if you don't have symptoms.
The CDC has also published visuals to display what type of precautionary measures are suggested for vaccinated and unvaccinated Americans while partaking in indoor and outdoor activities: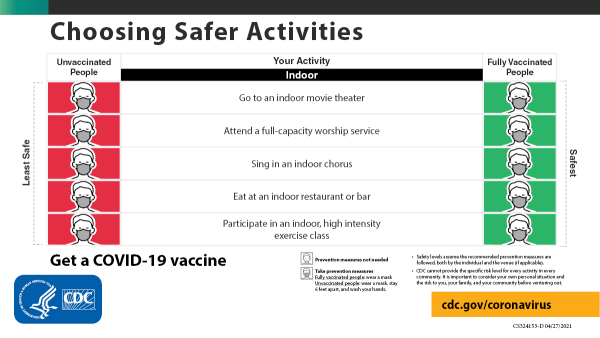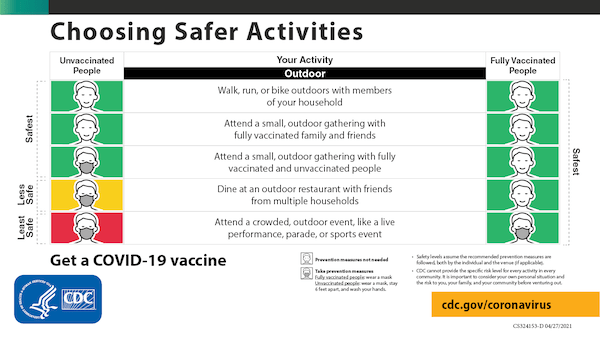 Governor Cuomo has announced that New York State will adopt the CDC's new guidance on mask use for fully vaccinated people, while adding that "masks should still be worn indoors and should still be worn by people who are not fully vaccinated. This guidance reemphasizes the importance of getting vaccinated and closely adhering to public health guidance, particularly if you are not yet vaccinated. Fully vaccinated individuals with immunocompromising conditions should consult with their healthcare provider first."
Vaccination Update:

44.6% of New Yorkers have received at least one vaccine dose and 31.9% have completed their vaccine series.

-152,118 total doses were administered over the past 24 hours
-14,702,998 total doses administered to date

Details: https://t.co/S1OmTSRTWp pic.twitter.com/n8PXzQOdRY

— Andrew Cuomo (@NYGovCuomo) April 27, 2021
Read the full update from the CDC here.
Read the full press release from the governor's office here.