It all started a few years ago, on Christmas Day. I was placing an order for Chinese food as my guests watched movies. But I was stuck. I really wanted chicken from one place, and noodles from another. For a moment I thought, "Will I look ridiculous if I order from multiple places?" I went for it. Now, the annual tradition at my apartment is to order my favorite dishes from several Chinese restaurants.

These are my top picks from four Chinese places (and one sushi place!), all of which will be available for delivery on Christmas Day.

Han Dynasty
215 West 85th Street (between Broadway and Amsterdam)
(212) 858-9060
If you are looking for flavor, this is the Chinese restaurant to order from. Many of the dishes have Szechuan peppers to give extra spiciness, and they use plenty of peanuts as well. I'm usually not a fan of cold dishes, but the Cold Sesame Noodle is my favorite item on their menu. The Crispy Rice Style has sweet and sour sauce with veggies including bamboo shoots, red and green bell peppers, black mushrooms, and snow peas. This is all served on hot crispy rice. So good! Don't miss out on these picks:
Cold Sesame Noodle
Dan Dan Noodle
Cumin Lamb
Crispy Rice Style
Empire Szechuan
193 Columbus Ave (between 68th and 69th Streets)
(212) 496-8778
Sometimes you are just in the mood for the tried and true comfort food style Chinese. Of course as I'm writing this, I am craving Chinese food, so I just placed my order here. This place is no frills, but it is consistently good. The Chow Fun is greasy, with super fat noodles, and delicious. I order it with beef, but you can order the protein of your choice. Being my go to for comfort, I love their fried crab Rangoon and noodle soups. Can't go wrong if you are looking for your typical Chinese food fix. The order I placed tonight, and will also place on Christmas:
Chow Fun with Beef
Crab Rangoon
All the noodle soups
La Salle Dumpling Room
Now on 113th and Broadway
(212) 586-2000 or (212) 961-0300
I'm not going to lie to you and say this place has amazing dumplings. It has decent dumplings. I am sorry to say I have not found a place on the Upper West Side worthy of a high praise when it comes to dumplings. I have huge hopes for Vanessa's Dumplings, which is hopefully coming soon. All that said, I need some dumplings on my table for the annual feast, and of all of the options, La Salle's Dumplings are satisfactory. I prefer their steamed dumplings to the fried ones. I believe their only option for fried is pork. My selection has included:
Steamed Vegetable Dumplings
Steamed Chicken Dumplings
Chicken Dumplings with Spicy Vinaigrette *this one is actually pretty good.
Red Farm
2170 Broadway (at 77th Street)
(212) 724-9700
A less traditional option for those who want add some spice to their Jewish Christmas. With additional locations in the West Village and London, it definitely gets some cool points. And while it's a tad pricier than my other picks, and not exactly the place for Chinese food purists, those up for an adventure will find some menu items they've never seen before, and the food is delicious.
My RedFarm picks:
Pastrami Egg Roll (pictured below)
Spicy Crispy Beef
BBQ'd "Black Foot" Berkshire Pork Belly with grilled jalapeño peppers
Sushi Yasaka
251 West 72nd Street (between West End and Broadway)
(212) 496-8460
My husband was afraid I would include this sushi place on the list because he fears it will get even more popular than it is now. High quality sushi at a very reasonable price draws a regular crowd. I have friends who travel from all other parts of the city to eat here. Good thing they have fast delivery! My regular order includes the following rolls (but you really can't go wrong with any of them):
Salmon Cucumber
Chopped Crunch Eel Avocado
Sweet Potato Tempura
Tuna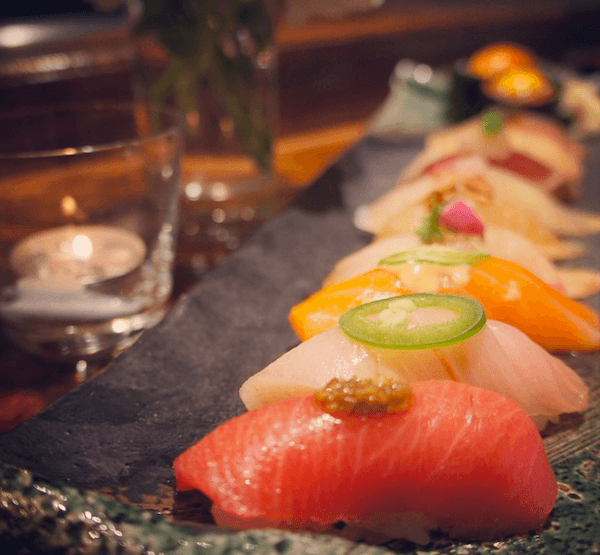 With Christmas Day right around the corner, I hope this list has inspired you to not limit yourself to just one place! In the meantime, if you are hungry after reading this list, I don't blame you. Please feel free to leave a comment below if you have any outstanding suggestions I should know about before the big day!