The initial renovation plans the Children's Museum of Manhattan proposed for the church at 361 Central Park West was not well received at a Community Board 7 meeting in December 2019. Since then, they have made a few revisions to those plans. Back in March, both the Landmarks Preservation Commission and CB7 rejected another set of revised plans and sent them back to the drawing board again.

CB7 and the LPC have always been supportive of CMOM's initiative to use the space, but had a handful of required changes which they'd need to see before giving them the green light. On June 9th, the architectural firm CMOM is working with, FXCollaborative, met with the LPC and new plans were unanimously approved.

Advertisement
The meeting was streamed on the LPC's Youtube channel, which you can watch here:
New York YIMBY described the architectural changes starting within the entryways. "The architects intend to install a series of enlarged wood-encased doors and newly proposed glass transforms with decorative wood screens. The enlarged openings would incorporate salvaged stone materials removed from other locations of the building as required to complete the renovation."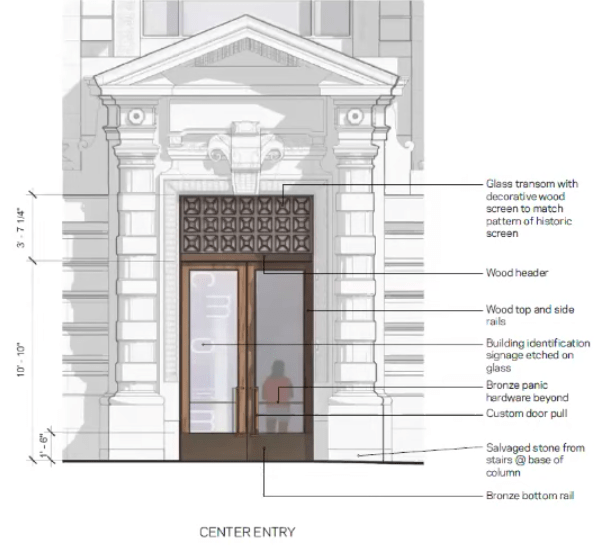 A main point of contention for CB7 and the LPC was the removal of the stained glass windows. The new plans state that "all stained glass windows will receive new bronze frames, mullions, and muntins. The ornate stained glass borders will be repaired and restored along each elevation."
To make sure there is natural light coming through, the center of the stained glass windows, which is currently religious iconography, will be replaced with clear glass. This has been a big point of contention for many who oppose the changes. CMOM states that they will donate the stained class to the to the National Building Arts Center.
YIMBY also reports that the changes include "a significant reduction in the massing and visibility of public areas at the roof of the structure. This includes a redesigned elevator bulkhead and the removal of a formerly proposed south terrace. Instead, the project team will restore the structure's terra cotta roof and install solar panels to improve energy performance. Overall, the structure has been lowered more than 15 feet compared to former proposals."
As we had previously reported, the additions to the roof caused neighbors a great deal of concern due to the blocking of views and in some cases potential invasion of privacy.
With these changes reviewed, the board took a vote and the changes have been approved by the LPC. CMOM now just needs to get DOB approval and permits in order to move forward.
We'll keep you posted on CMOM's next steps.