Orders for face shields are flooding in via email to Covid Maker Response. Launched two weeks ago, CMR was developed within 72 hours by Columbia University librarians Madiha Choksi and Alex Alexander Gil Fuentes, who are collaborating with Tangible Creative, an Industrial Design and 3D printing company based in Newark, NJ with over seventy-five 3D printers.

3D Printing company MakerBot has also joined the effort, giving the group access to over one-hundred 3D printers.
Now, the CMR collaborative group has 30 people including volunteers helping with transport and assembly of the shields. There is still insufficient supply to meet ongoing demand.
The organizers of CMR are Nevaris A.C., born and raised on the Upper West Side, Madiha Cholski, Alex Gil Fuentes, who currently live in the neighborhood, and Industrial Designer Eugene Chang, who lives in Newark.

Advertisement
The four meet on Zoom every morning for about an hour to discuss demand, production, distribution and coordination of volunteers. Logistics are necessarily very complex. Production and delivery of shields increasingly involves numerous volunteers without whom the initiative could not work.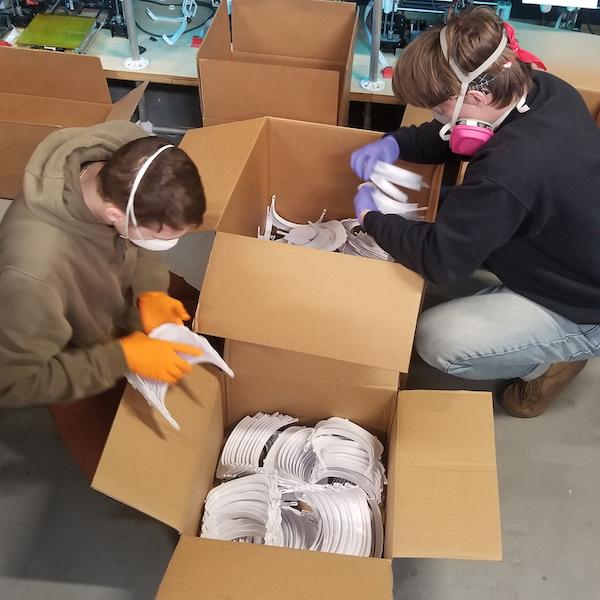 Volunteer George Du, for example, an NYU student, drives between Newark, Brooklyn and Manhattan every day to deliver shields to the 92nd Street YMCA, where they are assembled and then distributed to hospitals citywide. "The requests are overwhelming," says Nevaris A.C. He describes, for example, receiving a plea from the daughter of a funeral home owner where twenty-five staff members are working without protective equipment.
The shields are ideally intended to be worn by health care providers, along with N95 masks to offer maximal protection from exposure to COVID-19 droplets.
The 3D printer produces a plastic visor with nubs to which a plastic sheet is attached. The initial 3D model, by Budmen Industries, was adapted by Madiha Choksi and Eugene Chang to make printing quicker. This model is available online on their website, Covidmakerresponse.com. The finished shield is designed with a foam component to ensure comfort when it is worn.

Advertisement
Production has expanded significantly over the past few weeks. Nevaris A.C. says 7,000 shields were delivered over the first 14 days. The current projection is to have 15,000 produced and delivered over the next two weeks. Today, the shield components are printed and assembled between locations in Newark (Tangible Creations), Brooklyn (Microbot) and Manhattan at the 92nd Street Y. Medical students and community residents volunteer to assemble the face shields.
Nevaris A.C. says the CMR group and volunteers are working day and night to produce increasing numbers of shields. "I've appealed to various government agencies to help and haven't even received callbacks", he says.
CMR asks anyone interested in volunteering or in making donations to visit covidmakerresponse.com.