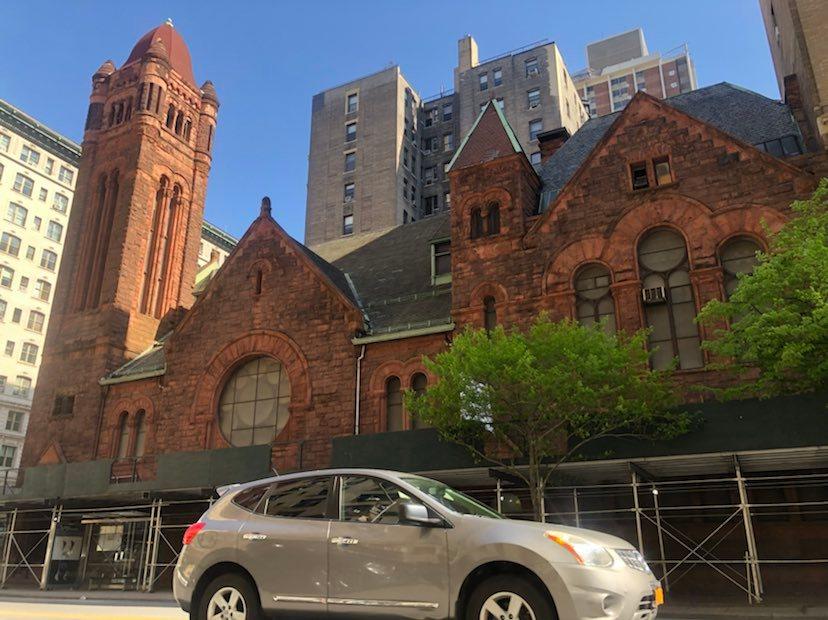 On Tuesday evening, Community Board 7 voted 24-13, with seven abstaining, to maintain the landmark status of West-Park Presbyterian Church. Last month, CB7's Preservation Committee also voted to maintain landmark status for the 132-year-old structure that's fallen into disrepair.

Advertisement



The city's Landmarks Preservation Commission will make the final decision on the church's hardship application, which, if approved, would give them the go-ahead to sell the space to Alchemy Properties, a developer that plans to knock down the church to make way for a 210-foot residential building with no affordable housing. There are plans for a 10,000-square foot community center and a 146-seat black box theater that would accommodate the church's small congregation of 12 members. It would also potentially house the Center at West Park, a theater company which is currently the primary tenant of the space.
On Zoom, 163 people were tuned it to watch the debate and to share their opinions on the matter. Those in favor of seeing the church's landmark status revoked pointed out that there has been an effort to raise money for over a decade, but only about $2 million has materialized — far short of what's needed to bring the building up to code. Some felt there was no way to save the building, which has had a sidewalk shed around it for more than 20 years now.
Others placed the blame on West-Park Presbyterian for letting the building fall into disarray, and that it could be a dangerous precedent to approve de-landmarking the decaying space because it would potentially encourage other landmarked building owners to do the same thing in an attempt to cut and run while making a large sum of money for neglecting a cherished space.
City Council Member Gale Brewer was confident in "how easy it will be" to raise money if the Center at West Park theater company took over the space that has perfect pitch. Others voiced their support and confidence in Brewer, while some felt they'd heard this story about raising money before.
Advertisement



Last night, the Center at West Park held a Community Town Hall at the church to discuss plans of keeping their home there. It was said during the CB7 meeting that they received several donations at the event. They're currently circulating a petition to stop the demolition of the historic landmark.
Alchemy Properties will present its plan to the Landmarks Preservation Committee on Tuesday, June 14. Time TBA.