While the most recognizable outdoor attractions on the Upper West Side are Central Park and Riverside Park, there are a number of more intimate community gardens which are perfect outdoor hiding places.

These serene spaces are lesser known to the general public, and at least most of us locals hope they stay hidden. And yes, I realize that writing this article might be counter-productive in achieving that goal, but I'm only writing it for locals. Seriously. If you don't live in the neighborhood, I forbid you from reading more!

Advertisement
West 87th Street Garden, between Central Park West and Columbus
This garden is lush with abundant plant life.  It is spacious and open with round tables, benches and a play area for children. This makes it a nice place to bring the little ones.  The garden has a social and friendly vibe, and is a great place to congregate with your neighbors. It's also located on one of the prettiest streets in NYC!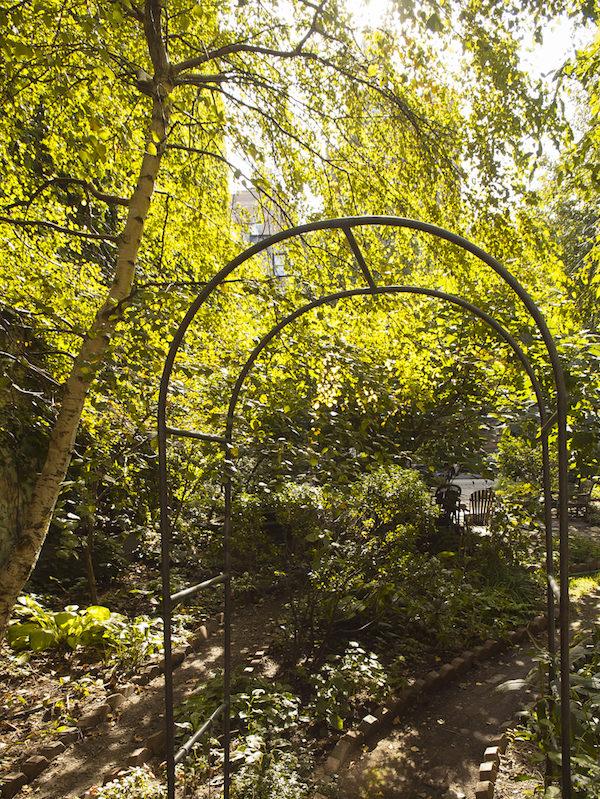 Septuagesimo Uno Park
Located on 71st between Amsterdam and West End, this public garden is designed purely for reading and relaxing.  It does not hold public events and its long and narrow shape are ideal for those who wish to avoid small talk with strangers. This is an excellent place to hide after a long and stressful day! You might even be able to sneak in a beer.
West Side Community Garden
Located on 89th between Amsterdam and Columbus. This Upper West Side garden holds fun events for the whole family.  Past and ongoing features include Shakespeare renditions, multi-genre musical performances, art fairs, celebratory cookouts, an annual tulip festival, and all kinds of benefits for the city's greater good.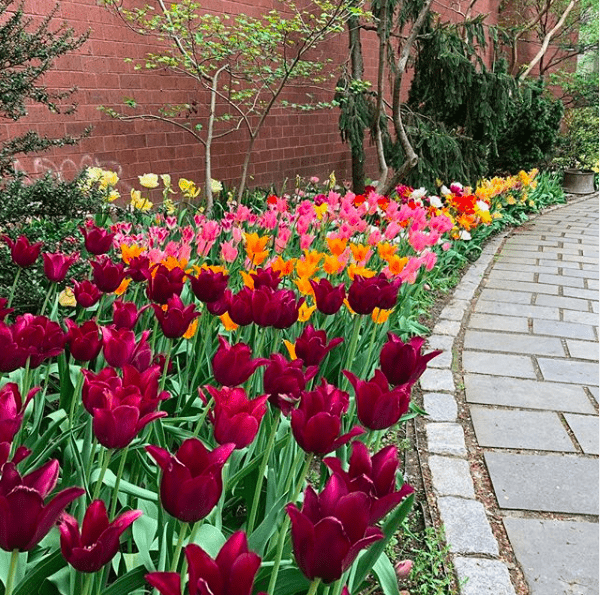 West 104th Street Garden
With Central Park six steps away, this is like having a private pool right by the ocean.  Garden features include two peach trees, a communal herb garden, a peaceful gazebo and plenty of open space to barbecue and hold community events (which are abundant).  There are also three resident cats!
West 82nd Street Community Gardens
Enter this one at your own risk!  There is a decent entry pathway, but the garden is filled with tall shrubs and big rocks which make navigating a bit of a challenge.  Whether or not you decide to enter, the more green the better!
Advertisement
The Urban Assembly School For Green Careers
While this lush landscape on 84th and Amsterdam is not open to the general public, it really adds a nice touch of green to the busy and bustling area.  The school provides a curriculum designed for students who wish to enter environmentally friendly career paths.
West 111th Street People's Garden
Located in the heart of Morningside Heights, this pleasant outdoor space is modest yet aesthetically pleasing, decorated with stone statues.  This is a great place for Columbia students and faculty to catch up on work.
113th Street PlayGarden
This garden has a well-constructed playground plus many toys for toddlers.  Most of this small space is shaded, making it ideal for a hot Summer day.  If you don't have kids, you probably don't need to visit this one.
The Lotus Garden
This rooftop garden is a secret you'll want to be in on!  Located on the roof of the garage of the Columbia Condominium at 96th Street, The Lotus Garden is open to the general public on Sundays between 1-4pm. Features include hypnotic winding paths, two fish ponds, fruit trees and tons of unique shrubs.  The garden is maintained meticulously by volunteer members who pay a very low annual fee.
Mobilization for Change Garden
This Manhattan Valley garden stands out as it's right on the Avenue, amongst the busy storefronts.  This part of the neighborhood has changed quite a bit in recent times, and the addition of this garden is one positive addition it's received. Check out the garden and walk around this vibrant area – one of the most up and coming in all of Manhattan.  A great place to invest without a doubt.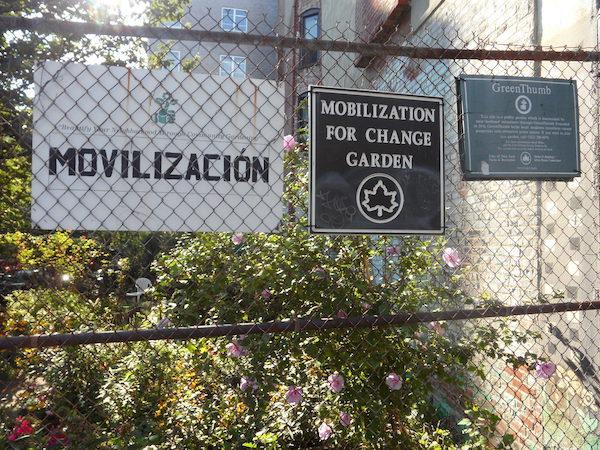 La Perla Community Garden
Located steps from Central Park in Manhattan Valley, this NYC community garden was founded in 1992 and is a member of the Manhattan Land Trust. La Perla's features include wheelchair accessibility, a stage for events, 1,000 gallon rainwater tank, composting for members, a fig tree, peach tree and much more.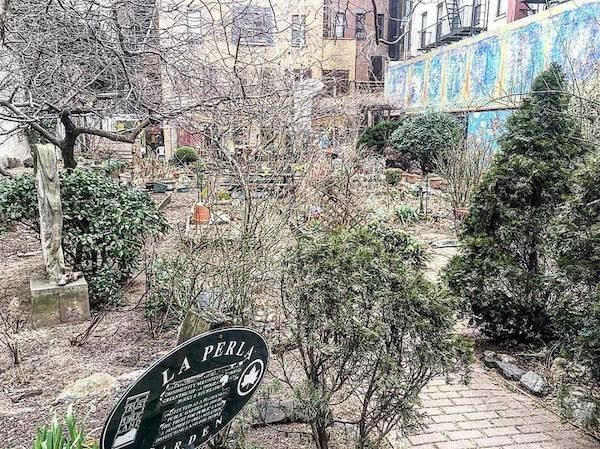 BONUS: The 91st Street Garden
This gem of Riverside Park is tended to year-round by local volunteers, who refer to themselves as The Garden People. The garden blooms from spring through fall, and also played a pivotal role in the epic film You've Got Mail.
To see the amazing variety of flowers and plant-life, check out our full post about the 91st Street Garden in Riverside Park.
So there you go!  A few peaceful places for when you need to reflect.  These outdoor havens offer a wonderful form of relaxation, beautify the neighborhood, and most importantly help communities in need – all over New York City.
Get the newsletter for more beautiful things on the UWS: