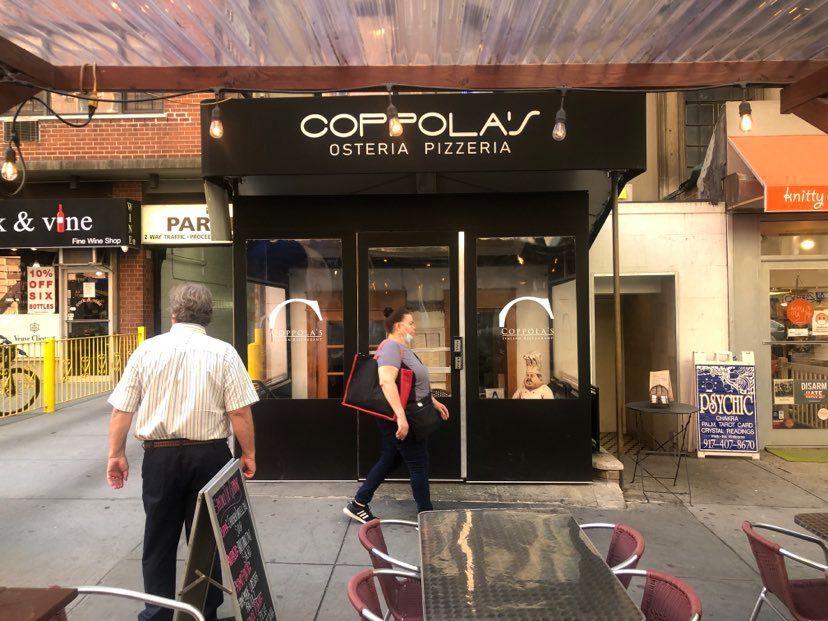 Coppola's will soon be closing the 79th Street restaurant it's been operating since 1988 ("Coppola's West"), and the owner of a new Italian eatery — Paisani — will be taking over the space.

Advertisement



"Basically, it was a really hard battle during Covid," manager Sam Kasar told ILTUWS. "We tried to stay afloat. Unfortunately, we got to the point where we had to make a decision. The owner [Sal Coppola] decided that it's no longer a viable option."
When asked if other factors led to Coppola's forthcoming closure, Kasar reinforced that "Covid was the big one." They also ran into some issues renewing their liquor license with the New York State Liquor Authority. "We had to reapply for a new liquor license. It was dragging dragging dragging and at a certain point, you know, [we had to] call it a day."
READ MORE: Pearls Closes UWS Restaurant
Coppola's team hired a lawyer and paid the $6,000 liquor license fee, gaining approval from Community Board 7 — but the State Liquor Authority was bringing up "stuff from twenty, fifteen years ago and it didn't go through. It was like, just cut your losses," said Kasar.
Coppola's originally opened on the Upper West Side in 1986 before moving to 206 West 79th Street. Its long-time regulars might take solace in knowing that some of the staff members will be working at Paisani once it opens.
Advertisement



We're told the plan is to execute a seamless transition from Coppola's to Paisani, with no closing time in between. "It creates some kind of continuity with the customers, with the people, food and everything," noted Kasar, who went on to say that while the new owner is not planning to copy their concept, "it's going to be almost the same kind of menu but their own twist on it… People will love the food as well."
Known for its Southern Italian fare, Coppola's was beloved for its calamari, stuffed mushrooms, homemade ravioli and tortellini, as well as its veal, chicken and eggplant parmesan.
Taylor Cusumano is the owner of Paisani; this is her first restaurant venture.
No official transition date has been announced yet, but we hear it will happen over the next couple of weeks. We'll provide an update once we know more.
Regarding Coppola's East at 378 Third Avenue (between 27th and 28th streets), Kasar told us he's not yet sure about that location's future.