Crumbl Cookies proclaims in its brand story that it's "Bringing friends and family together over a box of the best cookies in the world!" Today's the day to find out if there's any bite to the hype as Crumble opens at 305 Columbus Avenue at the corner of West 74th Street in the highly competitive cookie landscape of the Upper West Side.
Advertisement



Crumbl Cookies has experienced rapid expansion since its founding in Provo, Utah, in 2017. It now has more than 600 bakeries in 47 states nationwide, "making it the fastest-growing cookie company in the nation," per its website.
Here's something you probably didn't see coming. New York Jets quarterback Zach Wilson is largely responsible for Crumbl Cookies coming to New York City. In a press release sent to ILTUWS, Crumbl details, "In 2021, Zach was drafted to the NY Jets from Brigham Young University in Provo, UT. Upon moving to a suburb of NYC, Zach started to miss his favorite Utah-founded cookie company, Crumbl. Zach's cousin Seth grew up just outside of NYC and thought that it was a great idea to bring these freshly baked, gourmet cookies to the city."
Wilson co-owns the Upper West Side Crumbl along with his father Mike, cousin Seth, and Seth's wife Megan. They also own the Crumbl on the Upper East Side which opened in October 2022.
Unfortunately, Zach Wilson has performed miserably on and off the field for the Jets and one wonders if maybe the golden boy from BYU, who was drafted second overall in the 2021 draft, should have been more focused on bringing a Super Bowl here instead of his favorite cookies. After getting injured in his rookie campaign, Wilson returned in week 4 of the 2023 season and displayed some early flashes of success before getting benched for backup Mike White and Joe Flacco later in the season for poor play. Wilson's character and work ethic have been questioned by many including former Super Bowl winning Coach Bill Cowher and pundits alike. Wilson is currently expected to return to the Jets next season.
Advertisement
Zach Wilson declined to speak with us per a brand spokesperson, citing that "He's taking some time away from media after a long season."
Crumbl is known to feature six different cookies every week. The flavors available for its Upper West Side opening include milk chocolate chip (always on the menu), chocolate crumb, honey bun, raspberry donut, cowboy cookie and classic pink sugar. A description for each can be found here.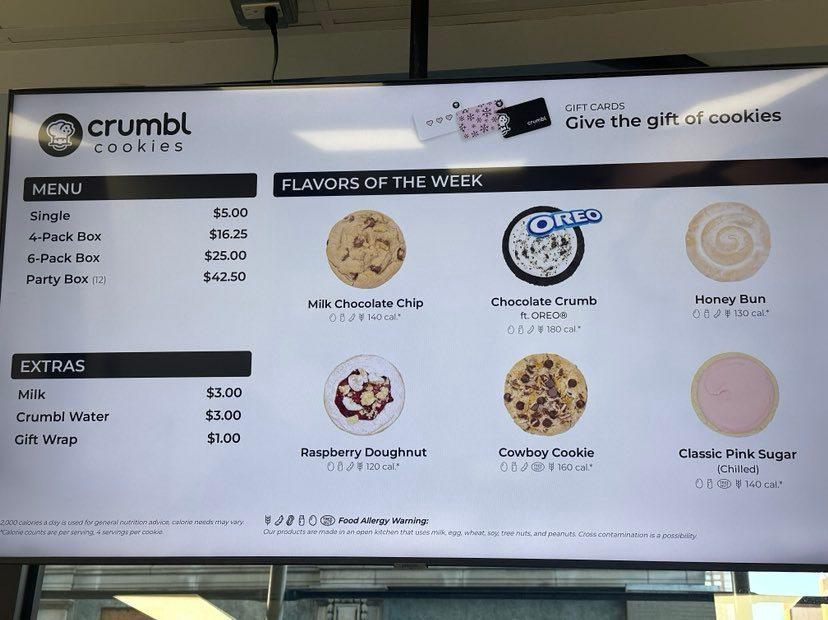 One thing Crumbl is truly famous for is how they market to Gen Z on TikTok.
The Crumbl store is open from 8 a.m. to 10 p.m. on weekdays and 8 a.m. to 12 a.m. Fridays and Saturdays. Starting Wednesday, January 25, delivery, curbside pickup, catering, and nationwide shipping will be available via the Crumbl App and online at Crumbl.com.