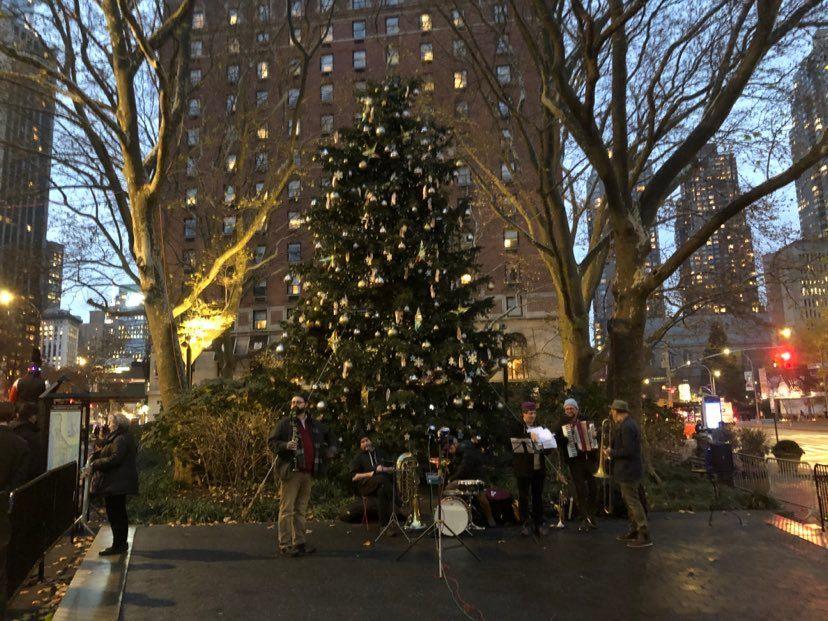 After taking a year off due to the pandemic, the Lincoln Square holiday tree lighting returned to Dante Park on Monday, December 6 at 5pm. When Lincoln Square BID announced that something new would be replacing Winter's Eve, they also noted that a tree lighting ceremony would not be taking place. But, then they said there would be a "small ceremony," as they didn't want to attract too large of a crowd …

Advertisement



The tree, a 30-foot Concolor Fir from upstate New York, was decorated with over 200 stars made by community residents at Color Me Mine at 177 Amsterdam Ave on the corner of 68th Street. Dance slippers from the NYC ballet were hung as well.
Festival holiday music went in full swing around 4:50pm, featuring Frank London and the Klezmer Brass Allstars. Locals and tourists alike stopped to see what was happening, as camera crews set up to film the outdoor performance.
"We were just in Central Park and looking for some place to eat and saw everyone coming together. This is beautiful! Leslie Figeroa from Florida told us enthusiastically. "I just called my sister to look for us on TV." When we asked her 14-year-old son Daniel what he loves most about NYC, his response was that "You can find everything you're looking for here. Awesome food and the decorations everywhere are really cool too."
READ MORE: Where Are The Giant Snowflakes?
Manhattan Borough Commissioner of NYC Parks and Recreation, William Castro, warmed up the crowd amidst the nice weather. "It's great to see everyone out here tonight. I want to thank everyone for coming to our little, sort of, town square here at Lincoln Square. What gives us strength in this crazy time period is to be with other people. When you're with other people, you feel you're not alone, you're together and this is the time of year, of course, when we all want to come together and count our blessings." Castro closed by saying, "it's a tough time but we're going to get through it. We've gotten through it, we're going to keep on keeping on."
Monica Blum, President of Lincoln Square BID, led the countdown to the tree lighting.
Fifteen spirit figures between Columbus Circle and West 70th Street – known collectively as "Tumbling Brights," an installation which made its debut in 2020 – were lit up in coordination with the tree.
The Lincoln Square BID has also announced that a selection of free popup performances will be taking place at the tree on Wednesdays from December 8 – 29.
Advertisement



"We're welcoming back some Lincoln Square favorites from past Winter's Eve celebrations and new entertainment," the BID said in a press release. "We are excited to bring seasonal cheer to the neighborhood, expanding entertainment across the entire month for even more fun for the holidays!"
Here's the schedule:
Wednesday, December 8
Wednesday, December 15
Wednesday, December 22
Wednesday, December 29
Rain dates for all performances will be the next day, Thursday, except for the Kaufman Music Center High School Choir, which will not be rescheduled in the event of rain. Learn more at lincolnsquarebid.org/holidays.