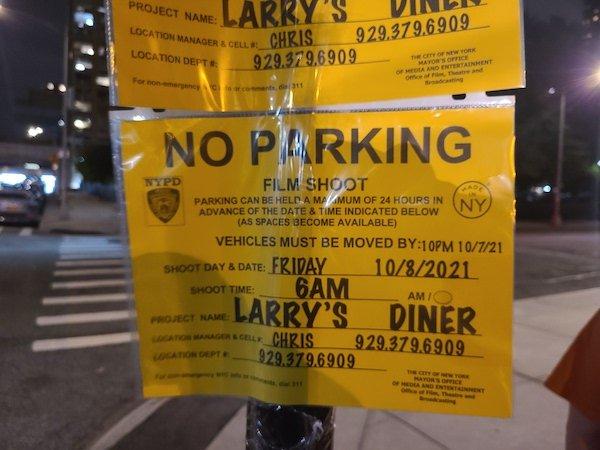 Flyers posted around Lincoln Square indicate that scenes for the upcoming Amazon series "Dead Ringers" (code name "Larry's Diner") will be filmed in the area on Friday, October 8.

Advertisement



The reimagined version of the 1988 cult classic thriller will star Academy Award winner Rachel Weisz.
Here's the original film's trailer, if you haven't seen it:
Weisz will be taking on double duty as the Mantle Twins, roles originated by Jeremy Irons in the movie version.
ALSO FILMING ON FRIDAY: BROS, STARRING BILLY EICHNER AND GUILLERMO DIAZ
This will be Weisz's first leading role in a television series; she will also be executive producing with Emmy and BATFA film award nominee Alice Birch of "Succession" and Lady Macbeth fame. The movie is also set to star Michael Chernus ("Orange is the New Black"), Poppy Liu ("Hacks"), and Jennifer Ehle ("The Comey Rule").
Get The Upper West Side Newsletter
David Cronenberg wrote and directed the 1988 thriller based on Bari Wood's novel Twins, "itself a "highly fictionalized" version of the lives of real-life twin gynecologists Stewart and Cyril Marcus."
Filming began in August and is expected to wrap in mid-December. On August 2, the Daily Mail caught Weisz shooting a scene and reported that the reboot will explore "the darker side of medicine, obsession, and the human condition."
The official release date for the series premiere has not yet been announced.
Flyers on Freedom Place South between West 59th to West 63rd Streets advise that all vehicles must be moved by 10pm on Thursday, October 7, with filming set to begin at 6am on Friday, October 8.
The signs include a phone number for a location manager named Chris who we've contacted to get a full list of streets which will be impacted. He hasn't gotten back to us yet, so if you have a car parked in the area and want to make sure it doesn't get towed, please call him at (929) 379-6909.