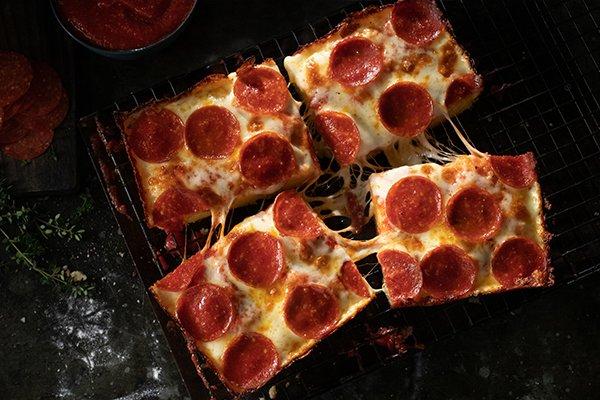 Jet's Pizza will officially open on Thursday, August 4 at 728 Amsterdam Ave, between 95th and 96th streets. A soft-opening will take place on Wednesday from 5-8pm, when "guests will receive a free 4 Corner Pizza [pictured above] with up to three toppings or a specialty pizza, no purchase necessary, walk-in only, limit one per person, while supplies last."

Advertisement
Jet's was established in 1978 and has long-specialized in Detroit-style deep dish pizzas, though it's expanded to also offer New York-style slices, thin crust and more.
"When people think "Deep Dish" they might think of a pizza with a thick, dense, & heavy crust. But what characterizes Jet's Detroit-Style pizza is a light airy center, loaded with toppings, surrounded by caramelized cheese and a crispy, square, golden crust that is baked to perfection," states Jet's website.
The secret, apparently, are the Detroit-made steel pizza pans they use. "Each pan retains & distributes heat evenly turning our pillowy dough into a porous center with a crispy, crunchy golden outside crust."
Jet's also offers salads and wings, and some of its signature pies include its Aloha BBQ Chicken, Buffalo Ranch Chicken, and Hawaiin.
Jet's has locations in 19 states, and can be found at 120 Ninth Ave (West 18th Street) and 1165 Second Ave (between East 61st and 62nd streets).
Nationally, Jet's is a popular pizza place with a huge following — though reviews for its Manhattan locations are very mixed. The UES location's got a 3.6 (out of 5 stars) on Google and a 3 on Yelp; the West 18th Street spot has a 4.1 on Google and a 4 on Yelp.
Planning to try it? Let us know your thought in the comments below!