Summer is around the corner, and these happy UWS dogs are so excited because their favorite places are open! Whether it's grabbing drinks with their friends, or popping into their favorite shops, let's take a moment to enjoy these happy faces!


Date night drinks at El Mitote at 208 Columbus Ave (between 69th & 70th Streets). Photo by @harry_and_enzo.
Check website for hours and updates.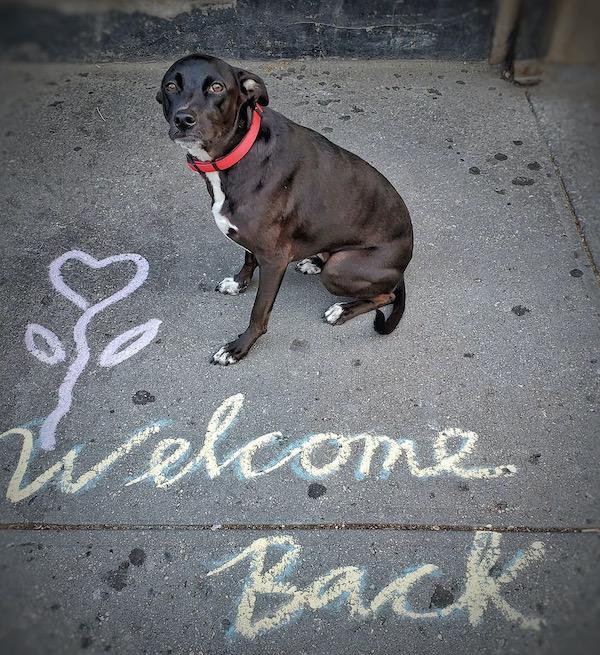 Welcome back to Andy's Deli, at 418 Columbus Ave (80th Street). Photo by @scotlandandthecity.
Check IG page for hours and updates – or call 212-799-3355.

Advertisement
Scotland is overjoyed that her favorite Starbucks has reopened! "Every day we walked by and she had to go look in the window to see if anyone was there. She missed her daily bacon & special occasion puppuccino!!" said Scotland's mom.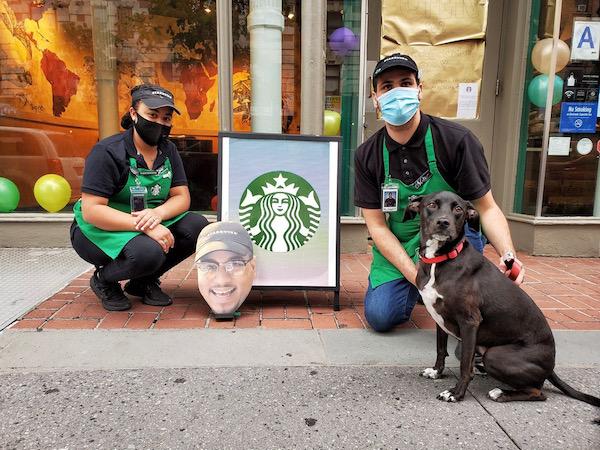 Overjoyed at Starbucks, 444 Columbus Ave between 81st and 82nd Streets. Photo by @scotlandandthecity.
Check website for hours and updates.
Starbucks isn't the only coffee spot to open up. Ozzie "can't wait to get back to brunch at Bluestone Lane. They have the best coffee, delicious GF options (try the banana bread), super friendly people, and most importantly: very prompt water service and behind the ears scratches for Ozzie!" says Ozzie's mom.
Ozzie enjoying coffee at Bluestone Lane at 417 Amsterdam Ave, at 80th Street. Photo by @oodleozzie.
Check website for hours and updates.
Need a muffin to go with that all that coffee? Macaroni is the first in line at Muffins Cafe. "The baked goods, bagels and drinks are delicious and the employees are so nice. It's not an UWS morning if you don't say "Hi" to Theo while he sits on his bench. The cafe was responsibly open during the pandemic, allowing only one customer in at a time. I hope we can all continue to support this local gem!" said Brianna, Macaroni's mom.
Macaroni at Muffins Cafe at 222 Columbus Ave, between 70th and 71st Streets. Photo by @macaroni.thedog.
Check website for hours and updates.
"We had to satisfy our sweet tooth and appreciated that Van Leeuwen offered curbside pickup. There was always one woman working there, she was so kind; even when she had a lot of orders waiting. It was hard not to eat a whole pint of once (okay, maybe we did…)." Lucky Macaroni!
Macaroni loves Van Leeuwen! Photo by @macaroni.thedog. Find locations at 253 Columbus (72nd Street) and 448 Amsterdam (between 81st and 82nd Streets).
Check website for hours and updates. 
Advertisement
Some dogs like Hamilton are just happy to get back out and enjoy the city streets. "As a pup who stayed on the UWS throughout the pandemic, I am so happy and relieved that the city is starting to reopen. I have taken full advantage of Riverside Park and the closing of West End Ave, but I can't wait to get back to brunching on Amsterdam. 2 eggs with extra bacon please!" said Hamilton's mom.
Hamilton happy on the streets of the UWS. Photo by @hamilton_the_bernedoodle.
Puppy Parker is new to the UWS. "I've just started taking walks around my neighborhood and already love my new home! All the people I see are wearing masks, but they're still really friendly. They always ask my mom and dad if they can pet me, which I think is really nice!"
Hi, I'm Parker, I'm new here! Photo by @that.dood.parker
"My parents were really excited when they saw that Tiki Chick reopened! I had to go check it out for myself and I can totally see what all the hype is about — fried chicken sandwiches and piña coladas — yum!" Enjoy Parker!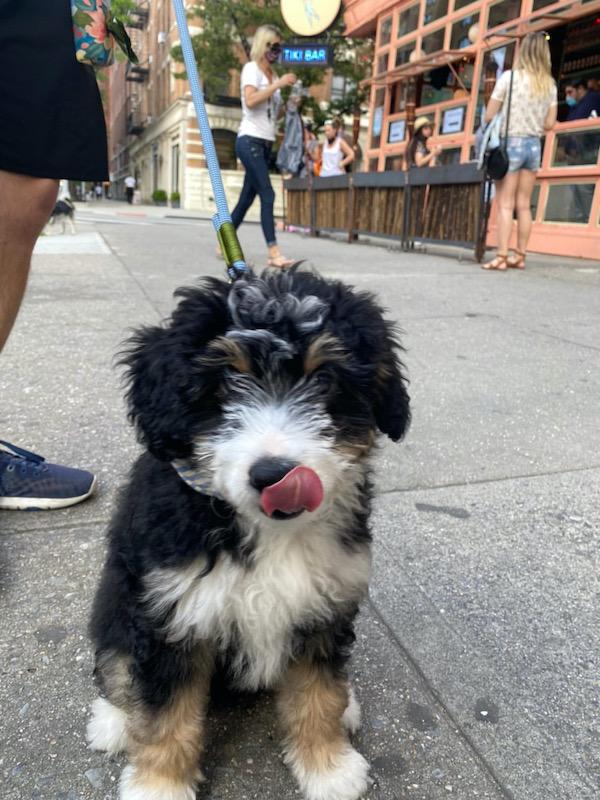 Parker at Tiki Chick at 517 Amsterdam Ave (at 85th Street). Photo by @that.dood.parker.
Check website for hours and updates.
If Parker ever needs some tips about where to go on the UWS, he should ask one of the leading experts. You may remember our local giant, Artie. You can find Artie hanging out with his buddy Beyonce at Ellington in the Park.
"Ellington in the Park is a lovely extension of The Ellington. The menu is diverse, so everyone can find something. But we really go for being able to dine and drink in the beautiful Riverside Park. There's a dog run right across the way, so you can have the dogs play around a bit to tire themselves out, so that the humans can then enjoy a relaxing rest of the evening at the cafe. The bar is well stocked with a good variety of beer, wine, and fun cocktails! There are two levels, as well – on the lower level, you have easy access to the big sand playground. It's really got something for everyone!
And the staff is always so friendly! That's a very important and necessary part of their success!" says Artie's mom.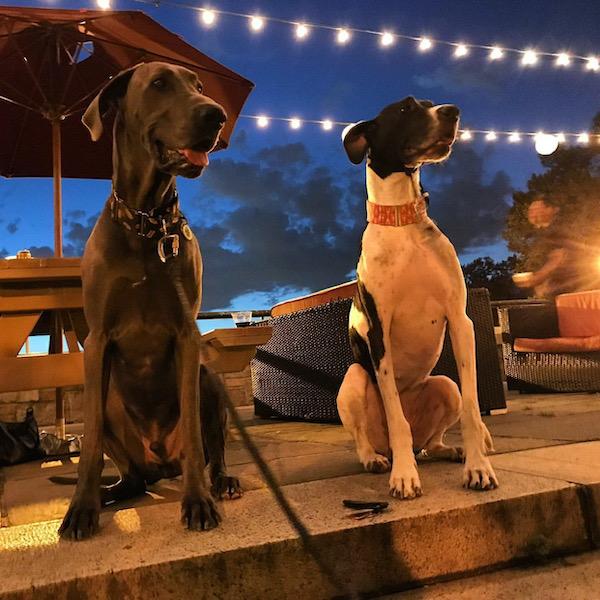 Artie and Beyonce at Ellington in the Park (Riverside Park at 105th Street). Photo by @the_artful_dogger.
Check website for hours and updates. 
Advertisement
"I definitely have gone to Mama's Too several times during quarantine! That place is magical. Their social media game is very strong, for the record. So they were very clear they were open, which helped a lot."
"They couldn't do slices anymore, so they started selling half pies for pickup and delivery. I ordered, and the owner, Frank, personally called to thank me. So nice! So I told him good luck as we were getting off the phone, and he said, 'we're gonna need it.' Broke my heart! These guys are really killing it, and this could break them."
"They do special sandwiches every Wednesday. And occasionally other specials like lasagna or other pasta dishes. It's delicious all the time. You have to check them out!" Thanks for all the info Artie!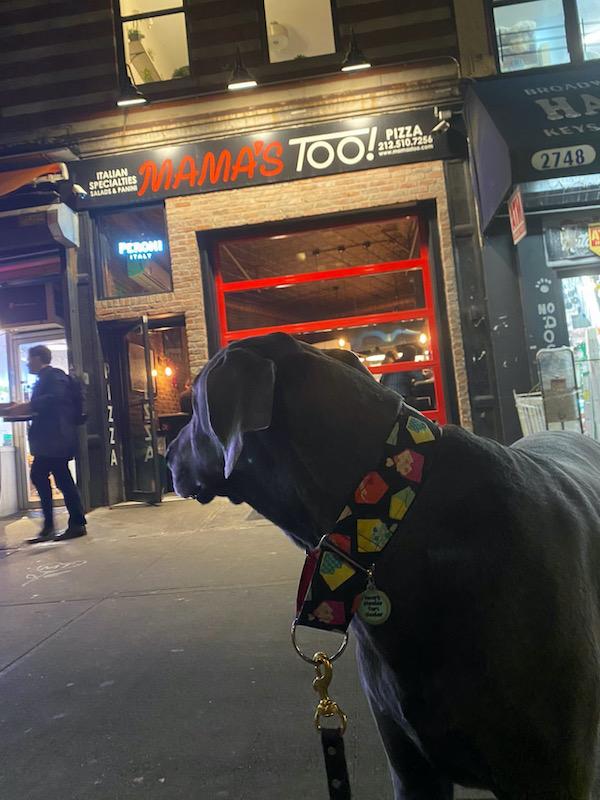 Artie at Mama's Too at 2750 Broadway, between 105th and 106th. Photo by @the_artful_dogger.
Check website for hours and updates.
If you are ready to go shopping, tag along with Riley who can't wait to go to Paper Source. They just opened back up! "One of the things we love the most, is the sense of community we have on the UWS, and the merchants adore our furry family members. We have missed just popping into our local shops during our daily walks. We both miss the people that work in them and Riley misses the treats he gets at each one!"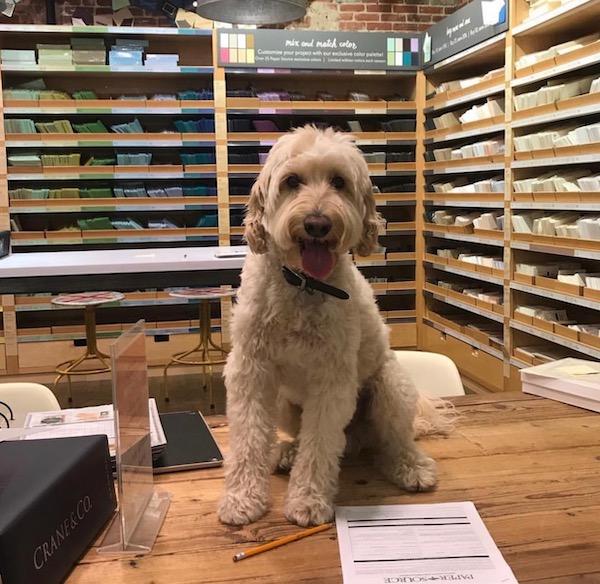 Riley at Paper Source at 309 Columbus Ave, between 74th and 75th Streets. Photo by @runningwithriley.
Check website for hours and updates.
You can find Enzo shopping at the Celso de Lemos Store. Enzo and family are so happy to see their favorite local stores opening and get hugs from owners happy to be back!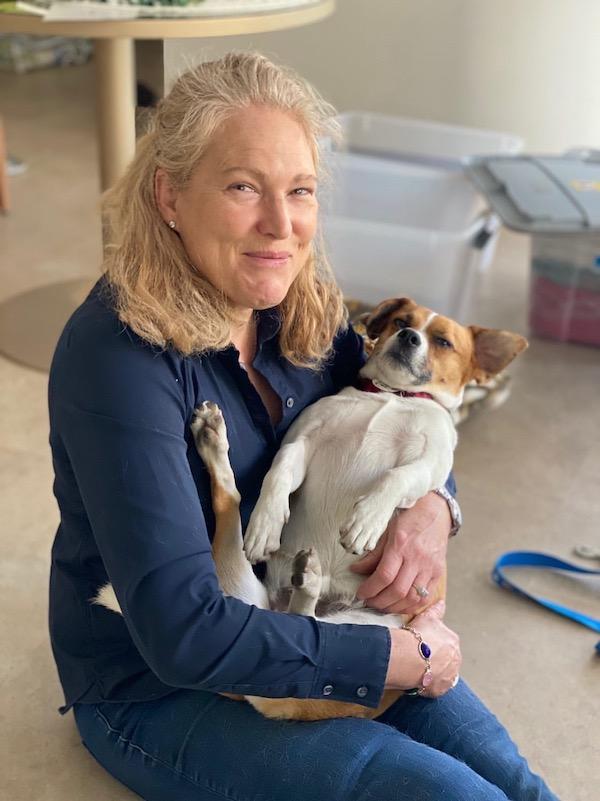 Enzo getting a hug from Joanne, the owner of Celso de Lemos at 294 Columbus Ave, at 74th Street. Photo by @harry_and_enzo.
Check website for hours and updates.
Last but not least, you can find Prince getting treats at his favorite place, The Pet Market. As soon as he got back to the city it was the very first place he wanted to go visit.
Pet Market is Open! Photo by @thepetmarketnyc.
Prince received the following message from the store owners:
We are welcoming our customers and their adorable pets again, in our stores. We are following all the health and safety measures to ensure everyone's safety. We are able to give full service, including free delivery, with a healthy variety of pet foods, supplements, treats, toys and more.


For this opening we are offering free treats at our 3 store locations and we would be more than happy to have you stopping by to get a free treat for your furry friend and to take some pictures at our store so we can feature you on our social media.
Our Store locations are:
338 W57th St, NYC 10025
(212) 956-3700
224 W72nd St, NYC 10023
(212) 799-4200
2821 Broadway/109th St, NYC 10019
(212) 864-3300
Our service hours are:
Mon – Saturday
10:00 AM – 06:00 PM
Sunday 11:00 PM – 6:00

Please check out their website for updates.
Hope you've loved seeing these happy UWS dogs!
I LOVE THE UPPER WEST SIDE. Photo by @prince_in_the_city.