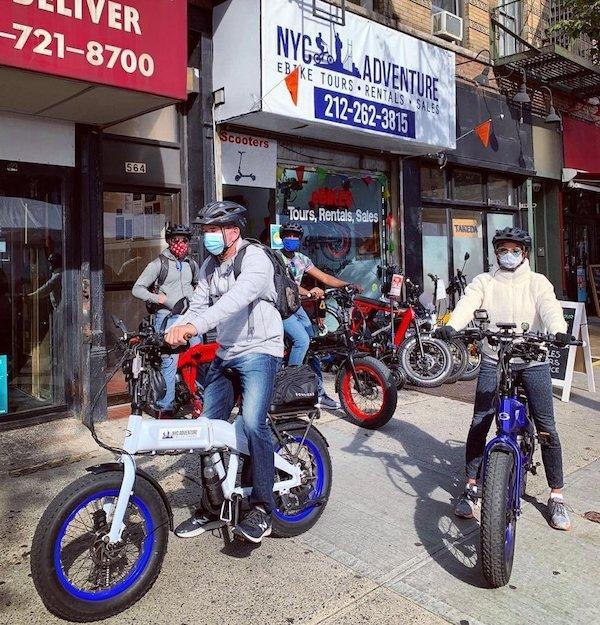 Back in August, NYC Adventure eBike Tours opened a popup shop at 564 Amsterdam Avenue, between 87th and 88th Streets. While they'll soon be closing for the winter, owner Rick Bernstein tells us they had a great start on the UWS, and will be returning on April 1 for the spring season.

While he's had his business for three years, this is his first brick and mortar location. The company originally operated out of a garage on 75th and First Avenue and focused strictly on tours.
But when the pandemic hit and people stopped traveling to the city, Bernstein expanded to include sales, rentals and servicing.

So now they offer both. Those who opt to sign up for tours can choose from a whole bunch of options, including sightseeing photo tours, art tours which explore murals around the city, specialty tours to various destinations including iconic pizza places, and "long-distance greenway rides."
Tours range from 2 to 8 hours. Some destinations include Coney Island, the hills of Westchester, Orchard Beach and City Island in the Bronx, the Rockaways and more.
The company website says the most popular tour is the "Iconic Bridges Tour" – a four hour journey making stops at the Brooklyn Bridge, Manhattan Bridge, Williamsburg Bridge, Queensborough Bridge, and the Pulaski Bridge.
This year, Class 2 and Class 3 e-bikes and scooters officially became legal in NY. These are throttle bikes which respectively reach speeds of up to 20 and 25mph.
Before this, only the pedal assist bikes (Class 1) were legal – so that's what Bernstein used. But he tells us they now offer both options, which has helped his business a lot.
"Class 2 and 3 becoming legal has definitely helped business. Even though we have seen eBikes on the streets for years, since Covid started the eBike / eScooter industry has exploded. It's the future and I think it's here to stay. We have over 800,000 traditional bikes, eBike, eScooters on the streets daily around NYC. I've been all around the world and I can't think of a better place to ride a bike then NYC. We have so much bike infrastructure here and great landmarks to ride to."