Residents at 101 West 85th Street (just west of Columbus Ave) – many of whom are reportedly elderly or unable to use the stairs – are facing a two-month elevator shutdown. Most have been left scrambling to make proper plans after receiving a notice of less than five days.

Advertisement



The 85th Columbus Corporation notified residents at the six story, 40-unit rental building that its one operational elevator would be shut down for eight to ten weeks starting on the morning of July 25 for "modernization," according to two tenants who spoke to ILUTWS. Notice was not provided until late Wednesday, July 20, despite a permit being issued in April 2022.
"The building has a lot of elderly people or people who need the elevator to get up and down," said Jenna, a two-year resident. "I am worried for them and want to help them if I can. A lot of people will not be able to physically leave their apartments during this time."
Jenna tells us several tenants banded together to ask management to delay the project. "They said they were open to dialogue but not to postponing the work. Entirely unhelpful. We need time to prepare for those who can't leave."
Among those who will be severely impacted by the impromptu shutdown include a couple in their 90s, a wheelchair-bound resident, a tenant who needs to use a walker, one currently hospitalized for a knee replacement, and another who recently had a hip replacement, according to a second tenant who spoke to ILTUWS on the condition of anonymity. All of these residents would need to use the stairs to get to and from their apartments.
Advertisement



"The elevator is not broken. It has not failed inspections. It works fine and the work to be done is not an emergency, Jenna said. "There are no issues with elevator. At least a 10-day notice is required."
According to the NYC Construction Code, "In multiple dwelling units, owners are mandated to notify residents if an elevator will be out of service during planned construction or if the elevators are expected to be out of service for two or more hours. When an application for modernization has been filed, notices must be posted at least ten business days before work begins. Notices should specify the type of work being done and indicate the start and end dates of the elevator maintenance. Once the work permit is obtained, the permit must be posted in public until the work has been completed and signed-off."
The notice provided to the tenants at 101 West 85th Street explicitly states that the scheduled work is designed to "enhance elevator performance" and for "modernization." There's no mention of it being an emergency, nor does it mention how management intends to comply with NYC's building code, which "requires buildings five stories or more in height to have at least one elevator that provides access to all floors, regardless of the building's occupancy classification."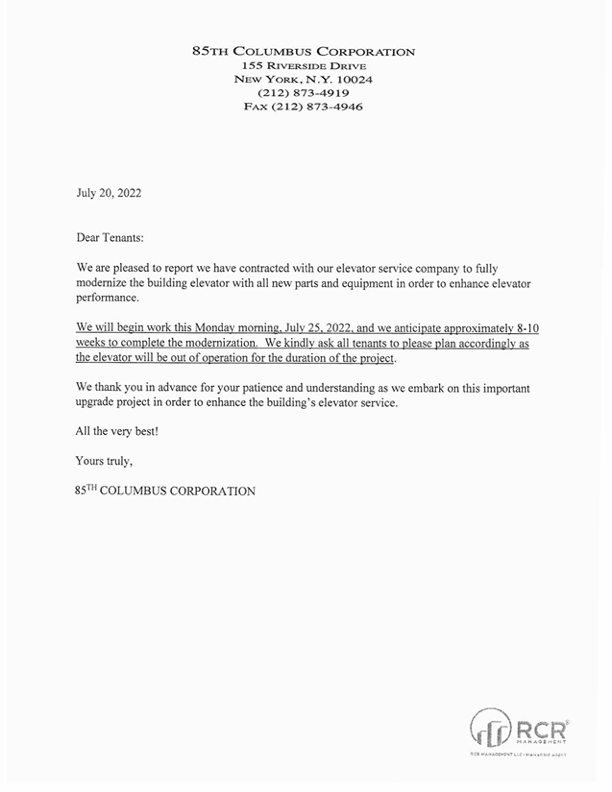 Advertisement
A permit for electrical purposes was issued on April 4, 2022, according to the NYC Department of Buildings. It expires on September 21, 2022. "None of us were told about the expected work until late Wednesday night," both sources confirmed.
The residents reached out to City Councilwoman Gale Brewer for help. The long time Upper West Side advocate contacted at least one city agency to inquire about the legality of the notice and spoke with the tenants at their impromptu meeting Saturday. In an email from Brewer forwarded to one tenant, she called the management's act "outrageous."
On Sunday, we called RCR Management — reportedly the parent company of 85th Columbus Corporation — and spoke to an individual named Nancy who informed us that our message would be forwarded to the appropriate party.